'Vanderpump Rules' Fans Think That Jax Taylor Is Wearing A Wedding Ring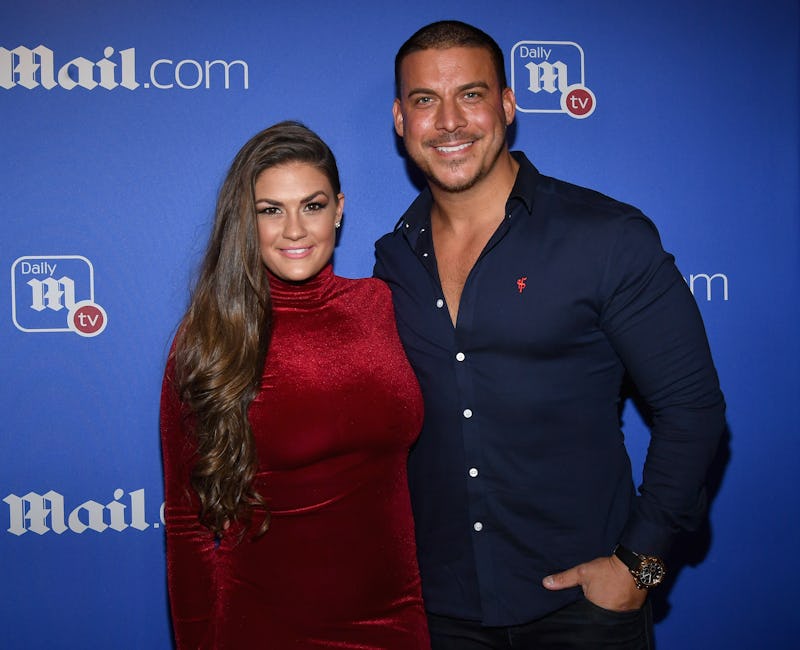 Slaven Vlasic/Getty Images Entertainment/Getty Images
Vanderpump Rules stars Jax Taylor and Brittany Cartwright have been through quite a public rough patch recently — and now, fans are wondering if the couple took the next step. Brittany's Instagram stories on Monday, Jan. 15 have fans speculating if Jax Taylor and Brittany Cartwright got married. The IG story in question features Jax, who may be asleep, in bed surrounded by the couple's two dogs. Brittany zooms the video in and out, and narrates:
So I'm over here all nervous for What What Happens Live and look at my...look at these people, they're just straight asleep and easy going.
What's immediately noticeable is that Jax is wearing a ring on his left hand, but it's not just on any finger — it's on the wedding ring finger. As Brittany zooms in the video, it's definitely there and not hidden. Jax and Brittany haven't publicly said anything about an engagement or marriage.
Brittany's narration also has a key omission — there's a long pause after she says "my," and she doesn't clarify who Jax is to her: boyfriend? Love? Husband? She just lets the silence hang there. Sure, their status also could be a little unclear at the moment, since couple faced Jax's cheating admission on Vanderpump Rules not too long ago, but Brittany told E! News in December 2017 that she and Jax worked through it since that episode was taped. "Jax has actually made huge changes and you'll see him working on things throughout the season," Brittany said. "Right now, he's so much better. I feel like we're so much better than we've been in a long time."
Brittany's IG story isn't the only place fans have spotted Jax's mysterious ring. Fans have recently spotted Jax wearing the ring in a recent IG story on Tom Sandoval's Instagram. Jax and Tom look like they are having lunch (burgers and pizza) and then Jax flashes that ring on his key left finger.
Could this mean there might be a wedding shown on Vanderpump Rules this season? Will Brittany talk about this on Watch What Happens Live? Because inquiring minds and fans really, really want to know what's up with the ring on Jax's finger.
Brittany's most recent Instagram photo is a screenshot of her appearance on Watch What Happens Live and the comments section is flooded with fans asking if she and Jax got married and if his ring is a wedding ring. It's important to note that in Brittany's photo, she is wearing multiple rings, but if you look closely, you can see that she is wearing a ring on her left hand — though it's hard to see which finger it's on exactly.
Last month, an episode of Vanderpump Rules revealed that Jax cheated on Brittany with former server Faith Stowers. Jax confessed his infidelity and told Brittany that the incident occurred, "when we were going through bad times." Fans reacted very strongly to the moment, but it seems like the couple has found their way after that rough patch. Jax and Brittany spent the December 2017 holidays together and Brittany told E! News in an interview:
"I had never thought I'd stay with him. I never thought if I found out he cheated on me I would stay. That's something that I have said for years, but I don't know. You can't just turn it off ... I'm so mad at him. I hate him for what he did to me. But I can't make my love for him go away."
While Jax's ring doesn't make a ton of sense right now, it could be cleared up in a future episode of Vanderpump Rules — perhaps it's a ring Brittany got him as a gift. Or maybe it is indeed a wedding ring. Fans will have to wait for an announcement from the couple themselves.