These Pics Of Jax & Brittany Show The Timeline Of Their (Brief) Breakup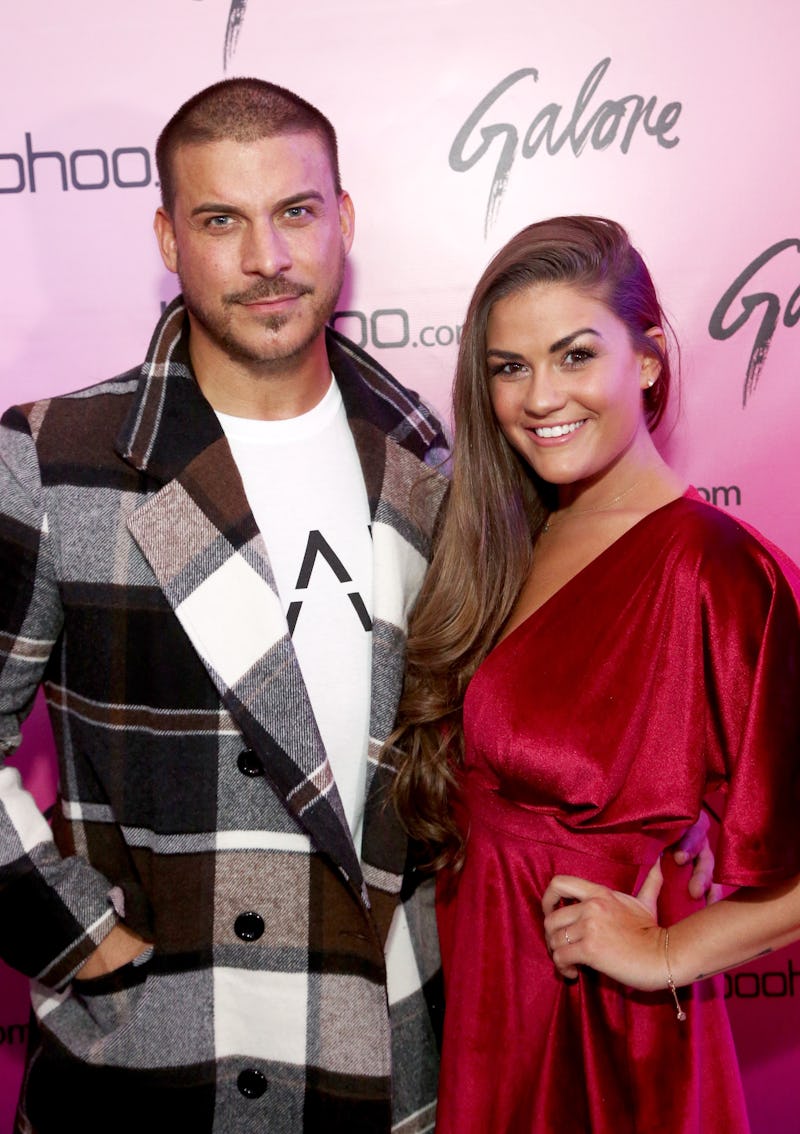 Tommaso Boddi/Getty Images Entertainment/Getty Images
If you watched the Vanderpump Rules Season 6 premiere, you probably have a lot of thoughts about Jax Taylor and Brittany Cartwright's relationship. Even though it seemed like would be pretty much doomed after the rumors that Jax allegedly cheated on Brittany with Faith Stowers, believe it or not, they are still together. That said, Jax and Brittany did break up and get back together in the midst of all the heartache, as they revealed to Entertainment Tonight. Despite all of that, they worked really hard to get back to a good place, like they were at the beginning of their relationship.
"It's hard," Brittany told ET, before adding, "Very, very, very hard … We took some time trying to work on things, but we're back together … six months [back together] and [it's] still working."
At some point after Faith dropped the bomb that she and Jax allegedly slept together while he was still dating Brittany, the couple went their separate ways. During the premiere, Jax denied Faith's allegations repeatedly and Brittany threatened to leave Jax if he was lying to her.
Their breakup hasn't aired just yet on Bravo, but seeing as Jax and Brittany's fight happened at Scheana Marie's masquerade birthday party (her actual birthday is May 7) and they reportedly started filming Season 6 in early May, it seems most likely they broke up sometime after that. Jax also shared an Instagram on May 25 of himself and Brittany in their masquerade costumes, so there's a chance that's when Scheana's party was held. According to Brittany, they've been back together for six months, so they probably took a break around the end of May or sometime in June, which is seen in the timeline of the pictures below.
Those who watched their spin-off, Jax and Brittany Take Kentucky, will also remember their relationship was rocky during the time they were filming. The reality series ended with Brittany staying in Kentucky and Jax going back to Los Angeles. They pretty much fought the entire time they were in Brittany's hometown, but it was revealed in the Dec. 4 Pump Rules episode that they had reconciled. Then, the cheating rumors made against Jax by Faith surfaced.
"Everybody goes through the same things that we do, some good, some bad," Jax also told ET. "We're going through some things, working it out and, yeah, it's going good now. We're doing a lot better then we were." He added, "It's rough, but you know, I love her very much. I hope she loves me just as much as I love you." To that, Brittany said, "I do."
It's important to remember that just because they did break up for a little bit doesn't mean they chose to not spend time together — and here's proof of just that.
They Continued To Work Out
This could've been a great way to release frustrations.
They Took A Trip
Sometimes getting away is the key.
They Wished America A Happy Birthday
Fun times can be a total bummer when you're having problems with a significant other, but they clearly chose to go the opposite route.
They Sent Each Other These Tweets
They still found a way to send these words and emojis, which speaks volumes.
They Spent Birthdays Side By Side
Birthdays can be a downer when you're having relationship issues, but it doesn't look like they had any problems in that area.
They Went To Disneyland
It is the most magical place on Earth.
They Visited Mexico
Granted, this was filmed for Pump Rules, but still, this photo says a lot. Perhaps, by the end of July they were fully back together.
They Promoted Their Spin-Off
Yes, they probably had to promote their show together, but they sure look happy doing it.
They Weren't Here For Breakup Rumors
Just because they don't constantly post photos together doesn't mean they aren't a couple.
They Celebrated Halloween
They look pretty fierce here.
They Made Time For Date Nights
An important part of every relationship.
They Went To Kentucky Again
And Jax is holding Brittany's niece! Wow. Also, be sure to read his caption.
They Had Fun In NYC
This photo says it all about their current status. Just look at Brittany's smile.
Everybody gets through difficult life moments differently. For Jax and Brittany, they've clearly worked extremely hard to get to the point they're at now as a couple, which, for them, seemed to mean hanging out and uplifting each other in the process.