Josh Murray & Amanda Stanton Were Spotted Together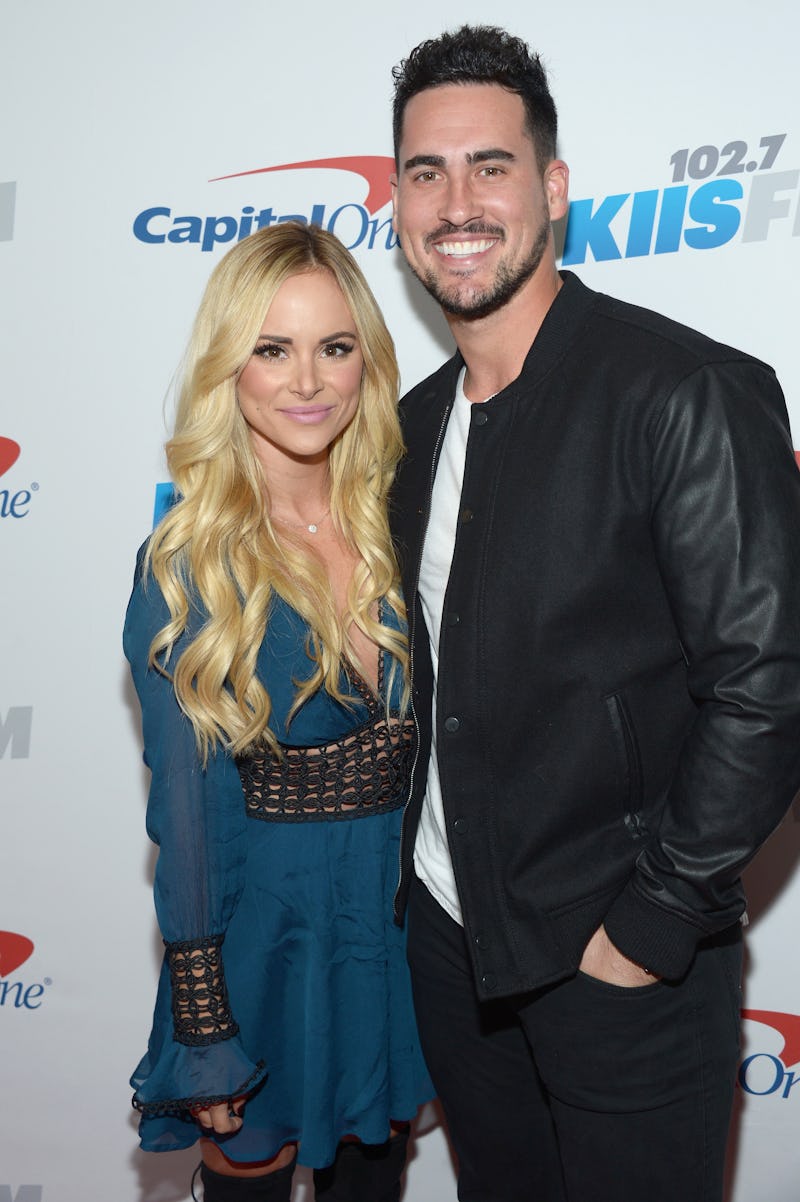 Matt Winkelmeyer/Getty Images Entertainment/Getty Images
Over the past few months, it's seemed like the couples of Bachelor in Paradise Season 3 are dropping like flies. But now, that could all be changing... starting with the couple I least expected to go the distance. Over the weekend, Amanda Stanton and Josh Murray were caught engaging in PDA, and although they only went public about their breakup last month, it looks like their split was short-lived. But after seeing their relationship play out on BIP only for them to end their engagement just months later, getting back together could be a very bad idea. Bustle has reached out to Murray and Stanton for comment but has not yet heard back.
In photos obtained by Entertainment Tonight, the former couple can be seen smooching, holding hands, and just generally looking cozy on Sunday night during Murray's weekend visit to Los Angeles. In an interview with Us Weekly last week, Murray did mention that he was planning to see her during his trip, but I had no idea that this was what he had in mind. Then again, there's a good chance that he didn't either, because sometimes, these things just happen.
Either way, the photos are solid evidence that a reunion could be in the works, and as a Bachelor fan who is far too invested in the love lives of contestants both past and present, I'm not convinced this should happen.
First of all, during their season of BIP, the red flags started popping up everywhere — how angry Murray would get when anyone pissed him off (especially Nick Viall), how Haley and Emily Ferguson, who are close with Stanton, kept trying to convince her to back away from Murray, how he seemed to be far more in love with pizza than he was with Stanton. And then, there's what Andi Dorfman said about Murray in her book, It's Not Okay — even though at the time, Murray refuted her claims.
When the book was released, Murray released the following statement to Us Weekly:
It saddens me and is very unfortunate that Andi has chosen to characterize me in such a negative way. I pray she finds peace.
But regardless of that, Stanton and Murray's relationship never seemed to work — at least, not in a way that made me think they'd find success off the beaches of Mexico and away from the reality show cameras, and once they were back home, their relationship moved at warp speed as Murray almost immediately moved in with Stanton and her kids. Who's to say their relationship won't fail again? After all, they obviously broke up for a reason, so maybe that reason could lead to a second breakup, too.
All of this combined is a little worrying, so I was relieved when I found out that she and Murray were over. I would hate for them to get back together and end up hurt all over again, especially since it doesn't seem like it was a particularly easy breakup for either of them to begin with.
Unfortunately, there aren't any details out there about what these photos could mean, and so far, Stanton and Murray have both stayed uncharacteristically quiet about their meet up on social media. Here's hoping they explain exactly what's going on soon. I may not be the biggest fan of their relationship, but that doesn't mean I'm not dying of curiosity!