Hints Julian Edelman & Adriana Lima Are Dating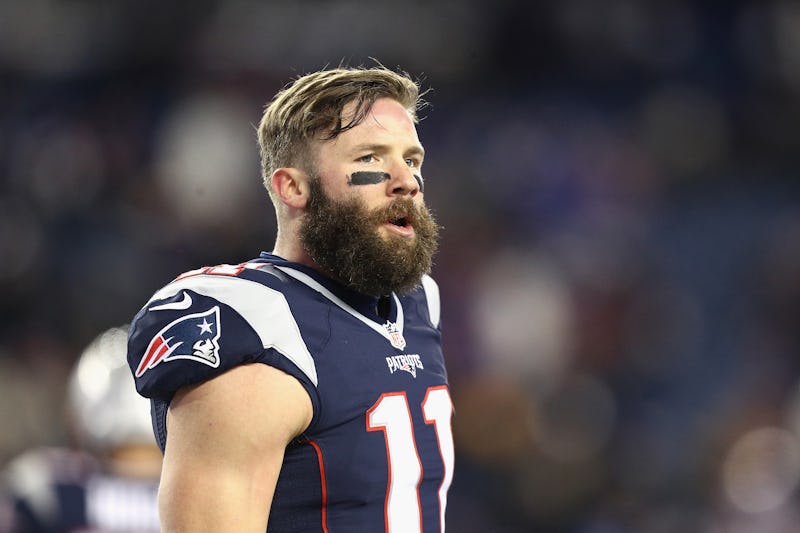 Maddie Meyer/Getty Images Sport/Getty Images
Move over Tom Brady and Gisele Bündchen. There may be a new football-model couple in town. There has been much speculation as to whether New England Patriots wide receiver Julian Edelman and supermodel Adriana Lima are dating, and all signs point to... well, something's up. Bustle has reached out to a rep for Lima for comment; a rep for Edelman could not be reached at the time of publication.
According to Entertainment Tonight, the two met in the summer of 2016 in Miami through Edelman's teammate Rob Gronkowski. A source told ET the 30-year-old footballer and the 35-year-old Brazilian model were "getting to know each other."
Not long after, Lima was caught on what some thought was date with Ryan Seacrest in New York City, which led many to believe she was starting to date the entertainment renaissance man. Not so fast, according to ET, which reported Lima and Seacrest met while working as correspondents for NBC during the Rio Olympics and were simply catching up with a group of friends.
Fast forward to Jan. 16, 2017 and Lima attended her first Patriots playoff game to root for Edelman. A source told TMZ, "When they can see each other, they do. But it's not very often."
Cut to the AFC championship, Barstool Sports caught a video of Lima hugging and kissing Edelman and appearing to refer to him as "my lover" after the Patriots cemented their spot to compete in the upcoming Super Bowl. *Swoon*
When it comes to Lima's dating history, the Victoria's Secret angel was once married to NBA player Marko Jarić, but the couple divorced in March 2016. They are parents to two daughters, Valentina and Sienna.
As for Edelman, the wide receiver is in full work mode while he preps to hopefully defeat the Atlanta Falcons in the Super Bowl on Sunday, Feb. 5. It's unclear just how serious he and Lima are, but it looks like he'll have an angel cheering him on.