Kristina & Another Member Of 'Bachelor' Nation Are Sparking Dating Rumors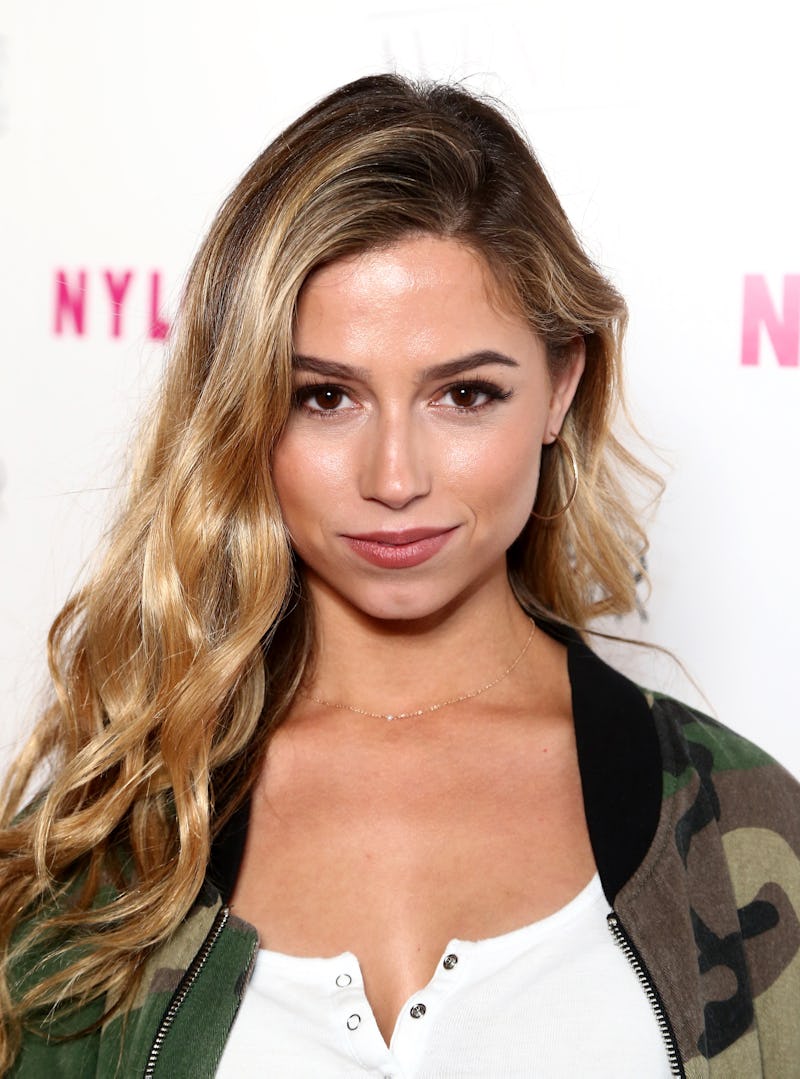 Tommaso Boddi/Getty Images Entertainment/Getty Images
Unfortunately, there's only one person who can get that final rose on The Bachelor and The Bachelorette. Nevertheless, there are many contestants that viewers can't help rooting for. Sometimes alums find "the one" on Bachelor in Paradise, and other date on their own away from the cameras. But are Kristina Schulman and Blake Horstmann dating? The Bachelor alums are sparking relationship rumors thanks to Instagram, interviews, and some supposed sightings of the two together. (Bustle reached out to Kristina and Blake for comment, but did not receive an immediate response.)
On Sept. 5, Life & Style reported that the two beloved Bachelor contestants might be secretly dating. Of course, this is a very vague declaration, but the publication did come through with some Reddit receipts. Apparently Kristina and Blake were spotted at a baseball game in Denver, Colorado, which is where Blake lives.
Another Reddit user shared a screenshot from Kristina's Instagram Story of a cup from Ratio Beerworks, which is also in Denver, Colorado, where Blake lives. Why is Kristina in Denver so much? Is the beer and baseball really that good in Denver? Or could she have a more personal reason? The Bachelor fandom is hoping for the latter.
On Tuesday night, Kristina answered some questions from her followers in her Instagram Stories and a lot of them seemed to be about Blake. She even captioned a screenshot of the questions, "lol you guys! seeing a pattern in the comments," yet she's not actually addressing these comments directly or answering any questions.
Kristina shared yet another collection of Blake-centered comments. Long story short, Kristina's followers want to see her and Blake together. So is Kristina giving a confirmation that she's on board by posting these Instagram Story questions? Or does she just find it comical and she's laughing at all the intrigue?
During an Oct. 12 interview with Extra, Blake was asked to name his Bachelor nation crush. Without hesitation, he answered, "I think that would be Kristina Schulman probably." He later admitted, "I knew this was going to come up." Oh, really? Why is that, Blake?
Blake declared, "We've been hanging out." He followed that up with, "We have been hanging out, but you know it's like this weird thing where back before the show when you could date someone before you actually had to 'date' them. You know, get to know them. It's harder now." Fair enough.
Blake was asked, "Do you want this to be something serious?" He responded, "I don't know. It's too early right now. Nice try."
On top of that, a Big Brother fan account posted Instagram Stories of Blake and Kristina out to dinner in Los Angeles with fellow Bachelor alums Jason Tartick, Jordan Kimball, and Vanessa Grimaldi along with Big Brother 20 cast members Tyler Crispen and Angela Rummans on Oct. 14. Is it merely a coincidence that Blake and Kristina were sitting next to each other? Or is there more to it?
There's some other circumstantial Instagram evidence, too. Kristina and Blake are following each other. This is not a big deal. So many Bachelor and Bachelorette alums follow each other on social media and like each other's posts, but Kristina is also following another Horstmann family member, Blake's sister Tori Horstmann. She's also liking Tori's posts. Again, that's really more circumstantial than actual evidence, but wouldn't most people like their (possible) boyfriend's sister's Instagram posts?
Considering that Blake admitted to "hanging out with" Kristina in an interview and Kristina posted those Instagram questions about Blake, it's fair to say that these two are at least open to discussing their possible relationship in public. That just means that their fans need to be patient and keep an eye out for their future posts and the tagged photos for confirmation.