Here's What To Know About Blake's Relationship Status Post-'Bachelorette'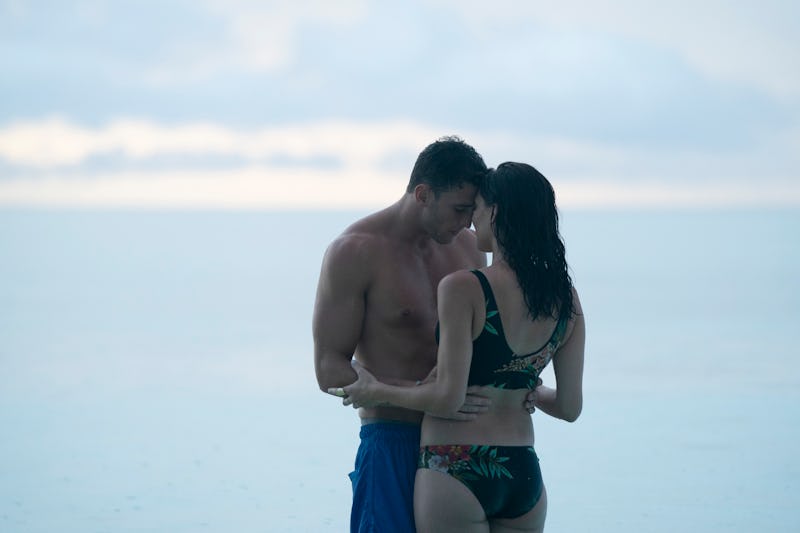 Paul Hebert/ABC
Becca's season of The Bachelorette is finally winding down, and fans are this close to finding out who she chose to be her fiancé. There's only two eligible suitors left: Blake Horstmann and Garrett Yrigoyen, and it's anyone's guess as to who she'll choose. Ahead of the season finale on Monday, August 6, at 8 p.m. ET, Bachelor Nation will definitely want to know if Blake is dating anyone after The Bachelorette and whether they guessed the ending correctly.
The short answer is that it's simply too soon to tell. The 28-year-old sales rep has been keeping a low-profile on social media, presumably so he doesn't spoil anything about the show's ending. Or let it slip that he and Becca are living happily ever after. So although there's no hint of any women in his life — Becca or otherwise — what has Blake been doing since the show ended? And when was that, exactly? This season of The Bachelorette began filming in March, according to The Hollywood Reporter, and filming has likely been over since at least the end of May, though it's difficult to pin down when exactly they finished.
Since then, Blake's Instagram is mostly just promos for the ABC reality show and the occasional post about his goings-on. For instance, since he's from Colorado, he loves the great outdoors and does the occasional 5K (as you do). There's only one photo of him with a woman, but the caption says that it's just his sister, who was his date to a wedding. So, there's literally nothing to really see.
But just because he's not posting pics of his dating life doesn't mean he's not active on the app. For example, earlier this summer he made a touching tribute to a victim of the school shooting he talked about on the show. "Be kind to each other and know you are never alone," he said in the Instagram caption. "9.27.2006 will always be the date my view on life forever changed. Never take a moment for granted because it can all be ripped away in an instant." The Emily referred to in Blake's post was the school shooting victim, Emily Keyes, according to CNN.
Blake told Becca about this traumatic experience during their home visit to Bailey, Colorado. They took a trip to his old stomping grounds at Platte Canyon High School, where the shooting took place. "It just changed my outlook on life," he told Becca while they sat in the school library. "It's important to me to be positive and...to see life as a gift."
Blake also said that the Bailey community really rallied together, which is what the #Baileystrong sign on the Platte Canyon library wall was all about. The sales rep also used the hashtag in his Instagram.
Becca felt honored that he was comfortable enough to share such a sensitive story with her. "I like to be seeing more of who you are and why you are this way," she told him. "It just says so much about the man that you've become, and he's a good one." However, he didn't leave things on a heavy note. Blake surprised the Bachelorette with a concert from her favorite musician — the Australian pop singer Betty Who. Becca was, naturally, over-the-moon.
Fans seem to agree that Blake would be the better match for Becca. He's so romantic. Case in point: His speech during the fantasy suite episode when he said, "I'm the kind of guy who looks for a reason to stay, not a reason to go." How can you not love this guy? Whoever he is dating right now, if anyone, she's a lucky person. Fortunately, fans won't have to stay in suspense much longer to find out whether Becca chose Blake for keeps.