This Kris Jenner Instagram Post May Have Confirmed Kylie & Khloe's Pregnancies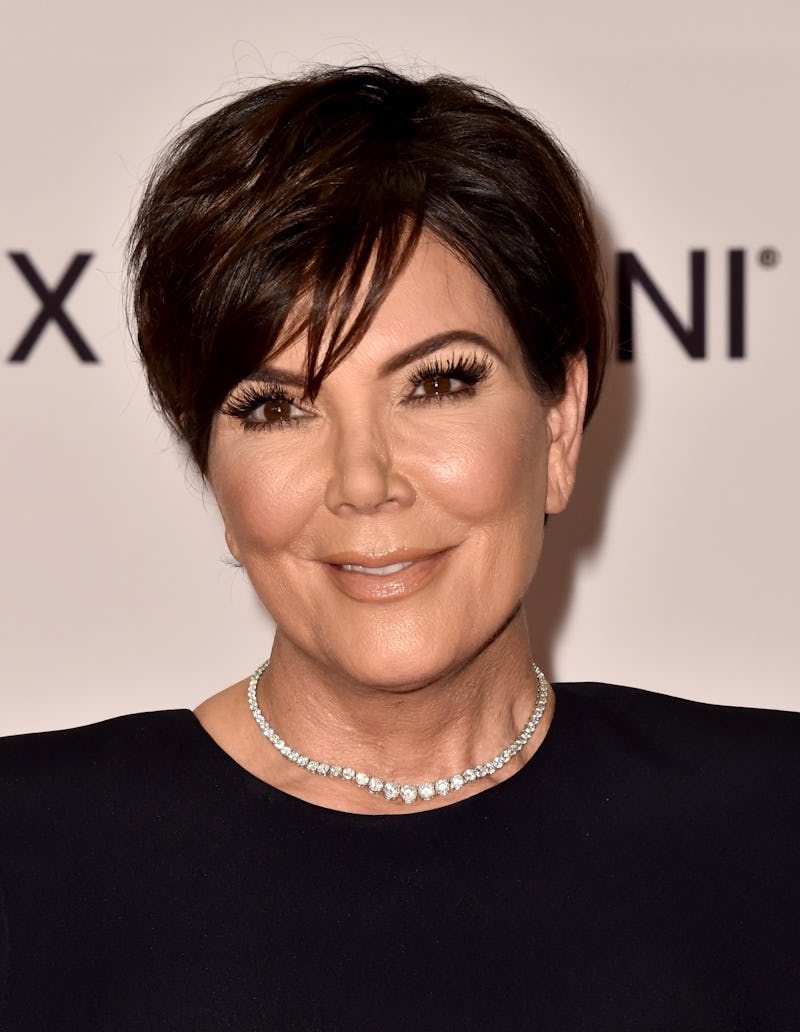 Alberto E. Rodriguez/Getty Images Entertainment/Getty Images
As Thanksgiving approaches, Kardashian fans have something new to add to the list of things they're thankful for: Kris Jenner and the slip-up she may have made on social media. Some fans are totally convinced that Kris confirmed Kylie and Khloé Kardashian's pregnancies in a recent Instagram post, and it's hard to deny that this might actually be a solid piece of evidence that the Kardashian/Jenner family is getting bigger.
Although there have been rumors swirling for months that Kim, Kylie, and Khloé are all expecting babies, Kim has been the only one to confirm that her surrogate is pregnant and having a girl. Where Kylie and Khloé are concerned, the truth is a total mystery, but that may have all changed.
Last week, Kris posted a photo of the family Christmas pajamas that Burts Bees sent her for all of her grandchildren. It's a totally innocent post, except for one glaring detail: There are too many jammies in the photos for Kris' six grandchildren, plus Kim's baby-to-be.
Yes, there are two extra sets in the photo for a total of nine pajamas, and this is leading people to think that this might be her way of revealing that there are more babies on the way.
As BuzzFeed notes, Jasmine, a fan on Twitter, pointed out this discrepancy herself, listing off Jenner's grandchildren to prove that she, in fact, has been gifted too many pairs of pajamas. Everyone is represented with a name tag: North, Saint, Penelope, Reign, Dream, Mason. It's hard to read what the other tags say — at least one of them just includes the words "holiday jammies" — so for now, we just have to speculate that they may be for Khloé and Kylie's future babies.
Of course, there are a few ways to disprove this theory. After all, there's always that chance that Burt's Bees has just as much information as the rest of us and wanted to send along extras just in case the pregnancy rumors are true, rather than risk not sending enough. Or maybe the company just loves Kris enough to throw in a few extra pairs.
Then again, Kris could have only included the pajamas for her grandchildren who are already born in the photo if she was really trying to keep this secret, but she didn't. And fans on Instagram are freaking out about what this photo could mean. The comments on Kris' post are blowing up with stuff like this:
Another fan thought that the fact that only three of them are girl's pajamas was very telling, as well. "And only three girl outfits so Khloé and Kylie are having boys."
Rumors that Khloé and Kylie are pregnant have been going on for so long, and since Kim has already confirmed she is expecting another child, what are Khloé and Kylie waiting for? Of course, it's totally their prerogative to confirm or deny the pregnancy reports when they feel comfortable with it, but with all the buzz that's happening, it's a little surprising they haven't decided to let fans in on the truth just yet.
But this is the Kardashian family, and we have to remember how strategic they are. There could be something they're waiting for before they can confirm the news, like if a big reveal is made in an upcoming episode of Keeping Up With the Kardashians and they have to bite their tongues 'til then. All will be revealed in time, but the wait is so unbearable... and it's causing the rest of us to potentially be missing out on seeing Kylie and Khloé's pregnancy style, which you know would be epic.
If Kris wants to keep dropping hints, fans would totally appreciate it. If she ends up posting a photo of nine stockings for her grandchildren hanging over her fireplace, then we know she's for real. And if she's playing with us? Well, hopefully, that's a line not even Kris Jenner would cross.