Kim K Finally Confirms She's Expecting A Baby & Fans Will Love How She Did It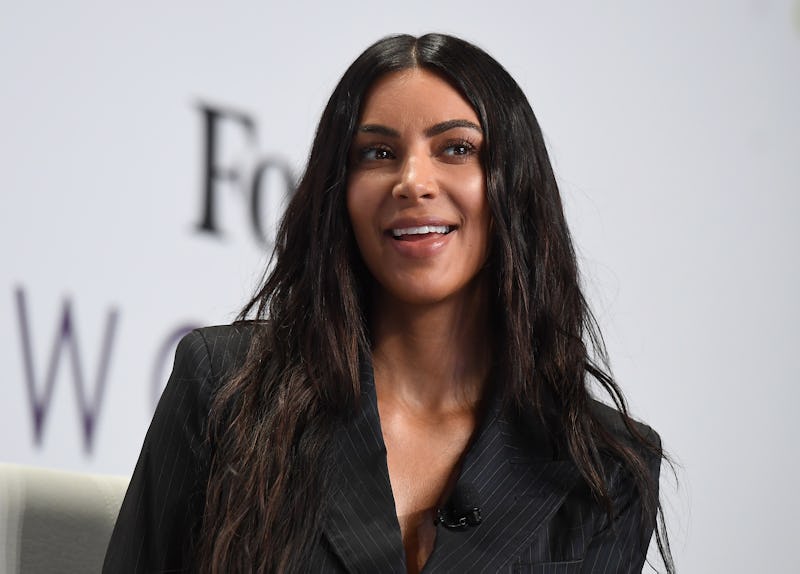 ANGELA WEISS/AFP/Getty Images
After months of reports and speculation, Kim Kardashian has confirmed she's expecting a baby via surrogate. It's an announcement fans have been waiting for, because reports that she and husband Kanye West were planning to have a third child have been around since June. And the way Kardashian chose to reveal the news was definitely very her: She shared the news in a trailer for the upcoming season of Keeping Up With the Kardashians that she tweeted on Thursday afternoon.
Towards the end of the one-minute video, Kardashian is shown FaceTiming with her sister Khloé Kardashian and, Kardashian asks, "What happens every time I say, 'Guess what?'" To this, Khloé smiles and replies, "Pregnant, or the person's pregnant." Kardashian then says, "We're having a baby!"
While Kardashian doesn't mention a surrogate specifically in the clip, it can be assumed that that is who Khloé is referring to when she says "the person's pregnant." Kardashian has made it clear before that she was open to looking into surrogacy as an option to have another child, including on the previous season of KUWTK. In an episode of the reality series that aired in April of this year, Kardashian underwent a surgery on her uterus in an attempt to be able to carry another child on her own, after having complicated pregnancies in the past with her children North and Saint. The surgery didn't end up making it safe for her to carry a baby, so she then expressed her interest in surrogacy.
Kardashian said during the episode, "I feel like surrogacy is the only option for me." She continued, "After talking to Kanye … I always knew surrogacy was an option, now it's my reality. Whatever is meant to be will be."
It was first reported that Kardashian and West had hired a surrogate in June. Since then, reports on the topic have continued to come out. In July, multiple sources reported that the surrogate was pregnant, and toward the end of July, Us Weekly reported that the surrogate was three months along.
Amid all of the reports, Kardashian didn't confirm anything, but she did repeatedly note that she hadn't confirmed anything. In early September, the 36-year-old spoke to E! News while at a New York Fashion Week event and said,
"I've definitely seen a lot of things, we've never confirmed anything. So, I think when we're ready to talk about it we will, and I think it's super invasive when people are just... So many details out there, and like I've never heard this, I've never heard this. Like whatever. We have not confirmed it, and that's that. I'll let you know when we're ready."
And now that time has come. The Season 14 premiere of KUWTK airs Sunday, which means that Kardashian revealed the news right before the new season rather than in the trailer that tends to air at the end of the season premiere as a recent theory suggested she might.
That's right — there have been theories about this baby reveal because, reportedly, Kardashian is not the only one in her family expecting a new addition and a teaser trailer for the new season would have been a way to confirm all three pregnancies. It has been reported by multiple sources that both Khloé and Kylie Jenner are pregnant and also expecting children; Jenner with her boyfriend, rapper Travis Scott, and Khloé with hers, Cleveland Cavaliers player Tristan Thompson.
Neither Khloé nor Jenner have commented on the reports. Their mother, Kris Jenner, told The Cut of the reports that Jenner is pregnant (before the reports about Khloé came out), "She's not confirmed anything. I think it's kind of wild that everyone is just assuming that that's just happening." Meanwhile, Kardashian denied some of the rumors that were circulating related to Jenner, but did not confirm or deny whether her younger sister is pregnant.
For now, all we know for sure is that one new baby is expected in the Kardashian family. As for the others? Maybe some more trailers will come out.