Samira's Super Candid Exit Interview Proves Just How Committed She Is To Frankie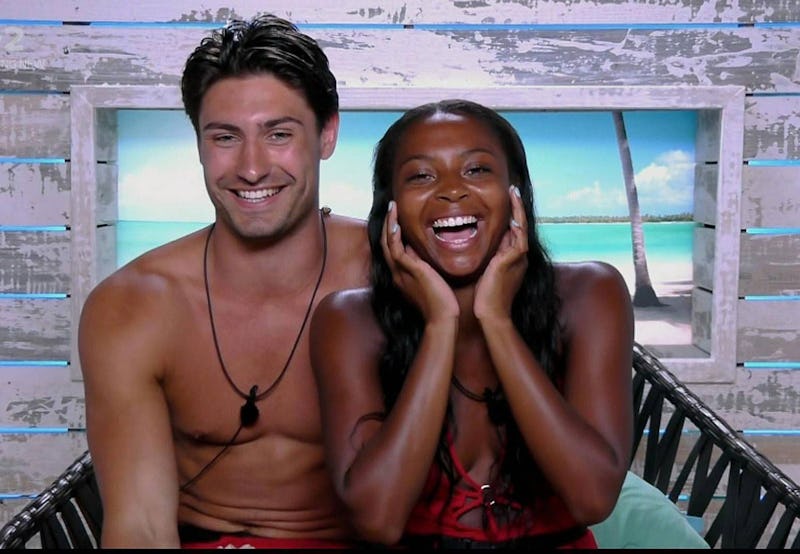 ITV
A lot of fans were shocked to wake up to the news that Samira Mighty had quit Love Island on Thursday morning. But quit she had. In scenes aired during Thursday night's episode, the West End performer made the difficult decision to bow out early from the ITV2 reality series and follow her heart (you go, girl), after struggling with the departure of Frankie Foster. So, what's their relationship status, now? Are Love Island's Samira and Frankie dating IRL? Is their relationship even more serious than was depicted in the show? So. Many. Questions.
Well, things seemed pretty serious between the pair when Samira bust into tears after Frankie was dumped from Love Island during Monday's episode. However — certainly from my perspective — the level of Samira's distress was surprising, given viewers hadn't really seen all that much of them interacting on screen. I mean, has she legit fallen for the boy? What does this mean?
I can tell you this much, it seems Frankie's departure from the show was indeed the catalyst behind Samira's decision to bow out from Love Island, as confirmed in a post uploaded to her Instagram page. It read: "The football isn't coming home but our girl is! Coming out to follow her heart and get her man." Wow. I guess she really is into him, huh?
Explaining her decision further in an exit interview sent to Bustle, Samira confirmed that she does "see a future with Frankie" before heavily implying the pair will continue to date outside the walls of the Love Island villa. She said: "I've found what I wanted to find and it was Frankie so I'm going to go and get him. I've never met anyone like him before. He is gorgeous and we did have a genuine connection. I wouldn't change anything about my time in the villa, I have no regrets."
Indeed, in the same exit interview, Samira also shared her belief that Frankie would be waiting for her on the outside world, having previously been told by other male islanders that was his intention after being dumped during Monday night's episode. She said:
"All we know is our villa relationship so I'm really excited to see how it'll work on the outside world and if we are compatible and do like each other as much as we said. I'm a bit nervous but mostly excited. Just before he left he said 'see you in three weeks, see you soon' and he said to a few of the boys that he was going to wait for me so it feels positive at the moment and good."
But, how does Frankie feel about Samira? Has he waited for her? And, are the feelings mutual?
Fortunately, they seem to be. On his Instagram story, the Mirror reports that he revealed he was planning on reuniting with Samira "as soon as I can" following her departure from the villa. He also hinted that he may even go to pick her up at the airport. However, while he's beyond excited to catch up with the islander, he admitted he didn't want her to leave the villa for the cutest reason. He explained: "I told her to stick it out it's a once in a lifetime opportunity and only a few weeks left."
Of course, Samira and Frankie's relationship didn't get off to the best of starts, as Frankie began his Love Island journey as one of many contenders vying for Megan Barton Hanson's affections. But, was Samira and Frankie's relationship actually more serious than depicted on screens?
It certainly seems that way now.
In a recent interview, Frankie revealed he and Samira even spent a night in the Hideaway together, although the scenes were not aired on TV. He told Metro: "We did, we spent time in the Hideaway. We got a text and then the other islanders picked us two, and then everyone was cheering us on as we walked in."
Well, it seems Samira and Frankie's relationship was totally more serious than Love Island viewers were privy to, which explains Samira's decision to walk away from the series in order to pursue it. Thus, I certainly hope things work out for the pair and declare them totally ship worthy.
Love Island airs on ITV2, Sunday to Friday at 9 p.m.