The Reason Samira Left The 'Love Island' Villa Will Turn Your Heart To Mush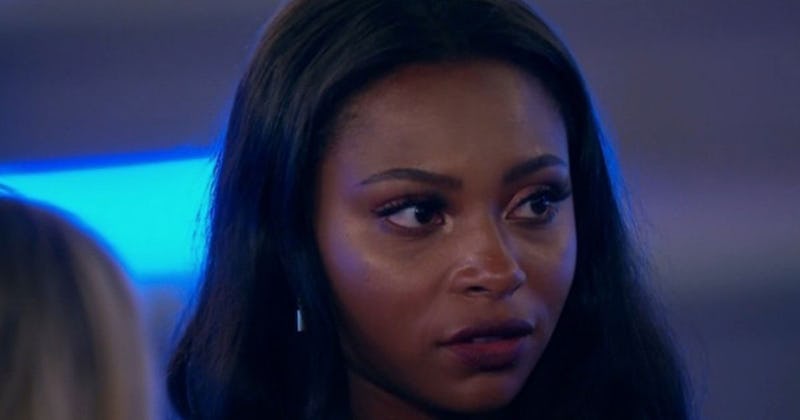 ITV
In an unsurprising turn of events, Love Island's Samira Mighty has left the villa. Despite being a fan favourite, she's packed her bags and left. Now, people are wondering why did Samira quit Love Island? Well, the answer is truly heartwarming.
After her beau Frankie Foster was dumped from the island on Sunday night, Samira has been absolutely distraught. She'd finally got a chance to find love, only to have it stripped away from her. Since then, she's been struggling. Big time. So was Frankie the reason she quit?
In a press release issued to Bustle, ITV has revealed Samira's reasoning behind her exit. Speaking in the Beach Hut, in scenes which will be aired on Thursday, the islander says: "This decision is so, so hard. I'm devastated by it. But I think that it is the right thing to do. Just follow my heart because I've never done that before I've always taken the back seat and now I need to go for it head on and leave and just go for Frankie."
"I've got to go with my gut feeling," she continues. "I'm not saying I'm in love with Frankie or we're going to get married tomorrow but I don't want to waste any time. I just want to see him and I know this is the right thing to do. This opportunity was amazing and I take it with a full heart and full love."
Since her fella left, it's been heartbreaking to watch Samira struggle. Her promising relationship suddenly disappeared without any choice in the matter — who wouldn't find that difficult? Of course, the question on everyone's lips now will be, has Frankie been waiting for Samira?
Obviously. Whilst he may have been more concerned about looking after Samira and holding her before rolling his suitcase out the villa, he did comment on their relationship once he exited with fellow dumpee Grace Wardle. "Our relationship got cut short," he said. "We were probably moving at a slower pace. But there was definitely potential there, and if we had given it another week it could have been heading that way."
Thankfully, Frankie hasn't moved on in the two days since he was dumped. The first Instagram snap he posted after leaving the villa included a surprise hidden by Samira in his suitcase:
"Not sure when she managed to snake this in my case but it makes me even more excited to see her," Frankie captioned the pic.
Now, as if by magic, minutes after news of her exit was announced, Frankie posted a screengrab of himself and Samira on the show with the caption: "Who's heard the news!? I am so excited, just want to give her a huge hug #loveisland #love #island #frankieandsamira."
Eek! How perfect can these two get?
Of course, the villa won't be the same without Samira. Her unique way of flirting and ability to support literally everyone in the villa with minimal drama will totally be missed.
It's no surprise that she told the girls of her exit first, which will be aired on Thursday night's episode. "So my lovely beautiful girls, you guys know that I've had a really tough couple of days have recently and I've been umming and ahhing about leaving," she told Ellie Brown, Dani Dyer, and Megan Barton Hanson on the iconic roof terrace.
"I've not had any connection in here with anyone, and I had a little taste of that with Frankie and it's gone abruptly and I think I'd always be thinking 'What if'. I woke up this morning and I thought, it's my time to go. I have to do this for me. I've never felt so strong."
Samira eventually then told the whole villa around the fire pit, and as stated by the press release, they were "clearly gutted" by her exit. Although, they are "supportive in wanting her to follow her heart," Samira then walked out of the villa to a "big round of applause".
I feel like a proud mother, RN. Samira confidently went with her gut, and exited the island with an optimistic future with Frankie. Good on you, girl.
Love Island is on ITV2, Sunday to Friday at 9 p.m.