Mary Berry's Thoughts On Paul Hollywood & The New 'GBBO' Will Melt Your Heart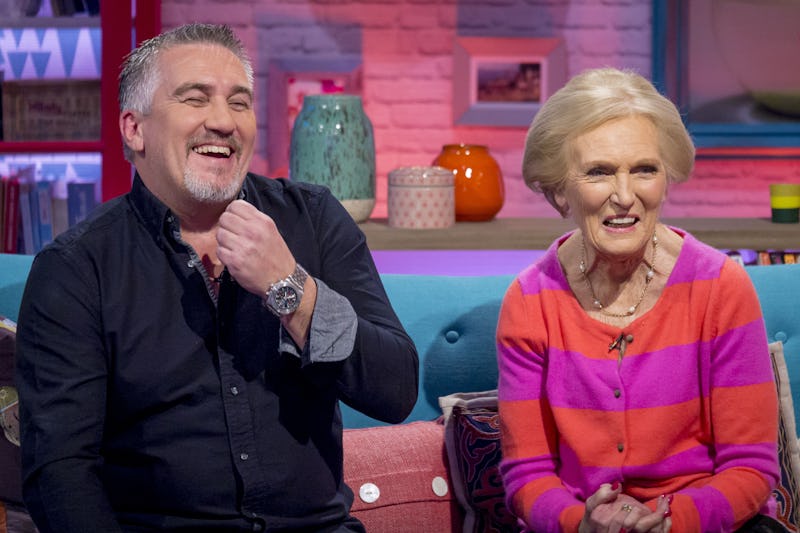 Steve Meddle/ITV/Shutterstock
Great British Bake Off is very much back and in full swing. It feels so good. There is nothing like settling down of a Tuesday night to witness the perils of pastry, the drama that a soggy bottom can bring, and the triumphs of a well risen cake. However, that hasn't been the only news that has surrounded the show over the last couple of years. In 2017, the show aired for the first time on Channel 4 and went off without a hitch, even without the OG panel. This got me wondering. Are Mary Berry and Paul Hollywood still friends? Do the original panel hang out and bake together, with Mel and Sue providing witty commentary in the background? Buckle up, let's dig in and find out.
With a new line up of Prue Leith, Sandi Toksvig, and Noel Fielding joining the bread king, Paul Hollywood, I am hoping Season 2 is going to be just as good as the original. I for one will be settling down with an angel cake and cup of tea at 8 p.m. Call me grandma, I don't care. While Hollywood and Berry were a total dream team, as all fans will know, only one of the duo headed over to Channel 4 when the show moved channels.
Speaking to TV Times about why he stayed, Hollywood explained, "There can be as many as 100 people working behind the scenes and it's the same people every year. I'm always very loyal to those I work with. I am on screen but we are all part of the team."
However, Hollywood and Berry reunited for one series of The Great American Baking Show which is essentially a U.S. version of The Great British Bake Off. ABC has since cancelled the show, with CNN reporting that it was a result of one of the judges, Johnny Iuzzini, being accused of sexual misconduct. Iuzzini apologised "to those who felt hurt," adding in a statement to Mic that "many of the other allegations are inaccurate, others I do not recall and none were meant to hurt people."
Despite the end of their working relationship, it seems like things ended on good terms. Speaking about her feelings towards Hollywood to the Radio Times, Berry said, "I would always stand by him. Paul and I had our differences about what was important to us but he is a brilliant bread-maker and I admired him a lot." When Hollywood was asked by Digital Spy if he is still close to his former baking partner in crime, he simply said, "I'm in touch with the whole team as much as I have been for the last seven years. That's my answer." Slightly less gushing, methinks?
Whilst she didn't join Hollywood in the move to Channel 4, when Digital Spy asked Berry if she would be watching the new series she said, "Of course (I will watch the show), I'll see what they're up to. I want to see Paul because we're still great friends."
I reached out to a representative for Mary Berry who told me they do not comment on her personal relationships. I am still waiting back to hear from a representative for Paul Hollywood.
Since they haven't made many public appearances together and they are yet to be reunited on UK screens it would be easy to assume that Berry and Hollywood have made a clean break and the move to Channel 4 was too much for their friendship. However, after Berry's statement that they are "still great friends" I wouldn't be too surprised if they did meet up from time to time over a Bakewell tart to catch up and reminisce about Alaska-gate of 2014.