Maya Jama & Stormzy Have Spoken About Getting Married & OMG, They Are SO Cute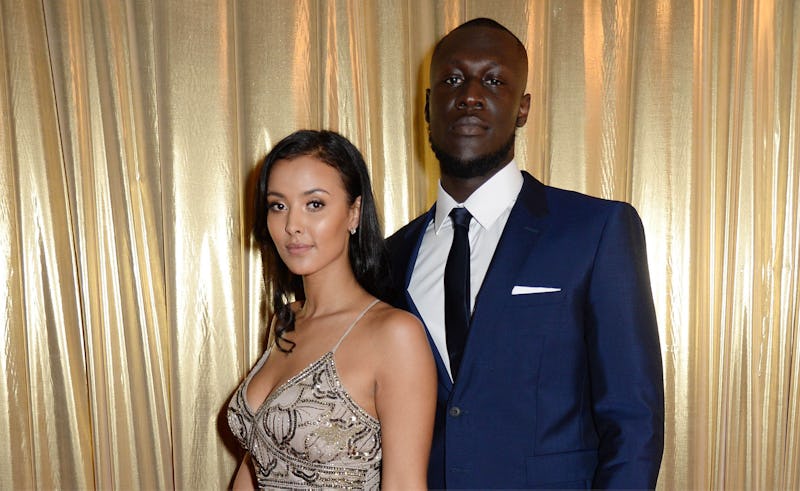 Richard Young /Shutterstock
He is the leading voice in UK Grime and she is one of the country's hottest presenters. Together, they are one of the nation's coolest power couples, and I for one am a huge fan. However, these two like to keep things on the DL when it comes to their relationship, which is a decision I totally respect. But still, that doesn't stop a gal from wondering; like, how serious are they? Are Maya Jama and Stormzy engaged? I need answers.
Despite how private they are as a couple, Jama has previously opened up about the prospect of getting married. During an interview with the Evening Standard, she explained that when she was younger, becoming someone's wife was not something she wanted. However, that's now changed (Stormzy, I reckon you may have had something to do with this).
Jama told the paper: "When I was younger I used to think 'No, I'm not going to get married or have kids, I'm just going to be a career woman and a rich auntie and be really fun' and that was probably because subconsciously I thought that was the option — you have a big career or a family — and I wanted to be the career girl. As I've got older I've realised you can have both and live a happy life."
This isn't the only time Jama has addressed the topic of marriage in public. While hosting the online series First Heat, which saw her travel to Mozambique and South Africa to discover the story behind Nando's, she tried on a traditional wedding sarong. Turning to the camera, she joked that she was planning to tie the knot with Stormzy, before adding "my boyfriend doesn't know it yet."
On a more serious note, Jama also spoke about marrying the grime star on her podcast When Life Gives You Melons. Revealing she hadn't been in love until she met Stormzy, Jama said: "I don't think I even wanted to get married, until now. Since this relationship, I'm like, actually I do want to get married and I do want to have kids. I think it's more the person that you're with that makes you feel like you want that stuff."
As for Stormzy? Although he's pretty tight-lipped when it comes to his relationship, he's been pretty open with the fact that he wants to marry Jama. In February, he told the Sunday Mirror: "I'm still so young but I want to propose, it's going to happen and I will do it right. She is so sick, she is the best."
So, are wedding bells on the cards? Has Stormzy popped the question? Well, Jama has made it very clear that she would like to get married. However, it doesn't appear as though they are currently engaged as neither have announced anything. I contacted a rep for both Stormzy and Jama to check for any updates, however, they are yet to get back to me. When they do though, you'll be the first to know.