Maya Jama & Stormzy's Adorable Meet Cute Will Make You Love Them Even More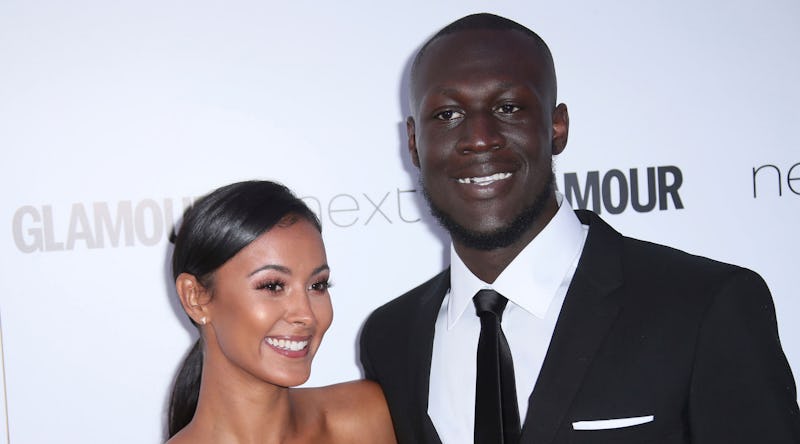 Invision/AP/Shutterstock
Fans are fascinated by Maya Jama and Stormzy's relationship. He's pretty much the king of grime right now, meanwhile, she's one of the best TV presenters out there, with her new show True Love or True Lies (which she collaborated on with Danny Dyer) premiering on MTV this Monday. Talk about owning it. But how did Maya Jama and Stormzy meet, and long have they been dating exactly? I don't know about you, but it doesn't seem like they've been together that long — or have they?
Well, actually, Jama, 23, and 24-year-old Stormzy have been together a lot longer than you may realise In fact, they've been a couple for well over three years. The reason fans didn't know is because the couple remained quiet about their relationship until a Vogue profile was published in January of this year. In the interview, Stormzy — whose real name is Michael Omari — finally let fans know how and when he first met Jama. According to the star, it was in "October [2014], then we were going out by January."
Much to the delight of fans, Jama went into a lot more detail than her boyfriend. "We met at Red Bull Culture Clash," she told the magazine. Admitting that she "fancied him from the start," she said that she tried doing "the whole situation first, and then I'd do, like, obvious hints that I fancied him and then take it back because I didn't know if he definitely liked me. It was a childish phase. And then one day, we just kissed, and that was that."
Since then, the couple have gone from strength to strength, In fact, Stormzy even wrote Jama an entire song for her 22nd birthday, which was unsurprisingly titled Birthday Girl. And while some famous couples struggle to stay together due to the intense limelight, Jama has said that being in the same industry has helped — not hindered — her relationship with Stormzy.
"It's nice you can have your jobs together, which is a good thing," she told OK! magazine. "It kind of goes hand in hand if he's performing at an awards show and I'm doing the red carpet there. I suppose you understand each other's jobs a lot more than if I worked at Urban Outfitters still and he was travelling the world! It probably wouldn't feel that nice."
Although they both individually have their loyal armies of fans, the couple's relationship appears to have quite a following of its own as well. Some people are so for their romance that they want Stormzy and Jama to be made official members of the royal family.
If you're wondering what a famous couple like Jama and Stormzy do in their downtime, all sorts of images probably come to mind; fine dinning at top restaurants, trips away on private jets, and so on. However, these two are actually way more down to Earth than that. In a recent interview with the Sunday Times Magazine, BBC Radio 1 host Jama said that they actually prefer to just watch TV together. "As soon as I get home, the telly goes on," she told the magazine.
Now, if you're trying to imagine what shows they like tuning in to, it's no secret that Stormzy is a huge Love Island fan. In last year's series, he made even made a cameo on the show. Last month, he was also excited to bump into Love Island's Jack Fowler at the airport; a video which will never be forgotten.
So are wedding bells in the couple's future? Maybe but not right now, according to Stormzy. In September 2017, he told the Sunday Mirror that he wants to propose to Jama but is "still so young. It's going to happen and I will do it right."
Personally, I'm placing bets that at least one former cast member of Love Island will be in attendance. But until then, I'm just enjoying obsessing over these two. May their social media antics forever continue.