Meghan Markle & Troian Bellisario May Know Each Other Through This Hollywood Connection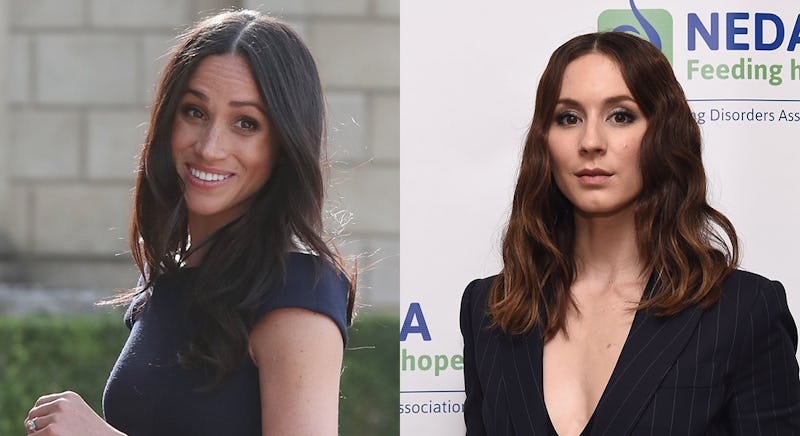 WPA Pool/Getty Images Entertainment/Getty Images; Ilya S. Savenok/Getty Images Entertainment/Getty Images
Pretty Little Liars star has landed in the U.K. and she'll likely be joining the weekend's big festivities. Fans are speculating that former PLL star Troian Bellisario is attending the royal wedding due to her surprising tie with the bride to be, Meghan Markle. But are Troian Bellisario and Meghan Markle friends? Not exactly, although Bellisario's connection to the future Duchess of Sussex scored her a front row seat to most of the royal action.
In 2016, Bellisario married Markle's Suits co-star Patrick J. Adams. Adams and Markle became super close working on the show, not only because they were both lead roles (Mike Ross and Rachel Zane, respectively), but because they played each other's love interest. Both actors left the show after its current seventh season but have remained close (especially from the looks of Adams' social media).
Leading up to the wedding, there has been speculation about whether or not the Suits cast would be invited. Days prior, a handful of Markle's Suits co-stars arrived in Windsor, as documented on their social media. Us Weekly reported that the Suits cast would attend the royal wedding ceremony at Windsor Castle's St George's Chapel and Queen Elizabeth II's luncheon to follow. (However, a source told Us they wouldn't be included in the evening reception, which is exclusive to 200 guests.)
Bellisario and her husband have touched down across the pond and they've already started giving fans a peek on social media.
On Thursday, May 17, Adams posted photos from the Royal Standard of England bar (one above), which is about 20 miles from the Windsor Castle, with Bellisario by his side. Bellisario posted a photo of Adams outside the U.K. bar on Friday and has been sharing their non-royal activities on her Instagram story as well, such as being outdoors and playing a game of larger-than-life chess.
Adams has been quite supportive of his former co-star for quite some time. When Prince Harry and Markle got engaged in November, Adams wrote a congratulatory post on Instagram. He shared a behind-the-scenes photo of Markle on the Suits set with the caption:
"Playing Meghan's television partner for the better part of a decade uniquely qualifies me to say this: Your Royal Highness, you are a lucky man and I know your long life together will be joyful, productive and hilarious. Meghan, so happy for you, friend. Much love."
On Suits, Markle played Rachel, Mike Ross' (Adams) fiancé and former paralegal turned part-time associate. Ironically, her last scenes on the USA show (which aired in April) included a romantic wedding. Other Suits stars that are in (or headed to) the U.K. for the wedding include Gabriel Macht, Sarah Rafferty, Rick Hoffman, and Abigail Spencer, who have kept fans posted on social media as well.
Markle and Adams are certainly close, however, Markle didn't attend Bellisario and Adams' wedding, according to Town and Country. Their December 2016 nuptials were different than what's ahead this weekend. After dating since 2011, Bellisario and Adams tied the knot in a bohemian-style Southern California wedding, according to People. They had about 200 guests, asked for foundation donations instead of gifts, and got married in a woodsy, outdoor ceremony surrounded by old oak trees.
Markle's friends are understandably still soaking it all in and excited for what's to come. On Friday, May 18, the day before the royal wedding, Markle and Adams' Suits co-stars hit Today to talk about the event. "I'm still reacting and realizing," joked Gina Torres. "I hope nothing but the best for her. This is an incredible step in her life."
Fans should expect more royal wedding photos from the cast and their significant others, including Bellisario. Even if she and Markle aren't best friends, maybe they will be after this weekend.