The Royal Couple's Wedding Party Was Just Announced & They Already Sound SO Adorable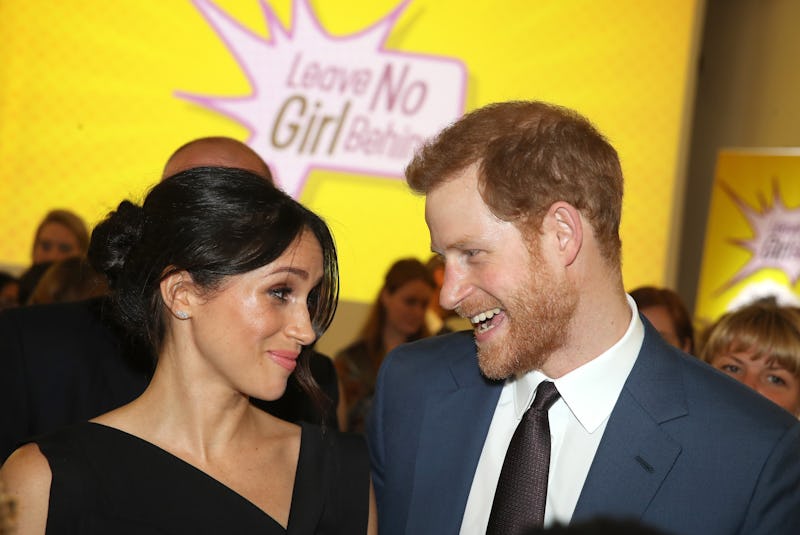 Chris Jackson/Getty Images Entertainment/Getty Images
With just days to go until their wedding, Kensington Palace announced Prince Harry and Meghan Markle's royal wedding party on Wednesday morning. Like Prince William and Kate Middleton before them, their bridesmaids and page boys will consist of a group of children, who are bound to elicit quite a few "awws" from the millions of people watching. Quite predictably, William and Middleton's two oldest children, Prince George and Princess Charlotte, are in the wedding party, while their newborn brother Prince Louis will have to sit this one out. As for the rest of the bridesmaids and page boys, a few are Prince Harry and Markle's godchildren, and they are all the children of the couple's friends. And their choice to include them indicates that Harry and Markle consider their friends to be just as important as family.
While weddings in the U.S. often have one girl as a flower girl, one boy as a ring bearer, and adults as bridesmaids and groomsmen, that's not the custom in the U.K. "The majority of British wedding parties tend to primarily consist of children," Kylie Carson, of the U.K. Academy of Wedding & Event Planning, told Bustle back in January.
Harry and Markle are sticking with British wedding tradition by having children fill in the roles of bridesmaids and page boys. The six bridesmaids are 3-year-old Princess Charlotte, 3-year-old Florence van Cutsem, 6-year-old Remi Litt, 7-year-old Rylan Litt, 4-year-old Ivy Mulroney, and 2-year-old Zalie Warren. The four page boys are 4-year-old Prince George, 6-year-old Jasper Dyer, and 7-year-olds Brian and John Mulroney.
Prince George and Princess Charlotte already have some experience in their wedding roles since they were a page boy and bridesmaid in the wedding of their aunt Pippa Middleton a year ago. Like with Harry's upcoming wedding, Kate wasn't officially a part of her sister's big day. But pictures from her younger sister's wedding showed that Kate kept busy by wrangling the young bridal party. People reported that Kensington Palace confirmed that Kate will be at Markle and Harry's wedding. But as she had Prince Louis less than a month ago, she will most likely not be as involved with the page boys and bridesmaids this time around — even with Prince Louis reportedly staying at home for the event.
Besides Charlotte, two other bridesmaids connected to Prince Harry are Zalie Warren and Florence van Cutsem, who are both Harry's goddaughters. Zalie is the daughter of Zoe Warren and Jake Warren. The Mirror reported that Jake has been friends with Harry and William for a long time. He is the son of Queen Elizabeth's horse racing manager and is a godson of Princess Diana. Florence van Cutsem is the daughter of Alice van Cutsem and Major Nicholas van Cutsem. As People reported, Florence is the cousin of Grace van Cutsem — the bridesmaid at William and Middleton's wedding. who notably covered her ears when the crowd cheered for the newlyweds' first kiss.
The other three bridesmaids are connected to Markle. Remi and Rylan Litt are Markle's goddaughters and the daughters of Benita Litt and her husband Darren Litt. As Town & Country reported, Markle and Benita have been friends for years, and the Suits star spent Christmas with the Litts in 2016. Ivy Mulroney is the daughter of Jessica Mulroney and Benedict Mulroney. Vanity Fair reported that beyond being a close friend to Markle, Jessica is acting as a secret wedding planner for the royal wedding. And her husband Benedict should be used to rubbing elbows with important people since People reported that he is the son of former Canadian Prime Minister Brian Mulroney.
For the page boys, Prince George will be joined by Harry's godson Jasper Dyer. Jasper is the son of Amanda Dyer and Mark Dyer. Mark has been called Harry's "second father" by publications like the Daily Mail, since the older man has been an important figure in Harry's life since Princess Diana's death. The other two page boys — Brian and John Mulroney — are also the children of Markle's friend Jessica.
While their names have been revealed, what the page boys and bridesmaids will be wearing is being kept under wraps. Kensington Palace's statement said, "Details about the Bridesmaids' dresses and the Page Boys' uniforms will be made available on the wedding day." For Pippa's wedding, the page boys and bridesmaids wore very traditional outfits where Prince George looked like a little Prince Charming. So people will have to wait and see just how adorable the children will look again at Markle and Harry's wedding on May 19.
When it comes to other members of the royal wedding party, a palace spokesperson told Us Weekly on May 4 that Markle will not have a maid of honor. But Kensington Palace did confirm that Prince William will serve as Prince Harry's best man, just as Prince Harry stood by Prince William's side when he married Kate in 2011.
A couple's bridal party should represent the people who are most important to them. And with their page boy and bridesmaid choices, Prince Harry and Markle have integrated both family members and friends into their big day. And especially when you consider the recent drama surrounding some of Markle's family members, Harry and Markle are proving that their friends don't have to be blood to be like family to them.