Milk Reveals Where She Stands With Kennedy After That Rough 'RuPaul' Elimination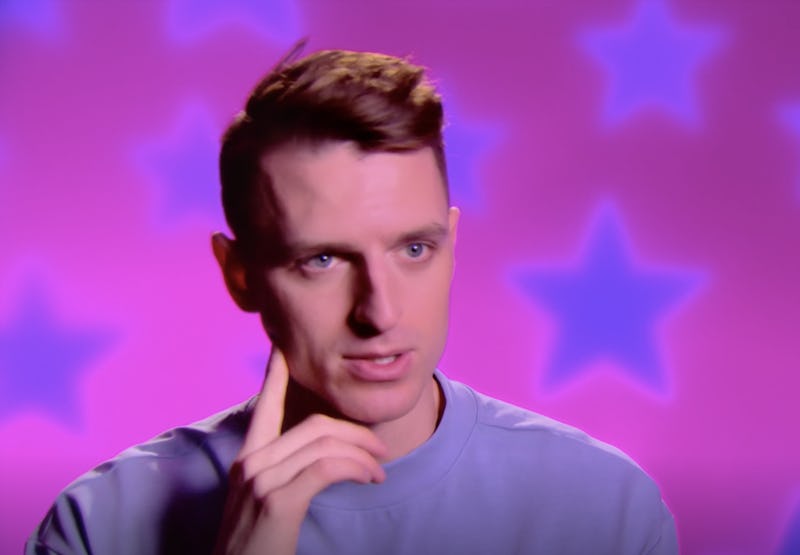 VH1
Episode 4 of RuPaul's Drag Race All Stars is coming up, but, for many fans, there are still unresolved issues from Week 3. First and foremost, are Drag Race stars Milk and Kennedy Davenport still friends? It's a fair question, given Milk's obvious frustration with her after being sent home. However, in a phone call with Bustle, Milk reveals the fate of their friendship isn't doomed.
Apparently, any beef between the two has been squashed. While, at the time, she was clearly upset about being sent home, Milk reveals that it was a time heals all wounds type of situation. "Everything is put into perspective with a little space. So, I'm feeling good," Milk says. "It's all happened in the past now. For people now, it's so fresh, like it just happened. I reached out to [Kennedy] on her Instagram, on the photo she posted of her look from last night." Milk continues, "I respect Kennedy so much. I think she's a very talented performer and she's a fierce all-around queen."
Of course, when the elimination was fresh, Milk was obviously frustrated. After the news, she said on the show that the decision to send her home was a dumb one. "The fact that I was eliminated, even though another queen had been in the bottom three times?" she asked incredulously on the series. "I did not see this coming. At all … I just don't see how this was my week."
However, she stresses now that, while she doesn't regret what she said, the circumstances of the show are different than real life. "As queens going into a reality TV show competition, we know that things will be said when pressure is added and emotions are on high. Everybody is gonna say something that may not be the sweetest, may not be the kindest," Milk says now. "We toured and performed together and hung out and so we know who each other is outside the show. That's the true person, not this character put under the microscope with 80 billion cameras in your face."
In fact, Milk says that she and Kennedy will be performing together in the future. "I mean, we have some gigs coming up, already," she says. "On Season 7, I actually wanted her to win, I was really gunning for her to win. She's so marvelous, she's so wonderful, we've never truly had a queen like Kennedy win. So yeah, all is good. Water off a duck's bridge or whatever."
Furthering her it's-all-good attitude was the fact that Milk didn't only come back to win. She says that she also came back to raise awareness for the LGBTQIA+ community — and being on the show for three episodes still helped achieve that. Milk is a member of Voices4, a group that exists to end the persecution of LGBTQIA+ people, everywhere. "One of the reasons I was happy to be back on the show was in order to raise awareness for the LGBTQIA+ community and the travesties that are happening all around the world," she says. "We have a lot to fight for, but people can get complacent. So [it's important] just to raise awareness of the atrocities and persecutions that are happening [to LGBTQIA+ people.]"
As for the show itself, Milk thinks that out of any of the queens left, Kennedy may be the one to take the crown. However, she's not the only queen Milk is rooting for. "I really enjoyed getting acquainted with BenDeLaCreme. Getting to see her talents again, and get to know her was really amazing. Trixie is so iconic and such a good friend of mine," Milk says. "And Shangela too, my gosh … It really is so difficult because we have worked with each other, and we know that each person has their own sense of talent that sets them apart from everybody else."
Not all of Milk's plans for the future incorporate Kennedy Davenport, though. She has plans of her own that are certainly unique among the drag queen community. Namely, creating a drag race extravaganza on ice. "I was a figure skater growing up, and I still do skate, so joining together drag and figure skating to build my Milk on ice show," she says. "That's something I'm really excited about doing this year."
Even if Milk's time on Season 3 of Drag Race All Stars is over, fans could see her again on the series in another return capacity. If she does come back, she may take a page out of Shangela's book. "Just come out of a milk carton? Not a box like Shangela, but just pop out of a milk carton?" she says between laughs. "This season was definitely an emotional season. So, I feel with a little bit of time, yeah, who knows? I could be bustin' down that [Drag Race] runway again."
While Milk's run on this season of Drag Race may have been spoiled, it's good to know she's not sour about the future.