Are Olivia Munn & Aaron Rodgers Engaged?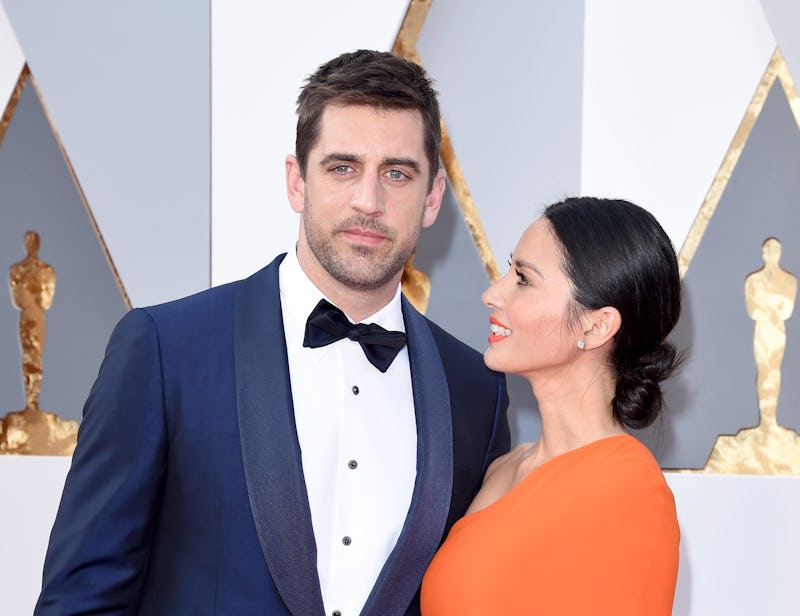 Jason Merritt/Getty Images Entertainment/Getty Images
As they say, "A picture is worth a thousand words," or in this case maybe a thousand dollars worth of diamonds. Paparazzi snapped a shot on Saturday of lovebirds Aaron Rodgers and Olivia Munn leaving a party in Beverly Hills. However, the X-Men: Apocalypse star's not so subtle bling on her ring finger has the internet wondering if Rodgers and Munn engaged. All signs point to... maybe! But before fans of the football player and actor start jumping to conclusions, it should be noted that Munn is also wearing a ring on her middle finger and a bracelet, so maybe she just felt like accessorizing?
Bustle has reached out to a rep for Munn for comment; a rep for Rodgers could not be reached at the time of publication.
This wouldn't be the couple's first run-in with engagement rumors. Just a year ago, Munn posted a hilarious screenshot on Instagram of a text exchange with her mother about the exact same subject. Although the rampant rumors turned out to be alternative facts, Munn took it all in stride telling her inquisitive mom, "You know you shouldn't believe gossip on the internet. If I was engaged, I promise you'd be like the 8th person to know. Maybe 9th. But definitely way before the internet."
Besides, the couple is known for being quite hush hush regarding personal matters. Most notably, Rodgers has remained quiet about his estrangement with his younger brother, Bachelorette winner Jordan Rodgers. Despite any drama in this family life, Rodgers' romantic life seems to be on track. The Green Bay Packers quarterback and the Ocean's Eight actor have been dating since 2014, according to E! News.
Based on the photo, E! News suspects that Munn's possible engagement ring "features a ruby center surrounded by diamonds and a gold band." Since the QB's team recently lost their chance of making it to this year's Super Bowl, maybe now is the perfect time for Rodgers and Munn to settle down and tie the knot. Fans will have to wait and see.