If Prince Harry's Exes Show Up At The Wedding, It Would Actually Follow A Tradition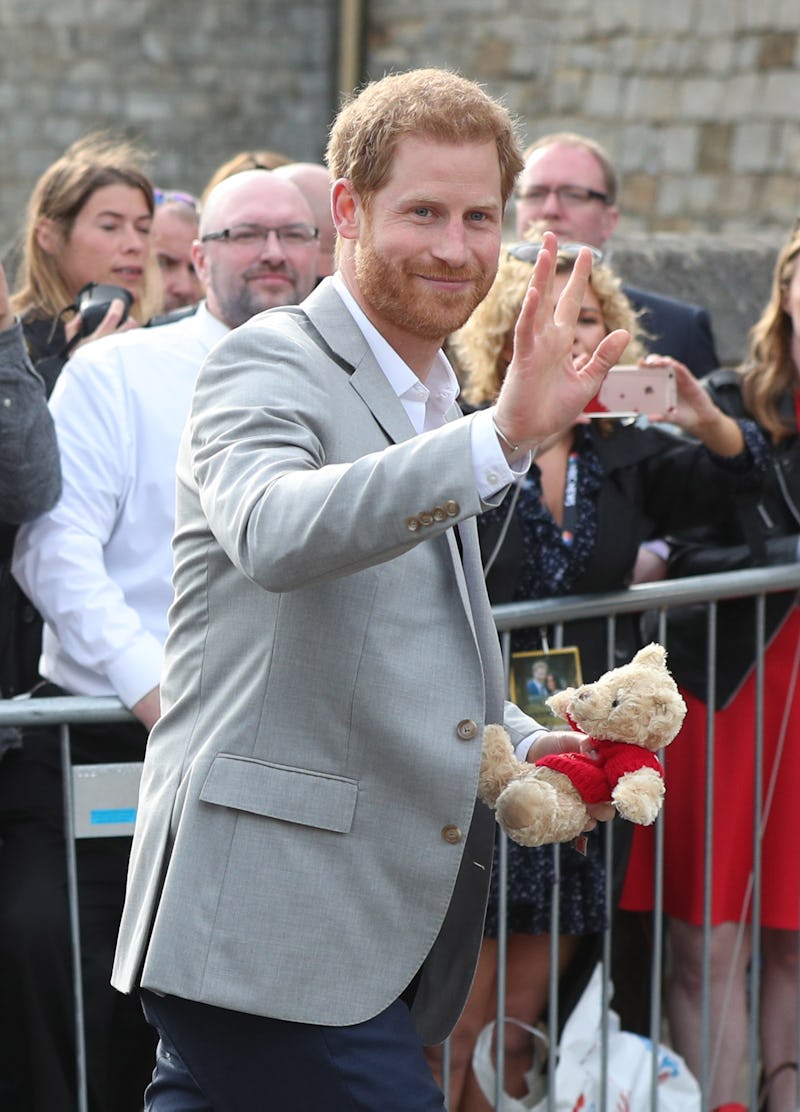 WPA Pool/Getty Images Entertainment/Getty Images
The royal wedding is almost here, and fans are eagerly awaiting the televised events on Saturday, May 19. Kensington Palace has shared plenty of details about the ceremony, but the full guest list remains elusive. Will Prince Harry's ex-girlfriends be at the royal wedding? Based on some reports, it seems likely that two of them, Chelsy Davy and Cressida Bonas, will be in attendance.
Of course, Prince Harry and the royal family haven't confirmed whether or not Davy and Bonas are on the royal wedding guest list, but numerous reports suggest that Davy, a Zimbabwean heir, will be there, and it would't be a surprise if actor and model Bonas is in the crowd, too. Last week, Vanity Fair reported that Davy was invited to Prince Harry and Meghan Markle's wedding ceremony at Windsor Castle's St. George's Chapel. But an unnamed source told the magazine that Davy is still feeling a bit excluded, because she reportedly wasn't invited to the more intimate dinner that will be held at Frogmore House on Saturday evening.
The anonymous source told Vanity Fair,
"Chelsy has been telling everyone she has been invited to the wedding and she is shopping for the perfect gown. She wants to look her very best and has been given a plus-one, but she has said she has not been invited to the evening party. Her nose is a bit out of joint but we've told her she's lucky to be going to the actual wedding. She's still hoping she might be asked to attend the evening party, too."
Prince Harry and Davy dated on and off for about seven years, from 2004 to 2011, according to The Telegraph. It sounds like there have been no hard feelings between the two of them since their breakup, though.
And the same goes for Bonas. In February, the Daily Mail reported that both Davy and Bonas were invited to the wedding. "Harry has stayed good friends with Chelsy and Cressida, so they will be there," an anonymous source (and reported friend of Prince Harry) told the Daily Mail. "He made sure there were no hard feelings when they split up. I don't think Meghan will mind."
Harry dated Bonas from 2012 to 2014, according to The Sun. The pair were introduced by Princess Eugenie of York, a close friend of Bonas' and Harry's cousin. Given her connection to the family, it seems possible that Bonas might be invited to the wedding, too. Plus, as The Sun points out, Bonas is descended from royal blood herself, as a descendant of King Charles II.
It sounds like Harry's stayed on good terms with his exes, so it won't be too much of a surprise if they show up at the wedding ceremony on Saturday. There will be a whopping 600 guests within St. George's Chapel, after all.
There's one ex who reportedly won't be on the guest list, though: Markle's ex-husband, Trevor Engelson. The Daily Mail reported in February that the couple chose not to invite Engelson, from whom Markle separated in 2013 after roughly two years of marriage.
If Prince Harry's exes do attend the royal wedding, it would be in keeping with precedent, too. Ex-girlfriends of Prince William, Duke of Cambridge, and exes of Catherine, Duchess of Cambridge were at their 2011 wedding, as E! reports. And when Prince Charles, Prince Of Wales married Diana, Princess of Wales, his then-ex and now-wife, Camilla, Duchess of Cornwall, was in attendance, too. Still, fans won't know for sure who will be at Harry and Markle's wedding until the day's events begin on Saturday.