2 Of Prince Harry's Exes Might End Up Attending The Royal Wedding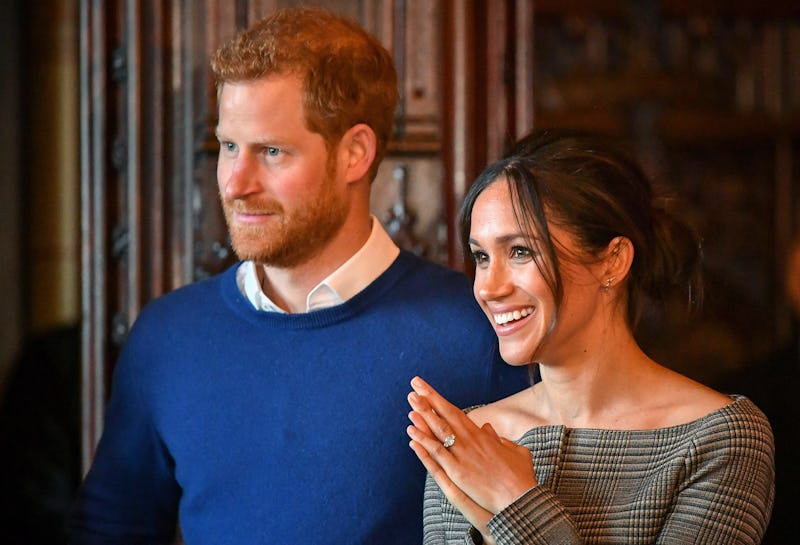 WPA Pool/Getty Images Entertainment/Getty Images
Things might get a little awkward during Prince Harry and Meghan Markle's wedding. According to the Daily Mail, Prince Harry's exes are invited to the royal wedding. Harry nor the royal family have confirmed whether his exes, Chelsy Davy and Cressida Bonas, will indeed attend or if they even got an invite in the first place. But, if they were invited, it's certainly an interesting move on the prince's part.
It seems like there were no hard feelings with either breakup, which is why the women supposedly received invites. According to the Daily Mail, as per a source who says they are close to the prince, "Harry has stayed good friends with Chelsy and Cressida, so they will be there." They continued, "He made sure there were no hard feelings when they split up. I don't think Meghan will mind."
Davy, who had a seven year on and off relationship from 2004 to 2011 with Harry, previously discussed the pair's friendship in 2016. She related that it was "tough" to date him, as she was always in the spotlight during their relationship, according to The Sunday Times. She also said, "I think we will always be good friends." So, if they are friendly with each other, it would make sense that she'd score an invite to one of the most anticipated events of 2018.
It's kind of a different story with Harry's other ex, Bonas, whom he dated for two years from 2012 to 2014. People reported in 2014, following the breakup that the two were, "very much the best of friends." Yet, while the Daily Mail and People report that Davy and Harry are friends, and that she received an invite as a result, other sources have suggested that that isn't exactly the case. Here's the rundown: Harry and Markle announced their engagement on Nov. 27, 2017. One day later, Bonas posted an interesting photo on Instagram that left many wondering whether she was commenting on the recent news and her ex-boyfriend.
Her photo contained a quote which included, "how you treat people ultimately tells it all." Of course, there's no way to know for sure if her Instagram post was a subtle comment towards her ex. It could have totally just been a great quote that she wanted to share with her followers with the timing just being coincidental.
There's precedence for Harry inviting his exes to his wedding. Both his brother, Prince William, and his father, Prince Charles, invited some of their exes to their respective weddings. In 2011, the Daily Mail reported that a couple of women said to have dated William, such as Jecca Craig and Arabella Musgrave, attended his nuptials to Kate Middleton, the now Duchess of Cambridge. When Prince Charles married Princess Diana in 1981, his ex (and now current wife) Camilla Parker-Bowles was in attendance, as E! News notes. So, it's not like inviting an ex-girlfriend would be unheard of in royal circles.
Whether Davy and Bonas are invited or not, it's likely that Harry and Markle are too busy thinking about planning other wedding details at the moment. The couple recently revealed even more news about their wedding day via the official Kensington Palace Twitter account. According to their account, the festivities will begin with a service at 12 p.m. at St. George's Chapel (which means that it will start at 7 a.m. EST) and will be followed by a classic processional around the town of Windsor. The pair will end their day with a private reception at St. George's with their closest friends and family.
It really is anyone's guess as to whether the prince's ex-girlfriends will show up at the couple's May 19 wedding. But no matter what, the royal wedding will still surely be a lovely and wonderful event.