'Love Island' Producers Are Always In & Out Of The Villa, But The Reasons Why Are So Legit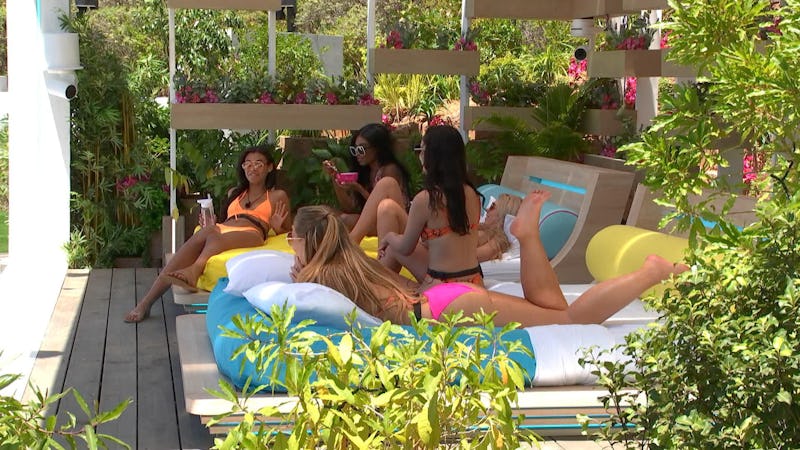 Love Island/ITV 2
Love Island is about as entertaining as TV can get. A load of young hot things vying for each other's attention, competing in funny tasks, and, of course, all that snogging. So they just chuck all these people in a house and let great things happen, right? Of course not you numpty, there's a lot more to it than that. The production team put a lot of work into making this show great, but the question is, are producers allowed into the Love Island villa?
I contacted ITV's press department for information and I'll let you know as soon as I've got their up-to-date line on this, but during season five, they informed us about the producers role in the day-to-day life in the villa:
"There is a producer who talks to them in the Beach Hut and if they are going on dates or to challenges obviously they are accompanied by someone from production."
Glamour reports that the one major difference with the Cape Town Love Island villa is to do with security, which has been stepped up this season. According to Glamour's Bianca London, who visited the new villa ahead of season six's premiere, the site is "patrolled by armed guards following a recent gang shooting" that happened nearby.
Back in 2018, season two's Kady McDermott explained that producers used to pop in from time to time for techie stuff. Speaking to Cosmopolitan about her time on the show, the former islander said:
"We would have food cooked for us at dinner, and producers would come to change our mic batteries. That's why dinner is never filmed or you don't see anyone eating hot food."
Ah! So that's why you never seen anyone eating anything besides a cheese toastie. It all makes sense now. In fact, the Huffington Post reports that, during these meal times, the producers insist the islanders keep chats to a minimum so us viewers don't miss any of the juicy stuff. Aw, thanks guys.
McDermott also explained to Cosmopolitan that the producers were close at hand during the challenges to ensure that everything runs smoothly. However, this can end up with a heck of a lot of retakes and can actually end up taking hours to shoot. "There was like a full squad of cameramen and producers, and it was like a reminder that you were on a TV programme," McDermott said.
Amanda Stavri, who is commissioning editor on Love Island, spilled the beans to The Sun back in 2019 on where the production team hang out during the show. The producers spend most of their time in special production huts that are stationed around the villa, where they can monitor what's going on 24/7.
And, going by a recent viral tweet, it would seem things haven't changed much in 2020, with the producers are staying close to the action. Maybe even too close. On Jan. 12, one eagle-eyed viewer spotted someone lurking in the bushes while Callum and Sophie were having a chat on the day beds. All likelihood points towards this being a producer or security guard. But who knows? Maybe the islanders just have incredibly nosy neighbours..?
Watch Love Island on ITV2 every night but Saturdays at 9p.m.
This article was originally published on