Why That Huge Fight Is Likely Not The End For Beth & Randall On 'This Is Us'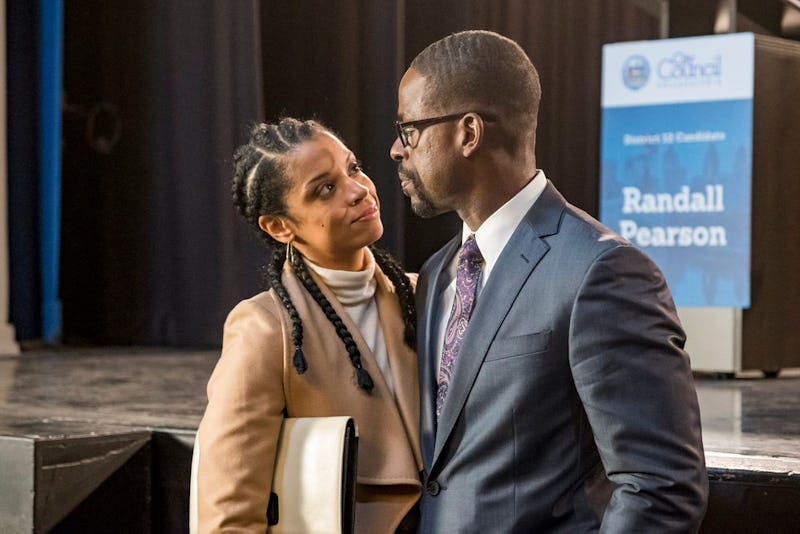 Ron Batzdorff/NBC
Spoilers ahead for the This Is Us midseason finale. When Beth and Randall are clicking, there's no stronger couple on TV. But when they're out of sync, it gets pretty hard to watch. And after a particularly brutal argument in the Season 3 winter finale, it looks like Beth and Randall could even get divorced on This Is Us.
Of course, that's a pretty fatalist view of what has mostly been a solid relationship. Beth and Randall have faced quite a few hurdles over the course of their relationship, and each time they have come out stronger than ever.
They dealt with Randall bringing his biological father, William, home to live with them. They dealt with William dying shortly after. They dealt with Randall's family drama over Kevin's addiction and Kate's miscarriage. They dealt with fostering a child, seeing that child go home to her mother, then adopting that child when her biological mother couldn't take care of her anymore. They dealt with Randall's anxiety, Randall quitting his job, Beth going back to work full time, and then Beth losing her job. And those are just a handful of the trying times that Beth and Randall have faced during their marriage.
But through it all, they've stuck things out. So it stands to reason that this latest fight will just be a blip on the radar of their long love story. It makes sense that Beth is frustrated that Randall wants to see the election out, even though he knows he'll probably lose — especially when they have things at home that need their attention. It also makes sense that, after coming so far, Randall doesn't want to back out. If he ever wants to run again, it'll make him look very bad to the constituents if he bails now. Also, it's just a few weeks until the election, so honestly Beth probably should have just sucked it up, but sure whatever.
In any case, it's easy to see where both parties are coming from. And, even though Beth is making Randall sleep on the couch for now, don't expect this fight to last too long. For one, the fact that the election is not that far away means that Randall will know one way or the other soon. If he does lose, then they're pretty much able to go back to normal. Of course, if he wins, Beth could stay angry longer since he'll be super busy with his duties and not around as much.
In any case, though, it doesn't seem like it's splittsville for the dynamic duo. In the flash forward it's clear that Randall and Beth still have a relationship. If they'd had a bitter divorce, Beth probably wouldn't be joining Randall to go visit his mom. On the other hand, they may have broken up based on the fact that Randall is having his daughter call to tell Beth they're coming instead of just calling himself. But also, that could be classic This Is Us misdirection.
In confusing instances like this, it's best to go to the source. And what actor Sterling K. Brown has said about Randall's marriage will make all of you breathe a sigh of relief. The actor told TVLine back in September that, while Beth and Randall would experience some marital issues in Season 3, ultimately it would all work out.
"That's what happens in a marriage: You grow together and apart and together and apart, and the ones that work are the ones where you keep coming back together," Brown said, adding, "This is a marriage that works, so they will come back together." So it's just a matter of when, not if, so you can relax a little.