'BIP's Raven & Adam Could Be Planning Their Dream Wedding Soon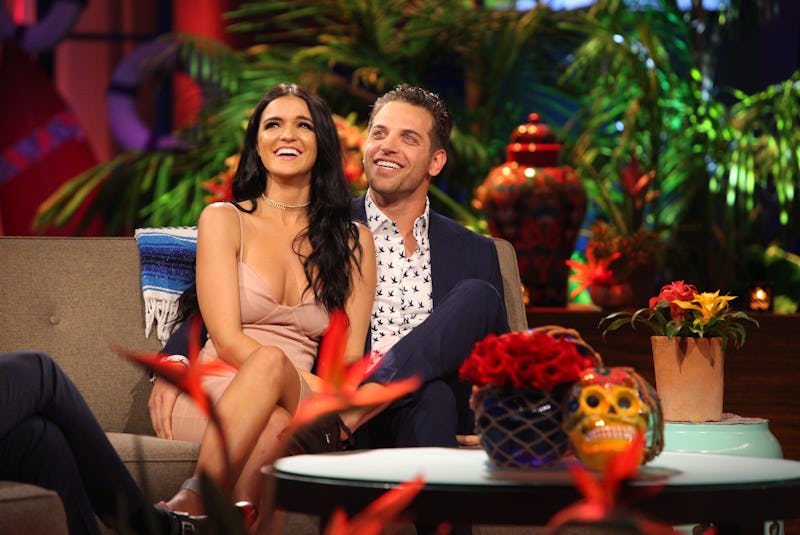 Paul Hebert/ABC
Bachelor In Paradise only wrapped three months ago, but in Bach world, things move fast, and as the franchise prepares to induct its newest Bachelor, it seems like an apt time to catch up with past couples. So, let's start with one of Bachelor In Paradise Season 4's strongest: are Raven Gates and Adam Gottschalk engaged in 2018?
A quick glance at their Instagrams confirms that they're still very much together, but there's no sign of a ring just yet — and likely won't be any time soon. Though Raven recently raised some eyebrows when she reportedly tweeted about a "wedding planner" earlier this month, that tweet seems to have since been deleted, and in the past, Raven and Adam have made clear they don't want to rush their relationship. Yes, they've already met each other's parents, but there are a few more benchmarks they want to check off before considering a proposal. For one, they want to want to hammer out "the conversations that need to be had before you get engaged," Raven told Glamour just after the BiP finale.
And secondly, they want to live in the same city, which will take time not only for practical reasons (at this point, they've only been dating for six months) but for logistical purposes, too. Raven has said she's open to the idea of moving to Dallas to be with Adam, but that requires a lot of planning on her end. Aside from the usual nitty-gritty of lease agreements, tough goodbyes, and all the other factors that go into uprooting your whole life, Raven owns a clothing boutique in Jonesboro, Arkansas, and will need to figure out how to either transfer her business to a new city or run it from afar. "[Moving] is in the future, but the thing is with a good, thriving business [like Raven's], it's very hard to put an exact timetable together," Adam added to Glamour. Fortunately for Raven, Adam is in real estate, so he can certainly help her find a potential new storefront. Talk about a perfect pair.
In the meantime, Raven and Adam have thought about marriage, but want to wait until the time feels right. As Adam told Entertainment Tonight:
"We've talked about where [our relationship] is now and we're taking it day by day. I think we live in today, but we plan and prepare for tomorrow. As far as an engagement, [it's] something that we've talked about. It's serious, but obviously being engaged and married are two different things and I think that when the time is right, we'll be ready to take that step and everyone is going to be excited to see that."
For now, though, they're making things work long distance. Raven explained in the same interview that since both she and Adam's jobs allow for flexible schedules, they're able to see each other more frequently than other cross-country couples, and while on fellow BiP alum Dean Unglert's podcast in November, she said they never spend more than two weeks apart.
All in all, it sounds like they've begun to create a solid foundation for the future, but there's still some building left to be done. And in terms of longevity, that seems like the smartest way to go. It's common knowledge that The Bachelor has a pretty shoddy track record when it comes to lasting relationships, by and large because it encourages people to get engaged before being able to see how they mesh away from the grandeur of the mansion and back in the real world.
It's clear Raven and Adam work well together outside of the theatrics of the show, but they're still testing things out. Engagement could very well be on the horizon, but not just yet.