Raven & Adam Took A Huge Step Together After 'Bachelor In Paradise'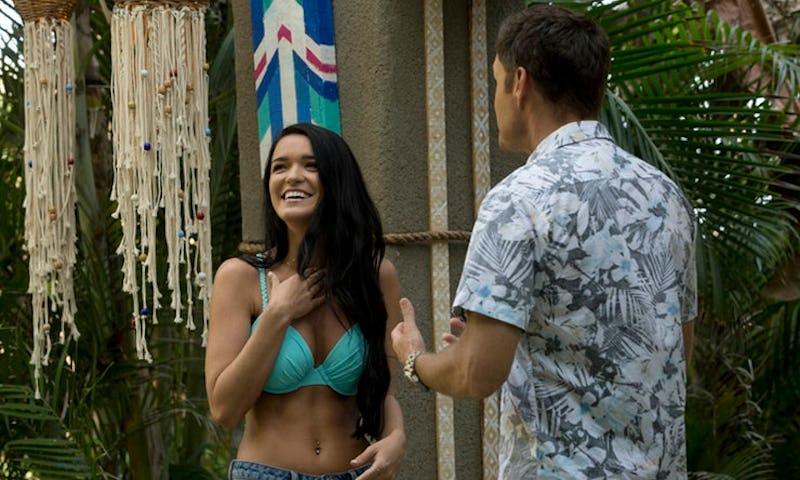 Paul Hebert/ABC
Every season of Bachelor In Paradise has those couples that pretty much stay completely out of the drama and just pop up in front of the camera every now and then to show how in love they are. Raven and Adam are one of those couples. They paired off early on and have just been canoodling in hammocks every since. These two seem to have really found a true partner in one another and word is that they are still dating long after the cameras have stopped rolling. So, has Raven met Adam's parents after Bachelor In Paradise?
Well, there is no solid proof in the form of photos or statements from the couple about a meeting with each other's parents. But, according to Us Weekly, Adam has reportedly already met Raven's mom and dad in Arkansas. When it comes to the other side of the coin, according to the same article, there were reportedly plans for Raven to travel to Dallas to meet his folks as well.
Can we all just swoon together now, because things seem to have become really serious between these two and love is real and magical, right? After Nick Viall shockingly sent Raven packing during the finale of his Bachelor season, fans were really rooting for Raven to find a good guy in Paradise. It looks like she found that guy in Adam.
When I say that these two have just been canoodling in hammocks for the duration of Season 4 of BiP, I truly mean that. It has been a fun game to watch them watch the drama unfolding around them. Last week when the Ferguson twins showed up to cause a tornado of trouble, Raven and Adam could just be seen in a fabric swing together, commenting to each other about what a hot mess the situation was. Essentially, they are all of Bachelor Nation while watching this season of BiP. Since they stay so far out of the craziness, and other more intense drama has taken precedent (and camera time), it is easy to forget that they are forming a real relationship that has seemingly carried over into real life after Paradise.
Fans may remember how adorable and sweet Raven's family was during the hometown visits on Nick's Bachelor season. When he traveled to Hoxie, Arkansas to meet them, they made him feel right at home and her family just seemed very tight-knit, yet easy to fall right in with. Adam is such a sweet, genuine guy, that I think it would be hard not to fall for his charms. Add to the equation the fact that he clearly loves and respects Raven, and I think he most likely impressed her family if he already met them. When it comes to Adam's parents, his mom is clearly a big influence in his life, as he posts adorable praise for her on his Instagram often. I can't say I am too worried about Raven being able to charm her, either.
According to the previously mentioned Us Weekly article, this pair has reportedly been taking romantic vacations together since leaving the show. I mean, I am sure that it might seem silly to some, since they have just spent weeks together in Paradise, but I am willing to bet that having some time to be completely alone, without the stress of drama or cameras in your face all the time can do wonders for a thriving relationship.
Now that the parents have reportedly been met, or at least are scheduled to be met, these two can focus on living happily ever after.