Luke May Have Found A 'Bachelor' Love After All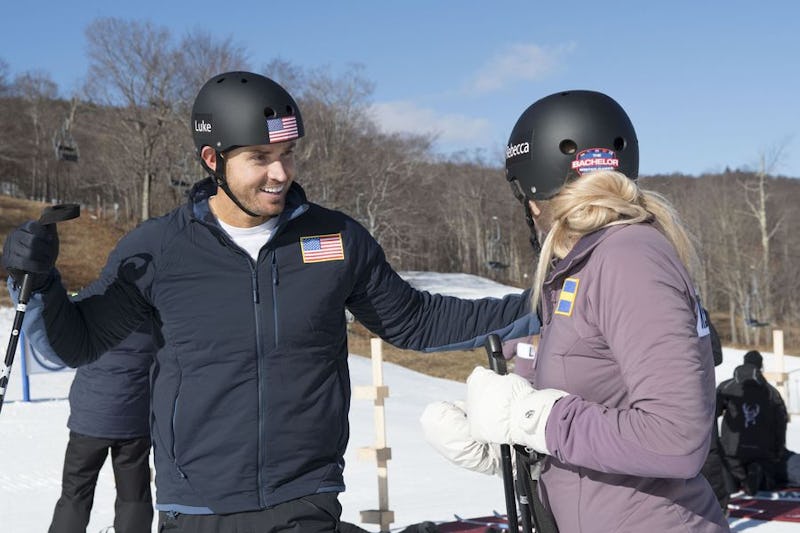 Lorenzo Bevilaqua/ABC
It's been almost two years since we first met Luke Pell on The Bachelorette, and already, he might be finding love again on a Bachelor Nation show. After Tuesday night's Bachelor Winter Games premiere, it seemed like Luke might have formed a connection with one of the international ladies, but are Rebecca and Luke still together after Bachelor Winter Games now that everybody's left Vermont? It's hard to say, but they do make a really cute couple.
On Tuesday's episode, Luke and Rebecca — 26-year-old from Sweden — met for the first time and seemed to hit it off. Their pairing makes a lot of sense; they're both ridiculously gorgeous humans who are already killing it at these games. After Rebecca won one of the first date cards of the season, she decided to ask Luke to go with her, and he was really excited that she asked him. Everything went really well, and it already seems like there might be something between them. But is it enough to last after filming?
Unfortunately, there doesn't seem to be a clear answer to that question. According to both Luke and Rebecca's Instagram accounts, they both appear to be single, because they're definitely not posting any couple-y photos together or with anyone else.
As far as Luke's Instagram is concerned, it's mostly filled with photos of him by himself or posts promoting his new music, which he's been working really hard at lately — and it sounds like he's even gearing up to go on tour. If he's in a relationship with Rebecca (or anyone), he's keeping it close to the chest on IG.
And as for his Twitter? Well, he hasn't been talking about himself so much. Instead, he's been live tweeting Arie Luyendyk Jr.'s season of The Bachelor. He's got a lot of thoughts.
Rebecca's Instagram isn't much more helpful. She hasn't really addressed the show much — other than revealing that she'd be participating in the show on the day that the cast announcements came out — so it's hard to say where she's at these days. It seems like she's having a blast, single or not, though. Judging by her recent photos, her brain is far away from the snow. She's been sharing a lot of #TBT style photos from summer and her recent trips to very warm climates, like Brazil.
Um, it's probably safe to say that every single human on earth is right there with her. Can winter just end already, please?
But if Bachelor Winter Games is like every other incarnation of this franchise, there's a good chance that Luke, Rebecca, and the rest of the cast are prohibited from talking about their relationship status until the finale airs, anyway. The evidence they're presenting online may be totally meaningless in trying to crack what they're doing today, which means that at this point, everything's a mystery. Sigh.
If things do work between them, they'll definitely have their obstacles. After all, it's not like Nashville and Sweden are even remotely close to each other. But if they really want to make it work, they can. Luke has seemed really serious about finding love over the past couple of years, and it was heartbreaking to see how devastated he was when JoJo Fletcher sent him home on The Bachelorette. Maybe he's finally found the right person for him?
Whatever happens during Luke's second chance at TV love, and even if he and Rebecca don't last much longer than their first date, it's going to be interesting to see where this season takes them both. Stranger things have happened in this franchise than two people hitting it off and sticking it out.