Robert Pattinson & Suki Waterhouse's Reported Dates Are So Cute You Might Burst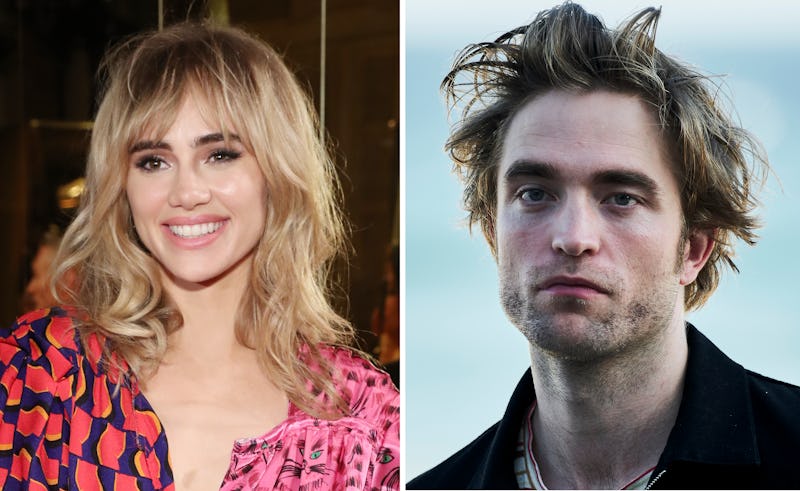 Cindy Ord/Getty Images Entertainment/Getty Images / Carlos Alvarez/Getty Images Entertainment/Getty Images
Ever since Robert Pattinson left the Twilight franchise behind, he's gotten pretty good at avoiding the public eye and has kept his private life for the most part exactly that. However, the Good Time actor was recently spotted together with a rumoured flame which has left me wondering, are Robert Pattinson and Suki Waterhouse dating? The British model and actress was spotted leaving a nightclub with him late at night, further fuelling rumours that the pair have been dating for a little while.
According to Metro, Waterhouse and Pattinson were spotted partying all night long at The Chiltern Firehouse on Tuesday October 30 before leaving around 2:30 a.m. The outlet also added that they were seen "heading home together in a black cab." The Daily Mail also shared pictures of the pair in the car, reporting that they "beamed as they settled into the backseat". They weren't wrong, as the pair seem absolutely adorable and were giggling with one another as they hid from the paps. Good for them. I've reached out to both their reps to see if they can confirm whether or not the pair are dating, as it definitely looks like they have chemistry. Pattinson's rep hasn't responded, but Waterhouse's management responded to say that "we don't comment on our client's personal lives."
Waterhouse and Pattinson were rumoured to be dating earlier this summer. The Daily Mail shared pictures of the pair kissing on a date night during which they alleged stopped by Soho House and also "watched Mamma Mia 2." (A couple with great cinematic taste, TBH.) As with the other night, they also partied pretty late before retiring home together. At the time, the Daily Mail said they remained at Soho House "until 1:10 a.m., when they walked arm-in-arm back to Suki's abode."
E! News previously reported on Pattinson and Waterhouse's romance, with a source telling the publication that the pair were "casually dating," which sounds like a nice change of pace from his previous relationship. The source said, "Rob is having fun right now and has definitely moved on from his relationship with FKA twigs."
They also added that the pair are "definitely into each other" and I'd say that always helps when you're embarking on a romance — confirmed or not.
Pattinson was last in a pretty serious relationship with the singer FKA Twigs and they dated for three years, leading to the pair becoming engaged. They were basically the ultimate hipster couple and it was pretty sad when they broke up last year, as E! reports, but it's nice to see that he's moving on.
Waterhouse on the other hand was previously attached to Diego Luna, a.k.a. one of my biggest celebrity crushes, but they called it quits last year, Harper's Bazaar reports, after a year-long relationship.
Whatever Waterhouse and Pattinson's relationship status is, there's no denying that they look pretty chic together. And if they want to keep things private, that's totally their prerogative. But either way, I genuinely haven't stopped thinking about the fact that Robert Pattinson allegedly took her on a date night to see Mamma Mia 2, my personal favourite contender for Best Picture at the Oscars next year. The couple that watches Pierce Brosnan struggle to hit the high notes together, stays together IMO.