Why Fans Shouldn't Give Up On Robert Pattinson & FKA Twigs Yet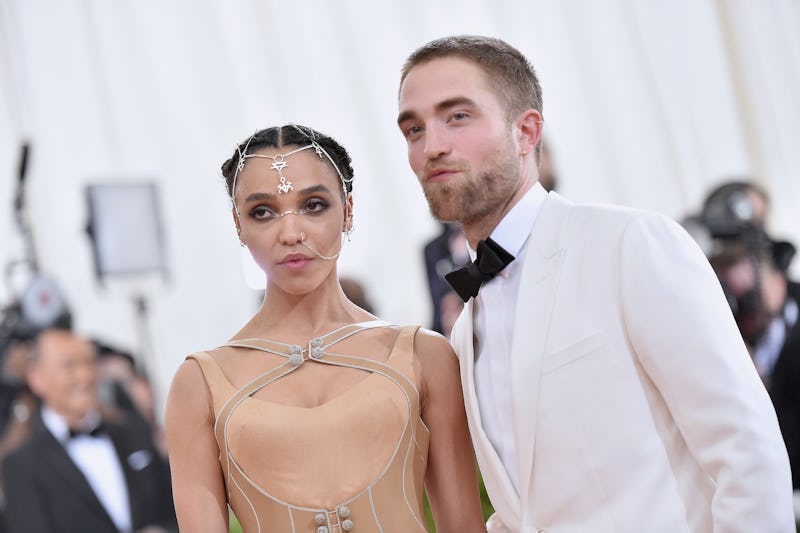 Mike Coppola/Getty Images Entertainment/Getty Images
When Edward Cullen takes the stage at the 75th Golden Globes on Jan. 7 to present an orb-topped statuette to a to-be-announced winner, you may find yourself wondering if Robert Pattinson and FKA twigs are still together. (You may also find yourself wondering why the heck he wasn't nominated for his transformative performance in Good Time, but that's a different rant for a different day.) Sadly, the two incredibly talented, incredibly cool, and incredibly private people recently went their separate ways.
Pattinson and Twigs began dating in 2014, and got engaged the following year. The two remained pretty tight-lipped about their relationship; whenever the subject would come up in interviews, both were quick to change the subject. As Twigs told the Sunday Times in August 2015, "[I'm] not prepared to talk about my private life. I don't really understand the fascination."
Fast-forward to Pattinson's July 2017 appearance on The Howard Stern Show: According to USA Today, the Good Time star said he and Twigs were "kind of" engaged. The "yeah, kind of" that happened on Howard Stern's morning radio show prompted many to wonder if the couple had called off their engagement.
When Stern pointed out how secretive Pattinson and Twigs are, the actor replied,
"It's one of the most frustrating things in the world, you want to be able to [be more open], but it's literally like, you get stuck in this position but you have to make this decision whether you want to let the crazy people in. I mean basically, for whatever reason with Twilight – I don't know whether it is a specific thing with the audience – there's like a crack group of crazies that think every single decision you're making is either creating some kind of conspiracy… So you kind of think, like, to protect it, I want to create a big boundary, then it's difficult for your relationship."
Again, Pattinson has always been pretty cagey about his relationship with the "Two Weeks" singer. For example, when People asked him about wedding plans back in 2016, he replied, "Planning what now?" So it's not like this "yeah, kind of" response was totally out of character.
But then, a few more things happened that added kindling to the speculation fire. As E! News pointed out, the two hadn't been out in public together since May 2017, but that doesn't mean they weren't hanging out with other people. As People reported, Twigs was photographed hanging out in Ibiza with model Brieuc Breitenstein in August 2017. That same month, Pattinson was spotted out at a restaurant with Katy Perry. Before the rumor mill could get too carried away regarding the Perry and Pattinson situation, Gossip Cop debunked the story, citing a source who claims the two are just friends. And then, the sad news broke: In October, The Sun reported that Pattinson and Twigs were over.
Over the past few months, Pattinson's been romantically linked to several different celebrities, but like the Perry sitch, Gossip Cop has shut down each rumor. The Kate Beckinsale story? Declared false. The Emma Watson report? Gossip Cop called shenanigans. And that tittle-tattle about Pattinson and ex-girlfriend Kristen Stewart rekindling their relationship? It has been dubbed complete bunk.
And, of course, there's the "mystery blonde woman" that Pattinson has reportedly been spotted with multiple times. According to Us Weekly, Pattinson and the "mystery blonde woman" attended Seth McFarlane's holiday party together in December. The publication's source claimed they were "holding hands" and "together all night."
Twigs-light is officially no more, but there may still be a glimmer of hope. And that glimmer of hope may or may not sparkle like a vampire's epidermis. Oh, and that glimmer of hope is definitely comes in the shape of an unnamed magazine source. Shortly after the split news surfaced, People reported that a source claimed they believe Pattinson and Twigs "will eventually get back together. He still loves her and I think that's the girl he wants to marry." The source also claimed that the breakup "wasn't vicious," which, whew. Whatever happens, wishing both halves of Twigs-light the best.