Why You Probably Shouldn't Expect Prince Harry & Meghan To Dress Up This Halloween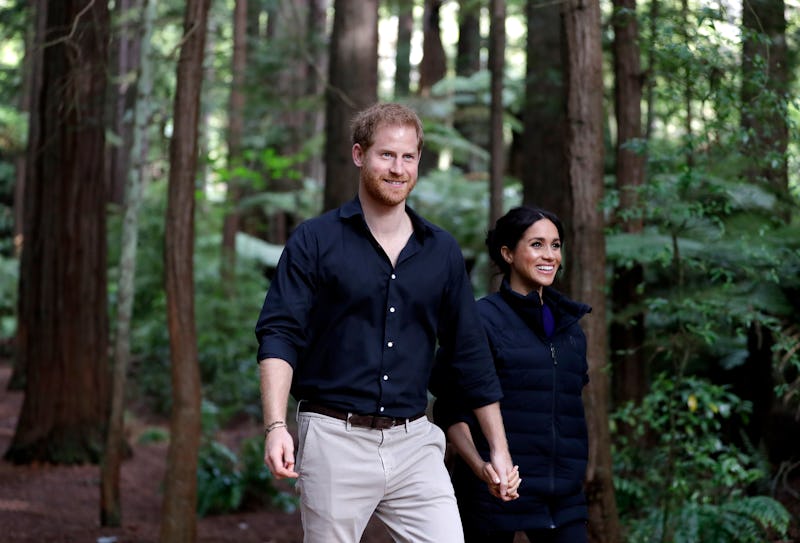 Pool/Getty Images Entertainment/Getty Images
For many people, Halloween is a fun time to dress up, watch scary movies, and eat plenty of candy. But not everyone celebrates the holiday, at least not in the public eye. If you've been asking yourself, " Are royals allowed to dress up for Halloween?," you're not alone. And while the answer isn't 100 percent clear, it doesn't look like the British royal family will be joining in on any Oct. 31 festivities in the near future.
According to a report OK! magazine published last fall, the royals aren't allowed to celebrate the holiday, at least not in the public eye. "The royals certainly don't publicly celebrate Halloween, however, Kate's mother, Carole Middleton and sister, Pippa Middleton might well put their party planning skills to good use," OK!'s royal expert, Christina Reeves, told the magazine last year. "It's likely they will throw a private party for George and Charlotte behind closed doors."
Of course, that was last fall, and fans probably won't ever find out if the Duke and Duchess of Cambridge's children actually got to have a private Halloween celebration. Still, it's nice to think that the kids at least had a bit of holiday fun, even if they didn't get to go trick-or-treating in costume.
As for the Duke and Duchess of Sussex, it looks like Prince Harry and Meghan Markle got in some pre-Halloween celebrating in New Zealand over the weekend. Time reported that the two of them met with various people in costumes, including an orc from Lord of the Rings, while visiting Courtenay Creative, a local production company.
And even though the royal family appears to frown on its members wearing Halloween costumes, that doesn't mean Meghan Markle and Kate Middleton didn't dress up for Halloween before becoming royals themselves. Kate wore a Halloween costume in 2007 that the Huffington Post has interpreted as a "seductive witch," though the cape and black outfit could just as easily be a vampire costume.
Plus, apparently Meghan and Harry spent Halloween together in 2016; ABC News reported at the time that Prince Harry made a low-key visit to Markle's apartment in Toronto. And as Cosmopolitan pointed out, there was evidence of the Halloween festivities on Meghan's now-defunct Instagram page. Meghan shared a photo of herself holding a jack-o-lantern, which is probably as close as fans will ever get to seeing the two of them spend Halloween together.
Still, even though they don't celebrate Halloween in the public eye, the royals have dressed up in various costumes over the years. Prince Harry, Prince William, and even the Queen of the United Kingdom have dressed up while acting in performances of various plays at school functions and other events.
The royals likely won't be doing anything special for Halloween, at least not anything that will be photographed. But they might still be enjoying candy, and maybe even costumes, within the privacy of Kensington Palace. Fans might not get to see how the royals spend Oct. 31, but that doesn't meant they'll let the holiday go unnoticed.