Here's How Much Meghan & Harry's Guests Can Drink At The Royal Wedding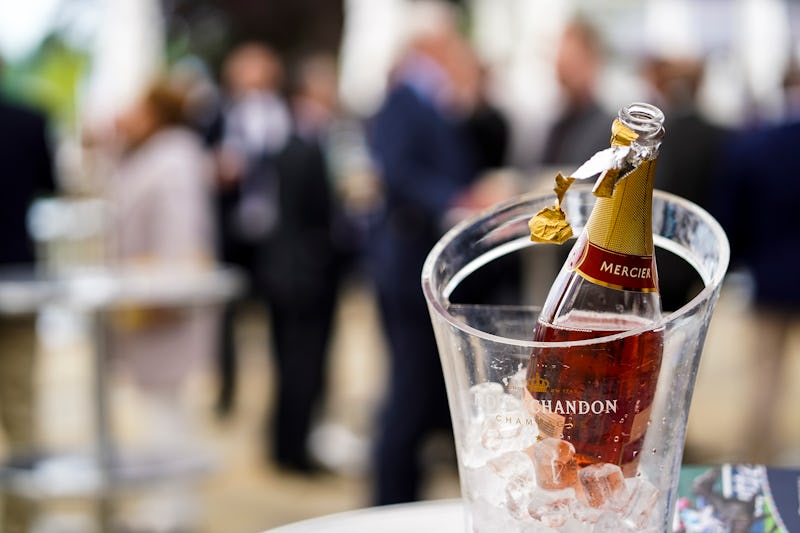 Alan Crowhurst/Getty Images Sport/Getty Images
The royal wedding is only a few days away, and, there's no shortage of excitement and speculation as to how the massively anticipated event will go down. It is, after all, a royal wedding — it'snot something you see every day. And being that royal weddings include a wide and complex array of planning, tradition, and etiquette, one is left to ponder the ultimate question: can royals drink at the royal wedding? I mean, we all get to freely admire the ornate and sometimes outrageously Instagrammable fascinators, dresses, and flowers on full display, along with the wedding procession and exchange of vows, but what about the after party?
Let's break it down, shall we? Here's what we know about the infinitely charming, and sometimes borderline quirky, world of royal wedding etiquette — and whether or not royals get to drink booze in honor of the epic occasion.
There are definitely lots of rules when it comes to planning a royal wedding. Considering that the Evening Standard reports 17 official rules that Prince Harry and Meghan Markle will follow on their special day, it's safe to say that, while attention to detail is key to planning any wedding, a royal wedding is another show entirely. According to the Evening Standard, Queen Victoria wore white to wed Prince Albert in 1840, and started a trend that's lasted to the present day; before then, white wasn't the traditional bridal dress color as it is now. The donning of a tiara is traditionally required, as is the inclusion of myrtle, the so-called "herb of love" in the bridal bouquet. And Markle's wedding myrtle won't come from just any old shrub, either: the bouquet must include myrtle planted by Queen Victoria after her wedding, the Evening Standard reports.
When Princess Diana married Prince Charles in 1981, another royal wedding tradition was created — the word "obey" was removed from the royal bridal vows, and instead changed to "comfort and keep," the Standard notes, and Markle is expected to maintain that tradition in her vows to Prince Harry. Also, the bride's ring must contain Welsh gold, royal grooms wear a military uniform, and brides are expected to arrive at the church in a horse-drawn carriage. Also, there must be fruitcake, though Markle and Harry will buck that tradition with their lemon-elderflower dessert.
And while we can all agree, surely, that cake is really, really important in life, and most especially at weddings — despite the fact that we can rest in the knowledge that two cakes are required at the reception, including the mandated fruit cake, what we all really want to know is, where's the booze? The short answer is, there are, seemingly, no official rules against royals drinking alcohol at weddings.
And while the specific boozy offerings at the royal wedding reception and after party are as yet to be determined, The Sun speculates that the couple may be opting to go with the same wine supplier that Prince William and Kate Middleton did for their 2011 wedding, with a vintage from British winery Kent's Chapel Down.
So even though it seems that royals are in the clear when it comes to imbibing during nuptial festivities, it isn't likely that the rules of etiquette and decorum will be abandoned much. After all, a royal wedding is as public an event as you can get, and as such, royal folks are typically expected to maintain their professional and, well, royal demeanor throughout any occasion or appearance. That said, let's hope that in between press events and paparazzi shots, the bride, groom, families, and guests get to let loose, and let that royal hair down for a bit.