Here's How The Rules Princess Eugenie Has To Follow Stack Up To The Rest Of The Royal Family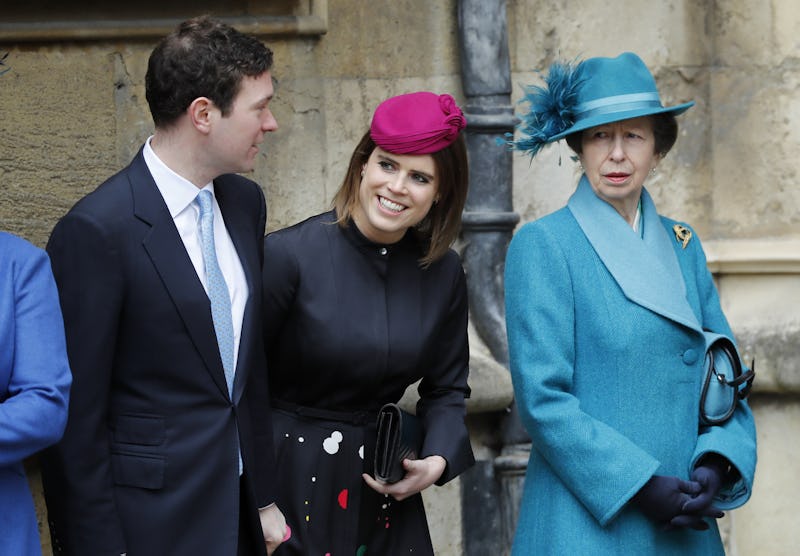 WPA Pool/Getty Images Entertainment/Getty Images
As any royal watcher is aware, Kate Middleton and Meghan Markle have their fair share of rules that they must follow when it comes to their official, public outings. But do those rules apply to their cousin-in-law? In other words, does Princess Eugenie have strict rules to follow like the other royals? Well, the answer lies in where the bride-to-be's falls in the line of succession.
Unlike her cousins, Prince William and Prince Harry — and their wives, Kate Middleton and Meghan Markle, respectively — Eugenie is not a full-time royal. Considering this, it's easy to see why she does not have as many strict rules to follow as her other family members, specifically in comparison to those who are full-time on the royal outing circuit. You've likely heard that the Duchess of Cambridge and the Duchess of Sussex have certain rules to follow when they go out in public, particularly as it pertains to their dress code.
Both Middleton and Markle are expected to dress rather conservatively and adhering to rules such as the "no knees" policy, per The Sun. While Eugenie and her sister, Princess Beatrice, are also expected to adhere to this rule during outings with their royal family members, they don't exactly follow a similar dress code all of the time.
Additionally, while the Duchess of Sussex had to delete any traces of her social media accounts before becoming an official member of the royal family, Eugenie doesn't have to abide by that same code of conduct. The bride-to-be has an official, personal Instagram account, on which she has more than 300,000 followers. In the past, she's even posted a clip of everyone's favorite comedy Friends on Instagram. Talk about a relatable move.
Although, that doesn't mean that the princess doesn't have her own set of rules that she must follow when out and about with her royal family. As Insider noted, there are a pretty basic set of rules that Eugenie, and all of the members of the royal family, must always follow. For instance, there's an art to how subtle your curtsy must be, such as when you greet Queen Elizabeth (or in Eugenie's instance, when you say hello to your grandmum). During events in which the royals enjoy a meal, everyone must follow the Queen's pace when eating. Basically, when she's done, everyone else is, too.
There are plenty of rules that Eugenie must follow in her daily royal life, and just as many that doesn't have to adhere to exactly. But, for her Oct. 12 wedding, she's the one who is setting the pace. According to Vanity Fair, guests should likely just leave their phones at home, since they'll have to surrender them anyway upon arrival at the reception following the wedding at Windsor Castle. There are also reportedly "limited toilet facilities" in the church from 8 to 10 a.m. So, that's definitely something that guests should be sure to keep in mind.
Considering that Eugenie and Brooksbank's wedding weekend is almost here, royal watchers are sure to see some of these rules, and more, in play during all of the festivities.