Meghan Markle Just Deleted ALL Of Her Social Media Accounts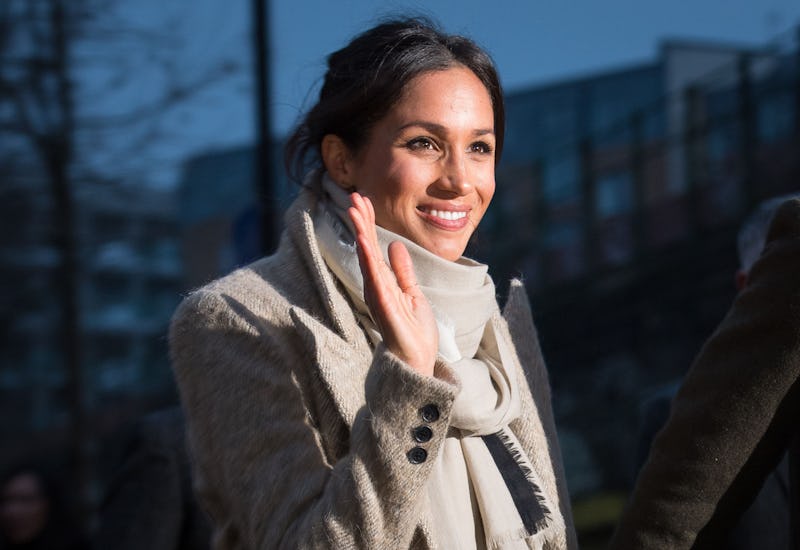 WPA Pool/Getty Images Entertainment/Getty Images
Hopefully you said your goodbyes to the window into her personal life, because Meghan Markle has deleted her social media. Fans noticed on Tuesday that the Suits star had vanished from both Instagram and Twitter. So why did Markle delete her social media accounts?
Although no official explanation has been given yet, it was a move that led many to believe that the 36-year-old is beginning to take the requisite steps toward becoming a royal. People reported that it's an unwritten rule that members of the royal family stay off of social media, and with her wedding to Prince Harry approaching, Markle seems to be complying. (Bustle reached out to Markle's rep for comment, but did not receive an immediate response.)
After announcing their engagement in December, the happy couple is due to wed in May 2018. (On May 19, if you need to clear your calendar.) And although the actor's marriage to the redheaded Windsor won't put her in line for the throne, it will make her an official part of the royal family, which comes with its own set of obligations. An April 2016 piece in The Independent highlights Queen Elizabeth II's persistent neutrality, citing just five times that the regent has gone against her "always neutral, never biased" mindset to take a partisan stance.
With the bar set at complete neutrality, even a casual expression of an opinion by a member of the royal family could have wide-ranging consequences for its monarch and matriarch. Even unintentionally, it could put her in the uncomfortable and potentially unconstitutional position of having to weigh in herself.
These big issues aren't really the ones you want bouncing around in your head while deciding whether to post a selfie, say, or a shot of your significant other. And for that reason, most royals have found it easier to stay off of all platforms and allow the Palace social media manager to handle all press photos in their stead. The potential future Duchess of Sussex appears to be just the most recent addition to that list.
Obviously it may be disappointing to those who might've grown attached to the Los Angeles native's photos of her rescue dogs, or shots of recent vacations, but this day was always coming. You might've thought you'd get a little more time with old Guy and Bogart — her dogs — but even the younger royal generation has never been shy about their critiques of various platforms. As recently as last November, Prince William spoke to a crowd at a gala, warning of the dangers of social media, saying:
"There is a sense of being on call 24/7 through social media, and the subsequent strains this can have on relationships, home life and, ultimately, a child's sense of their own self-worth. It can all take its toll."
And the month before, Markle's betrothed Prince Harry had been similarly critical of social media during a visit to a bakery in Copenhagen. He said,
"People are spending far too much time online and it's like a mental running machine that they can't get off. You wouldn't put your body through such a workout. I'm the last person to say ban it but people are suffering from mental fatigue and getting burnt out. We all need to talk to each other more."
With statements like this from the Princes, it's hardly a surprise to come up against empty pages where Markle's Instagram and Twitter used to be. But with fans of the beloved American already having to say goodbye to the actor's character on Suits, can you really blame them for their sadness at missing out on heart-warming little peeks of her everyday life?