Here's How To Tell Which Salt Sprays Are Good For Your Hair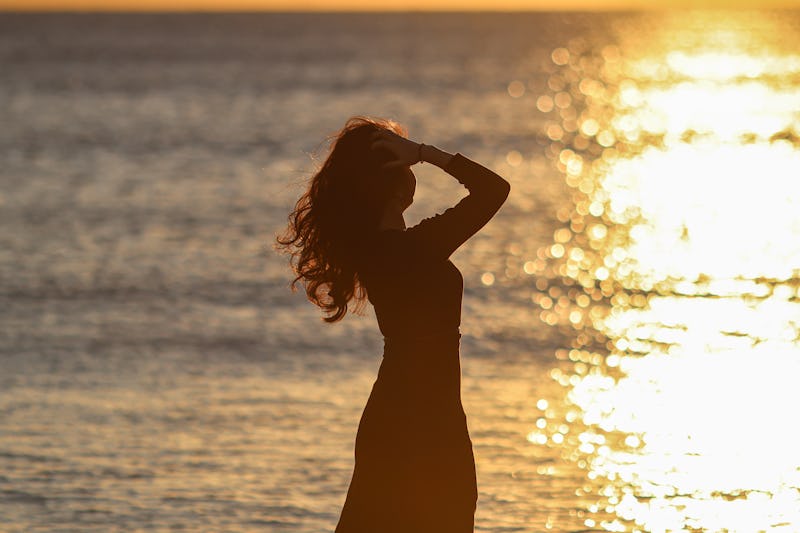 joka2000/E+/Getty Images
It's about that time. When the weather heats up and the coastlines start to beckon us, the beachy waves are so on. But with all the saline we spritz in our strands attempting to achieve those perfectly undone curls, I have to wonder: Are salt sprays good for your hair? I mean, yes, there are other ways to achieve beachy waves besides the typical spray and scrunch method. But it's just so easy (and heat free!) that you may even go through multiple bottles of the stuff during the warmer months (or hey, maybe even all year-round).
Regardless of how much or how often you use these sprays though, salt can be a kind of confusing ingredient. Some say it moisturizes, others say it dehydrates. So to get to the bottom of how liberally you should use salt to style your hair, I emailed with Jana Blankenship, founder of Captain Blankenship, and John Redmond, Marketing Director for Renpure. And according to both of these experts, whether a salt spray is actually good for your hair depends on what some of the other ingredients are. Blankenship explains that even though "Salt can soften hair and add both texture and volume," on its own, it is still a natural abrasive that can be drying.
So to counter the harsh and drying effects, it's important to see what other ingredients are included in your salt spray. Blankenship recommends "finding a natural salt spray that is balanced with nourishing ingredients like aloe vera and doesn't contain any synthetic chemicals." As for Redmond, he recommends ingredients like coconut water and sea kelp that will add nutrients and bounce to your strands.
Curious as to some formulas that will give those perfect waves and keep your hair healthy at the same time? Check out these 10 salt sprays:
1. With Aloe Vera
Captain Blankenship Mermaid Sea Salt Hair Spray, $19, Amazon
Made with organic ingredients, this eco-friendly salt spray imparts gentle waves, light hold, and scalp and hair-nourishing benefits.
2. With Coconut Water
Renpure Coconut Water Sea Salt Spray, $8, Target
This coconut water and sea kelp-infused sea salt spray is perfect for adding bounce and lift back to wavy and curly hair.
3. With Pearl Protein
SheaMoisture Sea Kelp & Pearl Protein Color Extend Sea Salt Texture Spray, $11, Target
Add texture while protecting against damage and color fading with this multipurpose, natural sea salt spray.
4. With Rice Protein Extract
Reverie MARE Mediterranean Sea Mist, $34, Sephora
Strengthen your waves without drying them out with this spray that features rice protein extract and Mediterranean sea salt.
5. With Aloe Water
Herbivore Sea Mist Texturizing Salt Spray, $27, Amazon
This salt spray has only seven ingredients, and they're all good for adding texture to your hair or even refreshing your skin.
6. With Quinoa Protein
Verb Sea Spray, $12, Amazon
Condition, protect, and even purify your strands while giving them some beachy texture with this sea salt spray.
7. With Lavender
John Masters Organics Sea Mist Sea Salt Spray with Lavender, $16, Amazon
This spray has only three, simple ingredients, so you know exactly what each is doing: Water and salt make the base, while certified-organic lavender protects your strands from drying.
8. With UV Protection
Sun Bum Beach Formula Sea Spray, $14, Amazon
Perfect to use while you're actually at the beach, this salt spray provides UV protection, eliminates frizz, and gives waves medium hold.
9. With Sea Kelp
Not Your Mother's Beach Babe Soft Waves Sea Salt Spray, $5, Amazon
Add volume and shine while creating tousled waves with this tropically scented salt spray.
10. With Argan Oil
OGX Moroccan Sea Salt Spray, $6, Amazon
For strands that need a little extra moisture, try this lightweight salt spray that has argan oil and sea kelp to smooth and shine.
Because when it comes to salt sprays, it's the extra ingredients that can make or break it.
Image: joka2000/E+/Getty Images