Wonder No More If Sarah Huckabee Sanders & Bernie Sanders Are Related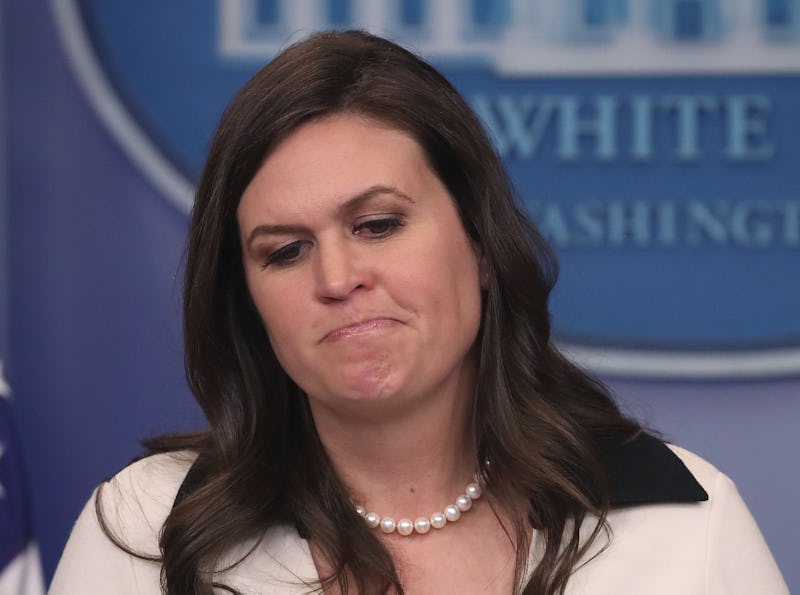 Mark Wilson/Getty Images News/Getty Images
You've probably been hearing some pretty confusing news lately, like "Sanders says it's time to move on from the Russia investigation." You may have felt angry. Could it be that our beloved angry Uncle Bernie has crossed over to the dark side? Thankfully for his fans, this isn't so. The Sanders you've been hearing so much about is Trump's deputy press secretary who has been speaking on the president's behalf this week. Sarah Huckabee Sanders and Bernie Sanders are not related; in fact, they are pretty much polar opposites. But Huckabee Sanders does have one famous political relative you may have heard of.
Huckabee Sanders is the daughter of Mike Huckabee, the Arkansas governor who made an unsuccessful presidential bid in 2016. While she initially campaigned for her father in the primaries, she was eventually drawn to Trump's "outside" status, and joined his campaign in February 2016 as a senior adviser, and eventually became deputy press secretary when Trump was elected in November.
Huckabee Sanders married Republican campaign consultant Bryan Sanders in 2008, thus resulting in her current last name, which has caused confusion for so many. So, just to reiterate, Huckabee Sanders is in no way, shape, or form related to the Vermont senator, no matter what Twitter conspiracy theories tell you. She's her own, unique, distinct human being with a personhood totally separate from Senator Sanders.
Apparently, this is something Senator Sanders himself has had to clarify in recent months. Given Huckabee Sanders' increased profile now that she is filling in for Press Secretary Sean Spicer while he is serving duty with the Navy Reserve, in media interviews, Sen. Sanders has reportedly had to clarify numerous times that he has "no relationship" with the new Trump Administration spokesperson.
Only a few days into her new duties giving the daily White House press briefing and making the media rounds to answer for many of Trump's controversial decisions this week, Huckabee Sanders is already making a name for herself. She has said that Democrats need to drop the whole Russia investigation already, and that they would have been "dancing in the streets" if Hillary Clinton had been the one to fire James Comey.
Still, it's been nearly impossible for Twitter to stop speculating on the significance of her name.
So, to clarify one more time:
It's safe to say that both Huckabee Sanders and Sen. Sanders would be pretty happy if you could remember that important distinction.