Scheana & Rob From 'Vanderpump Rules' Have Let Fans In On Their Current Status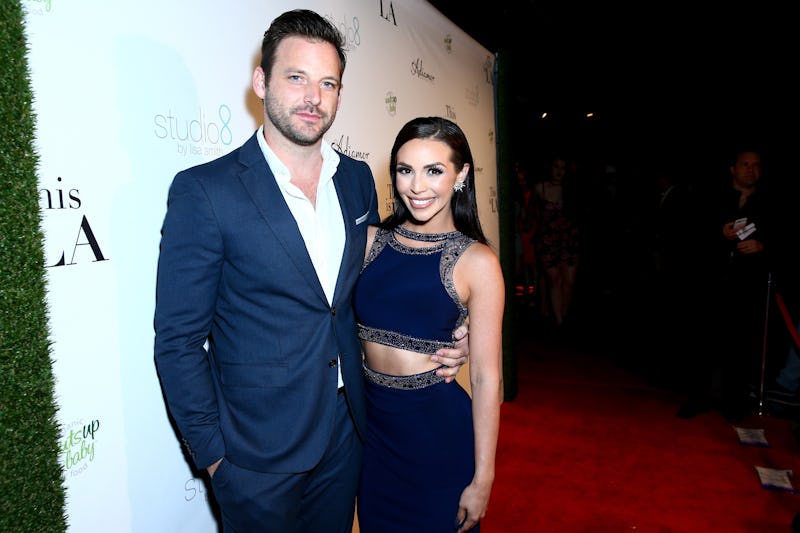 Rich Fury/Getty Images Entertainment/Getty Images
It is tough enough to figure out the cast relationships on Vanderpump Rules, but it gets even more complicated knowing that the latest season was filmed months ago and a lot has happened since it wrapped. Thankfully, Scheana Marie's on-again-off-again boyfriend Robert Valletta posted an Instagram about their relationship that explains what's going on with the two currently. In short, their relationship status is best described as "it's complicated." It's definitely easiest to leave it at that, but Rob and Scheana have a lot to say about their non-relationship relationship.
Rob made his Vanderpump Rules debut as Scheana's boyfriend during the Season 6 premiere episode which aired on Monday night In October, E! shared that Rob confirmed a breakup with Scheana in a comment on his own Instagram post, writing, "Sadly we broke up, we are still amazing friends and we adore each other. We will see what happens." But, on November 30, Scheana shared a photo on Instagram of herself and Rob at a party celebrating the new season of the show. Did that mean that they were back together?
Rob (sort of) clarified their status in his lengthy Instagram post. It is a very sweet post with a lot of kind words, but it is admittedly tough to follow what he;s trying to convey about their status. He shares his definition of a relationship:
"Now, most people will try and define a relationship with a label. I define a relationship as the connection you build with someone over time, based on three simple factors: love, respect and kindness."
That's all well and good, but are they in a romantic relationship?
After many flattering sentiments about Scheana he finally shares some vital information:
"I have no idea what the future looks like, but i know even as friends we will always support each other and I'm excited to see what life has in store next."
As of this moment, the two are definitely friends, but it seems like that is something that can change at any second since they are spending so much time together and writing loving sentiments on Instagram.
Scheana made it clear that she has nothing but love for Rob with a comment on his post. She wrote, "Wow! This made me cry. I love you so much." She continued,
Thank you for always being here for me and supporting me. We have had one hell of a ride together and I know it's not the end of our story. Just the beginning to a new chapter. Mad love and respect for you boo!
Wow. There is just so much to unpack wit that one. First, there's the obvious: These two are on very good terms. Then, she throws out the word "love" and even calls him "boo." She also points out that this story isn't over. Clearly, this is a positive situation, but it is just very complicated.
Scheana had more to say about her situation with Rob during her appearance on the E! show Daily Pop on Monday. Once again, it was still abundantly unclear, but it's all positive.
"We still hang out all the time," she shared. "He just spent Thanksgiving with my family. I'm planning on Christmas Eve with his. We've been friends and in each other's lives for almost 12 years now. That's not going to change anytime soon. Where we're both at in our lives and living situations, a relationship is a little too much pressure on both ends." Spending major holidays with each other's families sounds like a move for a serious couple, but Scheana confirmed that they "took a step back" and described their situation as "friends with benefits."
She also revealed, "He's not seeing anyone when he's not with me," which does sound like a romantic relationship. She even admitted, "I feel like we're still dating. It's weird." It's all a little tough to follow, but Scheana feels the same way that a lot of her fans feel: "Honestly, it's so confusing. I don't know."
Just for good measure, Scheana made sure that everyone knows that there is no bad blood with Rob just because they are not "dating." She shared a screen shot of Rob's Instagram post on her Instagram Story and wrote, "This is love! @robsvalletta you are everything!"
When it comes down to it, what Scheana and Rob want to call their relationship is no one's business but their own. Nevertheless, it gets a little complicated since Scheana is on a reality TV show about her personal life. For anyone who's super invested in Vanderpump Rules and Scheana's well-being, yes, it's unclear, but at least it seems like Scheana is in a very positive position with Rob.