It Sure Looks Like Scott Disick & Bella Thorne Are Dating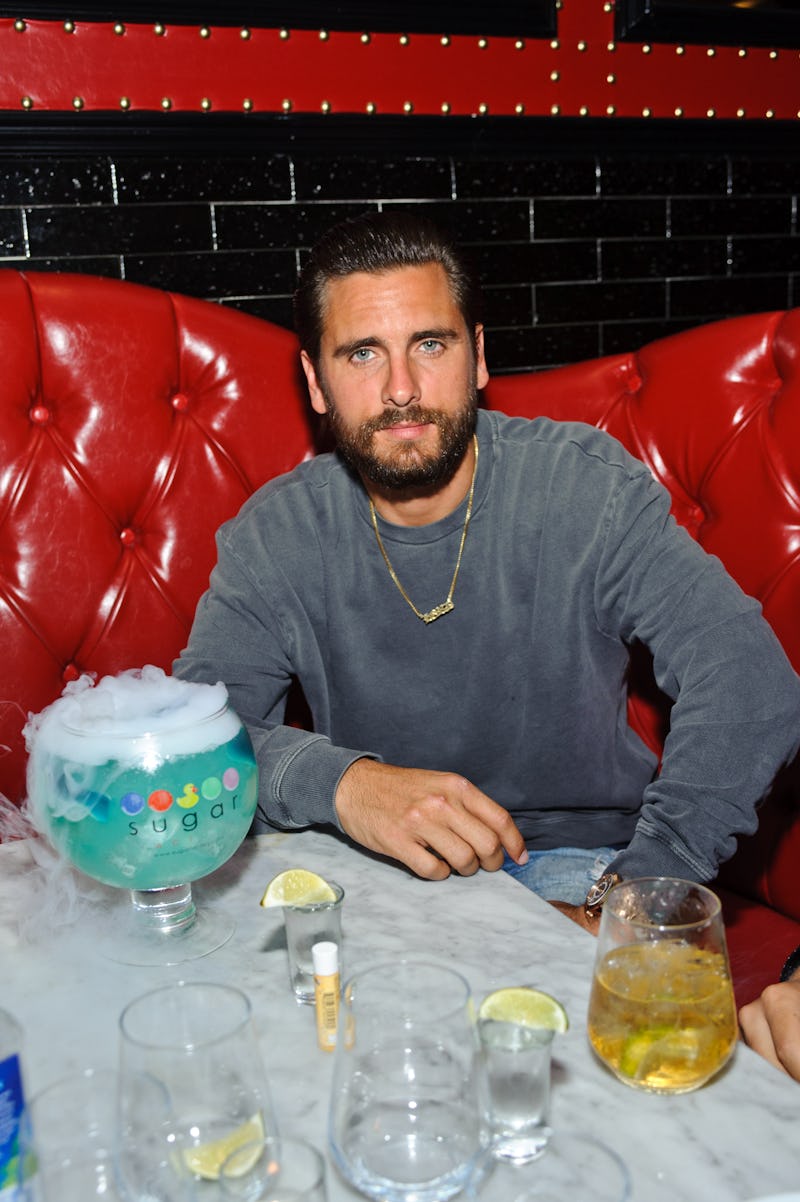 Timothy Hiatt/Getty Images Entertainment/Getty Images
If you're a huge Kourtney Kardashian and Scott Disick shipper, this news is going to put a major damper on your day. Based on photos obtained by the Daily Mail, it looks like Scott Disick and Bella Thorne might be dating. There have been plenty of romance reports surrounding the two, but now it seems like those rumors may actually be reality. Bustle reached out to reps for Disick and Thorne for comment, but did not receive a response at the time of publication.
As you can see below, the 33-year-old Keeping Up With the Kardashians star and the 19-year-old actor were spotted in their swimsuits hanging out and cuddling in Cannes, France. Disick and Thorne were also seen Monday at LAX, reportedly grabbing a flight together. At the time the photographs were taken of them at the airport, there were rumors they were heading to the Cannes Film Festival together. Well, it sure seems like that was very much the case. As E! News reported Tuesday, the two were seen leaving the Nice airport in the same car together.
If that isn't enough, on May 16, Entertainment Tonight reported Thorne and Disick went out to dinner. Per sources, that same evening, they reportedly went to The Nice Guy, a West Hollywood restaurant, and listened to live music at The Peppermint Club. They reportedly left the club together around 1:30 in the morning in Disick's car.
What makes Disick and Thorne's Cannes outing even more interesting, yet also kind of awkward, is the fact that Kourtney Kardashian and her alleged new man, Younes Bendjima, are in Cannes too. A source told E! News that this was allegedly Disick's plan all along. "Scott bringing Bella is 100 percent to piss Kourtney off. It's a very 'Let's see how it makes you feel' kind of thing. It's immature but that's Scott."
Disick and Kardashian's relationship hasn't been super clear since they first broke up in July 2015. However, ever since Kardashian told Disick in a March KUWTK episode that they were never getting back together, it sure seems like they are both moving on. As she told the father of her children during the vacation episode, "I think something I've learned on this trip that is that we need to just move on." She then continued, "I think the moral of the story is we are never getting back together." To that, Disick replied, "That's all I've ever wanted you to say."
Later on, Kardashian added, "After everything that's happened here in Costa Rica, Scott knows that it's done. But just saying those words lets both of us move on. It's done." Based on the photos of both Kardashian and Bendjima and Disick and Thorne, it definitely looks like these two are finally pursuing other people.
Now, how everyone feels about that is another story. Let's just say Disick and Thorne's so-called relationship isn't being welcomed with open arms.
Yeah, people aren't shipping them the same way they did Kourtney and Scott.