Selena Gomez Got Bangs & Twitter Is Loving The Edgy Look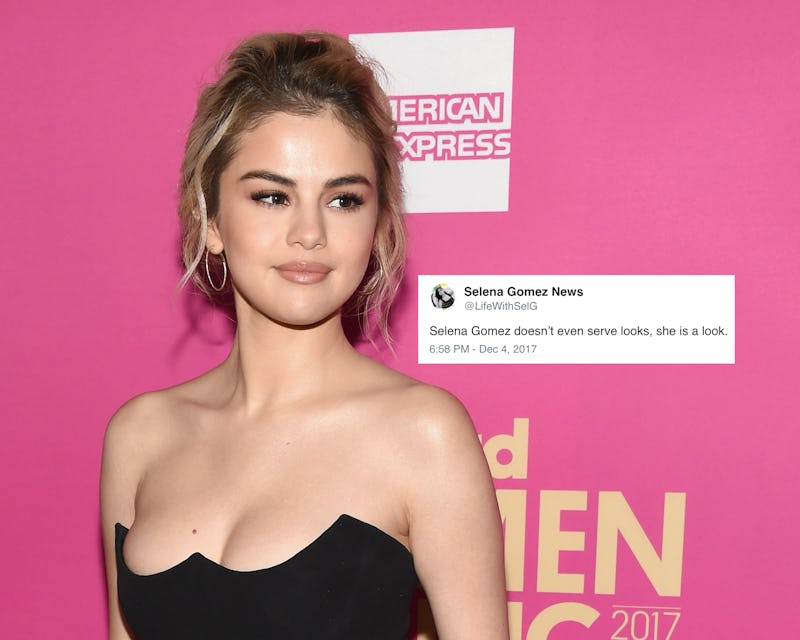 Michael Kovac/Getty Images Entertainment/Getty Images
Selena Gomez is really going for it with her hair. At the 2017 AMAs, Gomez debuted a textured, buttery blonde lob, which was a dramatic change from her familiar, long and glossy brunette strands. Now, Selena Gomez has added bangs to her blonde bob and Selenators are ecstatic over her latest coif update. Gomez is serving up quite the lewk with bangs and it works on so. many. levels.
Gomez's lob is choppy and layered, lending tons of beachy and bedhead texture. She added long bangs that fall past her eyebrows, and it's absolutely gorgeous. Since the fringe is super lengthy, it's multi-faceted. She can rock curtain bangs, which are parted in the middle, or sweep them to either side of her face.
Gomez has been crushing it at public events lately. While science tested the theory that blondes actually have more fun, Gomez is certainly further evidence that they do.
The singer, actor, and producer has been rocking edgier ensembles, such as a strapless leather pantsuit and her zippered, leather mini at the AMAs. She is fully embracing a punk-rock aesthetic, since her dark roots are peeping through her golden follicles.
Gomez played with the aforementioned curtain bangs style here. The bangs skim her eyelashes and give off sexy and mysterious vibes.
Check out the long, wispy, and side-parted bangs, which conceal one of her big, brown eyes. The cut has so much dimension and the shaggy nature works with the hue.
Gomez premiered her blonde lob right before Thanksgiving at the music industry ceremony. Even though her thoroughly moto mini showed off legs for days, the eye naturally gravitated towards her golden mane.
The laser-cut leather trousers are so rock 'n' roll, as is her hair hue. Gomez wore her lob swept back, with tendrils framing her face, proving that a short 'do can be totally versatile, depending on how you style it and what you wear.
From this vantage point, Gomez's side bangs almost look like a repurposed and extra-long layer. Again, it's proof of the versatility of her cut. Her hair looks different in every recent image of Gomez.
These on-the-go snaps of Gomez and her bangs demonstrate how adding bangs, a life and coif dilemma that Chrissy Teigen recently endured, can totally transform your cut. The length of Gomez's fringe allows her the freedom to style her hair in so many different ways. She isn't bound by the tyranny of having to build her hair look around the bangs, which was something the Twitterverse warned Teigen about when she was pondering fringe. The expectant model eventually opted for bangs, BTW.
Here's how Selenators and the Internet felt about Gomez's bangs.
Yep, the Twitterverse is experiencing all the feels.
Gomez is just 25 but she has already earned "icon" status, since she can always be counted on to serve up such memorable fashions.
Fans are having a visceral reaction to Gomez, her clothes, and her bangs.
Here's another shot of Gomez's new bangs IRL. She totally needs to keep the fringe, because it frames her face beautifully.
Perhaps this simple, complimentary tweets sums it up best. Gomez looks chic and the internet proclaims that she is channeling "French girl" vibes with her new 'do.
All words aside, the bangs are working for Gomez. Maybe the great bang or no bangs debate finally has a definite answer.