Selena Gomez Has Rainbow Bangs Now & Stealing Her Look Is Simple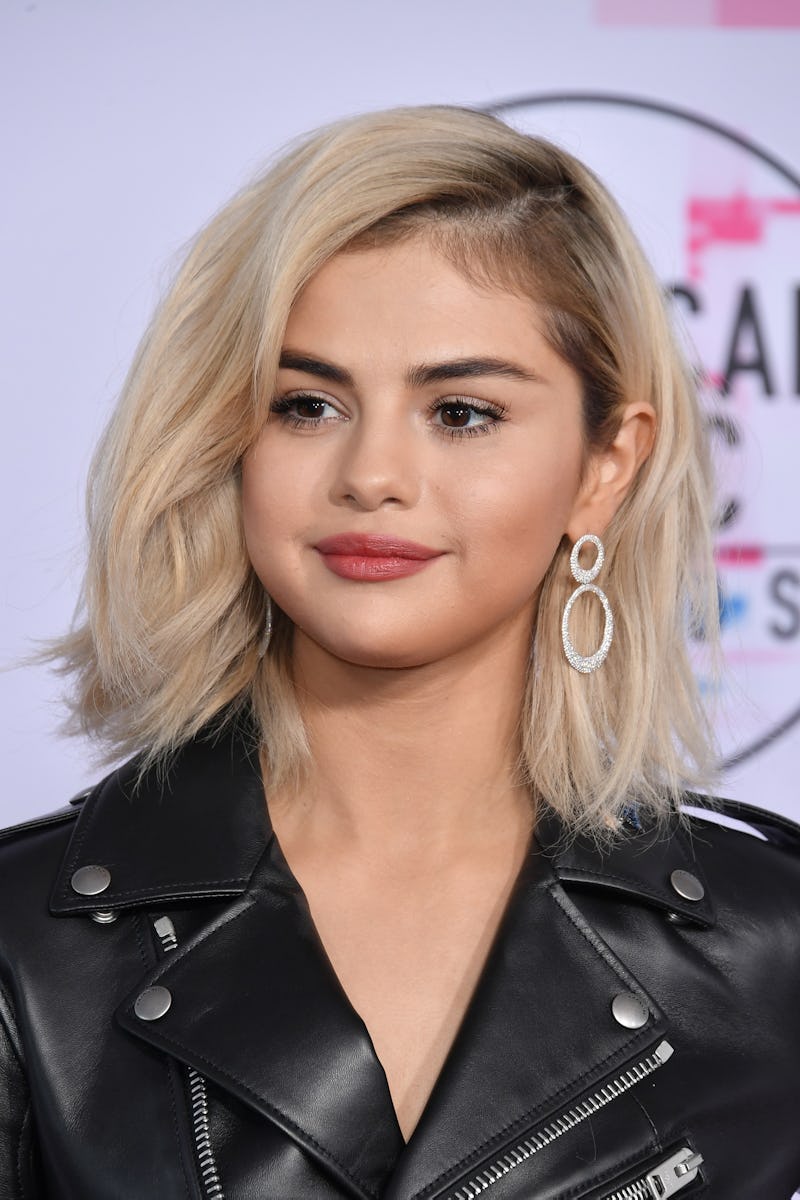 Neilson Barnard/Getty Images Entertainment/Getty Images
If you thought Selena Gomez going blonde was bold, just wait until you see what she's up to now. Gomez posted a photo wearing rainbow bangs on Instagram, which has fans scrambling to find out if the flamboyant 'do was real. Unfortunately, the locks are not permanent, but there is a way for you to rock the exact same look at almost no cost. Once you see how well the star pulls off this unicorn-esque hair, you'll totally want to give it a go.
It's been a big year of style changes for Gomez. She rocked the '70s look in her "Bad Liar" video, landed a major partnership with Coach, and, most recently, chopped off her locks and brightened them to blonde. So when she posted a photo of herself with rainbow bangs on Instagram, fans were curious to see if the style would stick.
I'm sorry to say, but the multi-colored bangs are not a dye job. The selfie shows Gomez with her blonde bob, quirky '90s-style glasses, and an eared headband. The real star of the show was the bangs, though. Upon inspecting the photo closer, it's clear to see that the 'do isn't for real.
Can we just talk about how well she can pull off the faux bangs? Because not just anyone could rock this trend the way she did.
If you're looking to give rainbow locks a try for yourself, you can buy the exact faux bang headband Gomez is wearing. It's the American Greetings My Little Pony Deluxe Headband, which will set you back $5.97 on Amazon.
Gomez captioned the photo with "I stole from my sisters," which makes sense when you find out that the bangs are in fact a kids toy. According to Elle, Gomez has two younger sisters — one who is four and the other is three.
Bottom line: You're never too old to share accessories with your sisters. Something tells me that they young siblings won't be getting these sparkly ears and rainbow bangs back any time soon. But I'm sure they'll get some stylish hand-me-downs from the singer in return.
American Greetings My Little Pony Deluxe Headband, $5.97, amazon.com
Although her hair change is temporary, fans seem to have mixed reviews on the multi-colored look. While some are saying it's definitely worth of the hashtag #hairinspo, others think that she should give the headband back to the youngsters.
If this isn't the definition of twinning, then I don't know what is.
Someone is very excited about the new look.
There you have it! Gracie was probably the culprit behind the My Little Pony look.
Other fans are not too thrilled to see the look. Harsh.
True My Little Pony fans got the reference right away.
But really, how can she pull of even the quirkiest looks?!
It's such a shame that the singer didn't commit to the look for real, don't you think?
I always knew that a "breakover" was a real thing, but I never thought it would include fake bangs. She looks almost unrecognizable in this Instagram photo between the fringe and the shades.
The look might not have gone down as well as her new blonde bob, but at least she's having fun with her look. That's all one can hope for.