Shawn Mendes & Hailey Baldwin Insist They're Just Friends, But Fans Keep 'Shipping Them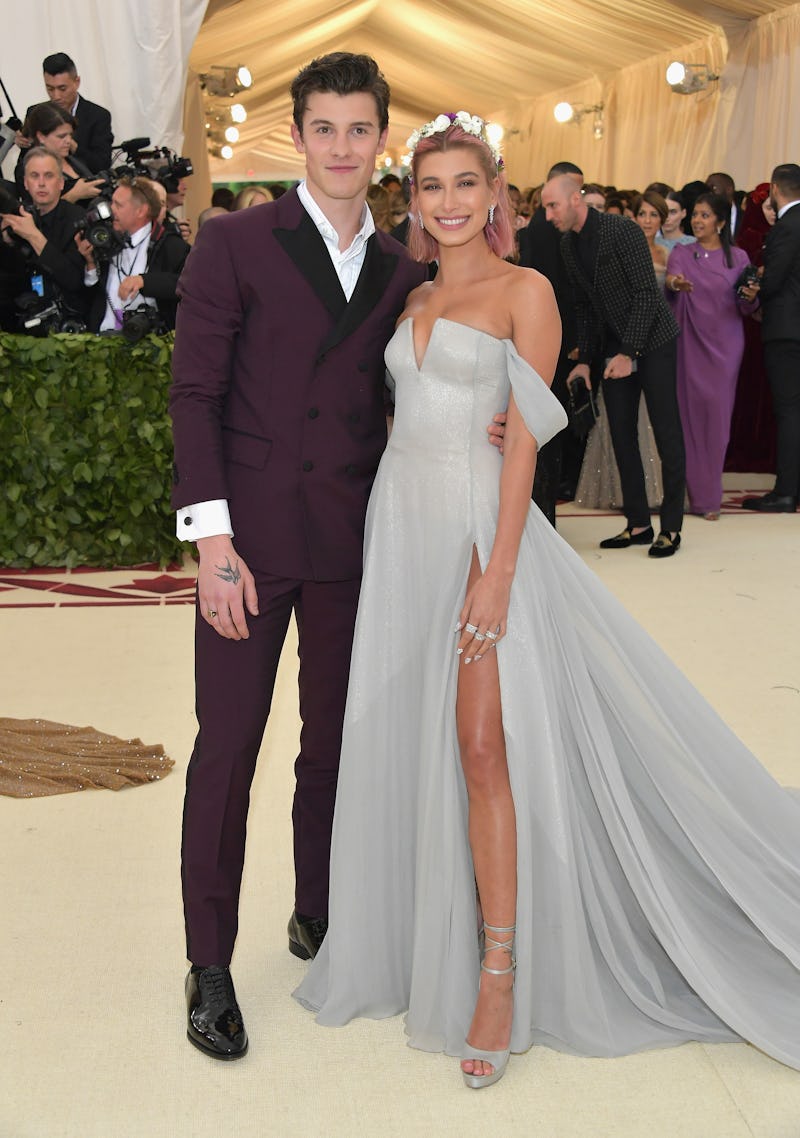 Neilson Barnard/Getty Images Entertainment/Getty Images
Celebrities don't often get to keep their private lives, well, private. Fans want to know everything about their favorite stars, and that includes whoever they may or may not be dating. For example, Shawn Mendes and Hailey Baldwin have denied dating rumors on more than one occasion, but that hasn't stopped the rumor mill.
Most recently, Mendes and Baldwin attended the Met Gala together, sparking plenty of speculation that they might be dating. But in an interview with People published Wednesday, Mendes clarified they weren't debuting any sort of relationship. Instead, they were both at the event as guests of a certain designer. "No, we were not making our big debut," Mendes told People. "We were both asked to walk by Tommy Hilfiger."
Even though they're only friends, though, Mendes told the magazine that he was "thrilled" to be at the event with Baldwin. He said,
"Obviously Hailey and I are friends, and it was just really cool for me to be able to walk with her because she's a vet and it was my first year, so it kind of took the pressure off a little bit... I was thrilled to be able to go with her."
He also told W magazine something similar. In an interview published on May 8, Mendes said of Baldwin, "We're really good friends." He continued,
"It's funny, she's such a pro with this type of stuff. I want it to be amazing for her, so I've been trying for the past 24 hours to be really silly so that she stays on. I'm happy to walk with her — she's amazing."
And while they're apparently strictly friends, it looks like they're becoming close friends at that. Baldwin shared a photo of them at the Met Gala on her Instagram account, and Mendes also shared a picture of himself with Baldwin in April.
Mendes and Baldwin's friendship appears to have started long before the Met Gala, though. The two first interacted on Twitter in 2013, and the conversation was reportedly more than a friendly one. According to fan screenshots, Baldwin apparently tagged Mendes in a tweet, writing, "Hey Shawn Mendes, let's date so you can sing to me all day. I'm joking but not really..."
Mendes' response, which is still available on Twitter, is more tame: "Just finding out now that @haileybaldwin tweeted at me !" The conversation may not have led to a romantic relationship, but it may be what sparked their friendship.
Since then, Baldwin and Mendes have supported each other over the years, and according to some reports, they've been caught engaging in PDA, too. Last fall, Baldwin and Kendall Jenner hosted a Halloween party in Hollywood, and a source claimed to People that Mendes "had his arm around Hailey and stayed by her side all night" at the party. Now, putting one's arm around someone hardly means you're dating, but the source did tell the magazine that Mendes and Baldwin were also holding hands when they left the party. Again, though, that hardly indicates they were (or are) dating.
Even though Mendes has denied that he and Baldwin are anything more than friends, the rumors probably won't be fading anytime soon. Mendes is performing at the Billboard Music Awards on Sunday. And if he brings Baldwin with him to the ceremony, fans will probably speculate about them being more than friends. (For right now, though, there's no indication that Baldwin will be attending the BBMAs.)
Don't expect Baldwin to confirm details about her personal life anytime soon either. As People pointed out, Baldwin told the magazine in March that she prefers to keep her personal life "as private as possible." She said at the time,
"I just laugh most of it off. It's quite funny to me, to be honest. I try to keep that side of my life as private as possible. I don't feel like I have to explain myself to people because it's my life."
Regardless of his relationship status, Mendes' BBMAs performance should be one to watch. And if he and Baldwin want to keep things private about who they're dating — or not dating — that's totally their right.