Uh Oh, 'Fear The Walking Dead' May Have Lost More Of Its O.G. Survivors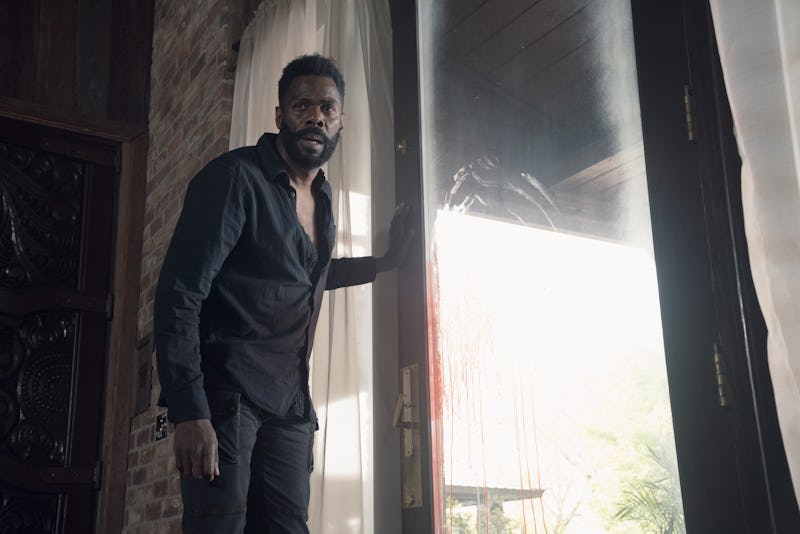 Ryan Green/AMC
Spoilers ahead for the Aug. 19 episode of Fear The Walking Dead. That Californians, like a few of the remaining characters on Fear The Walking Dead, can't handle rain is a universal truth — apocalypse notwithstanding. Alicia as well as admitted that during Sunday's episode, and while she and Charlie make it out alive, the fates of the others are still largely unknown. Are Strand and Luciana alive on Fear The Walking Dead?
Alicia seems convinced that her two friends are gone — but everyone is particularly pessimistic on the show these days. It's the most depression-heavy season of Fear or the original Walking Dead yet. Without anyone to fight for or against, the characters have fallen into various forms of self-destructive stasis. Alicia has isolated herself from everyone, even the master of isolation himself, Morgan Jones. Charlie's even worse off. That little girl was fully ready to kill herself rather than live with what she's done, and practically begs Alicia to do it for her.
While Alicia doesn't kill Charlie, and (by her own admission) doesn't project some kind of "I see myself/something special in you" trope onto the little murderer and offer forgiveness, she's in a bad place. Hopefully Strand and Luciana, Alicia's found family, are still alive so that they can all get out of this funk together.
It totally makes sense. The world is over. Alicia and the others were in the midst of rebuilding a stable society when they got ransacked by hipsters for no reason other than they wanted more stuff. Her mother and brother are dead. Of course she's going to be depressed! Of course she's going to think that things won't get better, ever.
Meanwhile, as we saw in the previous episode, Strand is on a post-apocalyptic bender and Luciana almost got bitten because she was wearing headphones. Their guards could not be more down. Neither of them has any intention of going forward in life and/or facing the world, and neither of them were prepared to fight for their lives. Think they made it out of the storm?
When Alicia and Charlie return to the decadent house where the others were sleeping, they find a lot of broken glass, an overturned school bus, and no humans alive. The bus, remember, is where June and John were living with Charlie and Al. The women are in Al's tank, but Charlie doesn't know that. Charlie is adamant that they go find them, though Alicia thinks a search is fruitless.
One can only hope Strand and Luciana aren't dead yet. If the "no body, no death" rule tells us anything, fans shouldn't mourn them yet. The fate of Morgan, who was last seen with Alicia, is unknown too. Plus John, who is still injured, if he was in the bus at the time.
After Nick and Madison, not to mention the Vultures, how many characters can this show off in one season? Strand and Alicia are the only original characters left — and Strand only appeared towards the end of Season 1. There is always Daniel Salazar, who would pop back in at any moment, but still. This isn't The Walking Dead, with dozens of survivors traveling between multiple communities. There are less than 10 characters on Fear The Walking Dead right now, and the series really can't afford to lose more.
If you or someone you know is experiencing suicidal thoughts, call the National Suicide Prevention Hotline at 1-800-273-8255 or text HOME to the Crisis Text Line at 741741. You can also reach out to the Trans Lifeline at 877-565-8860 or the Trevor Lifeline at 1-866-488-7386, or to your local suicide crisis center.