Reports Say The Beckhams Are Ditching The UK For Sunnier Climes & TBF, Fair Enough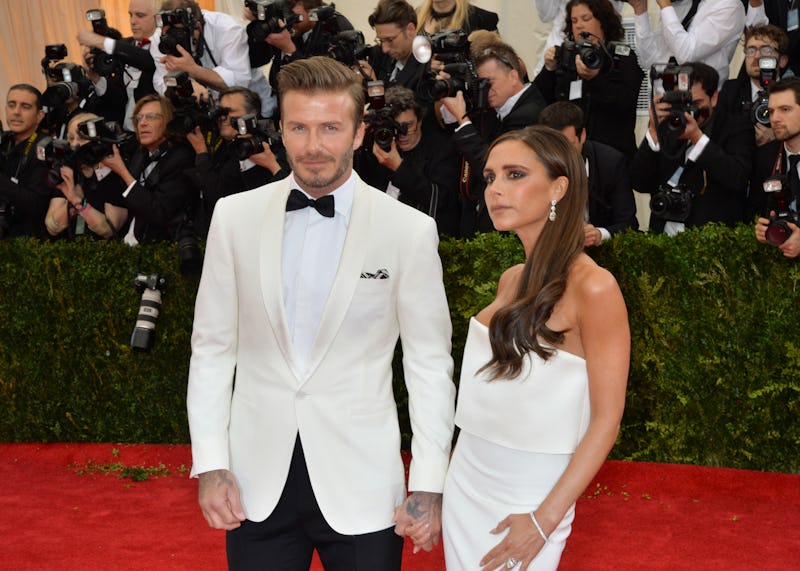 Andrew H. Walker/Getty Images Entertainment/Getty Images
Are you sitting down? I hope you are. I have some slightly distressing news to tell you. Our reigning celebrity king and queen, the British celeb couple that kept us going in the '00s, the fiercest and most fashionable duo in every room, might actually be leaving us. According to recent reports, the Beckhams are thinking of ditching the UK and moving stateside to the sunshine state, Florida. But are the Beckhams moving to Miami? It would make a lot of sense, given that the sunny weather is better than grim old Britain. (Take me with you Becks, I don't want to dig my duvet out of the closet yet.) There's also the fact that David Beckham is setting up a football club there.
A source told People that the Beckhams were "100 percent checking out houses in Miami" and more specifically around some of its snazzier areas teeming with mansions: Fisher Island, the Venetian Islands, and Miami Beach.
According to the insider, the Beckhams are already big fans of the city as they "spent a lot of time down there in the spring and summer" which would make moving a natural next step. They also reported that the family adore the weather and that David first fell in love with Miami after playing "pick-up soccer games" there.
"If [David is] going to get the soccer team here he needs to be there," the source said. They also added, "They never liked L.A.. Plus it's so far from London and N.Y.C. It's not a home as they get older. Miami is an easy place for them to get in and out."
Bustle has reached out to a Beckham rep for confirmation and I'll update you if I hear back. David Beckham's Miami football team has been a long time in the making, dating all the way back to 2007 when he crossed the pond and signed as a midfielder with the L.A. Galaxy club.
According to NPR, one of his conditions was that he be allowed to "buy a major league soccer franchise at a reduced rate" and eventually teamed up with Sprint CEO Marcelo Claure to make it a reality once he'd set his heart on Miami. (J. Lo took credit for the team after introducing them, in David's Instagram post.) However, the pair apparently faced many hurdles involving "financing and the stadium site" before finally unveiling the team's official name last week.
At a press conference, the team's crest and name was officially announced. Named Club Internacional de Futbal Miami, ESPN reported that the team was expected to play in 2020.
David said, "Club Internacional de Futbol Miami is a name that celebrates the incredible energy of one of the most exciting cities in the world — one that is diverse, passionate and ambitious — a city that has welcomed me and so many others, so warmly."
He continued, "Our club will be a home for all -- no matter where you are from or how you got here. This is just the beginning of our journey as we continue to build towards our first game in 2020."
He's not the only one excited about the team, as the rest of the Beckham family adorably took to social media to gush over the landmark moment. Surrounded by his siblings, the Beckham's eldest son Brooklyn said, "I can't believe you're going to be a club owner, that's so cool, we're so proud of you."
In the same video, Victoria also congratulated her husband and said, "We can't wait to be spending much more time in Miami as a family."
Am I devastated that the Beckhams are probably going to be spending less time in the UK? Absolutely. Does it really not matter because I have zero chance of meeting them in real life, wherever they are in the world? Absolutely. In all honesty, I'm just happy that David's project seems to finally be taking off as its taken him a long time to get to this point. Plus, he's got great support around him if the family's recent British Vogue interview is anything to go by.
Victoria Beckham told the magazine, "[David and I] both realize that we are stronger together than we are as individuals. Would either of us be in the position that we are in now had we not met and been together all those years ago?"
"It's all about the family unit. We are much stronger the six of us, than we would be if we were individuals. We respect that family bond and that is key," she finished.
Lo and behold, two decades of marriage, one fashion empire and a football team later... The couple that hustles together, stays together.