Victoria Beckham Just Said Her And David Are "Stronger Together" & No, You're Crying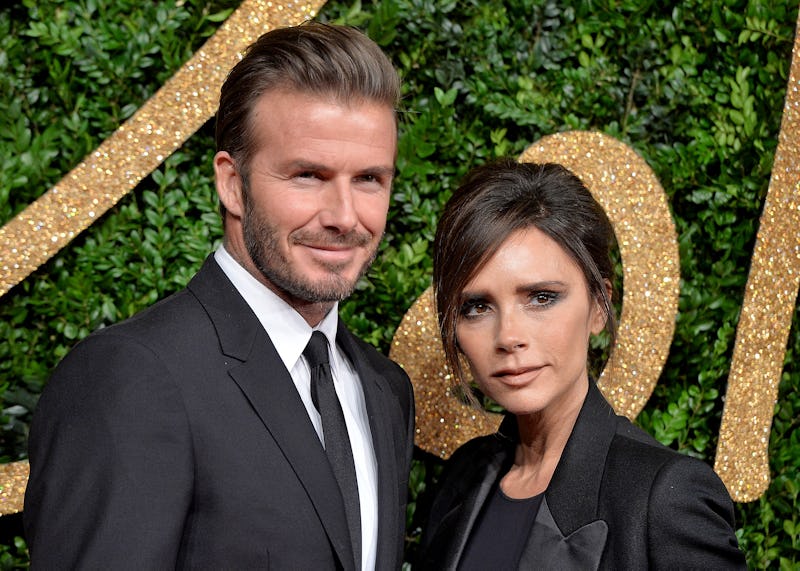 Anthony Harvey/Getty Images Entertainment/Getty Images
If you've been on the internet at all this morning, you may have noticed the new British Vogue cover has been attracting a lot of attention. Unlike the Rihanna-fronted issue just gone, it wasn't for any skinny eyebrow-related reasons. Instead, it was more to do with the fact that the Beckham family was on the October cover — though David Beckham was notably missing. (Even the family doggo made the cut.) While at face value his absence might seem to add fodder to those recurring divorce rumours, Victoria Beckham's Vogue interview actually offered a candid insight into their nearly twenty year long marriage.
The couple were at the centre of divorce rumours earlier this year, after Twitter and Facebook blew up with allegations that they were on the verge of a split, as Bustle reported. At the time, a rep for the Beckhams told The Mirror, "There is no statement due or divorce. This is just fake social media news. This is all very bizarre and an embarrassing waste of time."
With that all in the rearview mirror, Posh and Becks seem to be presenting a united front in the new issue of Vogue. Despite David's absence in the cover shot, an alternate subscriber cover which David shared on Instagram actually featured both him and Posh Spice looking every inch a power couple as their daughter Harper played on a swing in the background.
Victoria Beckham reportedly told British Vogue, "People have been making things up about our relationship for 20 years." She revealed that she and her ex-footballer husband had learned to "[ignore] the nonsense" and continued, "But these things have a wider effect on the people around us, and that's unfair."
The Vogue cover also celebrates the ten year anniversary of Victoria Beckham's eponymous fashion brand, which will be showing at London Fashion Week for the first time according to British Vogue. While the sleek, minimal fashion line has always racked up big points in my book (who could forget AW18's leopard-print coat below or the dress VB wore to the royal wedding earlier this year?), it hasn't always been in the best financial health.
According to Business Insider, the brand lost £8.4 million in 2016 (a rise of 78 percent from the previous year) with a spokesperson explaining that the loss was down to "investment in design, marketing and sales." David, who is also a shareholder in her company, celebrated Victoria and her work in an Instagram post, writing, "Victoria has worked long and hard to build an incredibly successful brand over the last ten years and I am so proud of her. I'm happy to be in a position to support her dreams."
In her Vogue interview, Victoria said, "[David and I] both realize that we are stronger together than we are as individuals. Would either of us be in the position that we are in now had we not met and been together all those years ago?"
Since marrying in 1999, the couple have welcomed a number of children into their family: their sons Brooklyn, Romeo, and Cruz, as well as their daughter Harper Seven. Victoria continued, "It's all about the family unit. We are much stronger, the six of us, than we would be if we were individuals. We respect that family bond and that is key."
Beyond the Beckhams' dreamy Dior-filled photoshoot and interview, Victoria also threw things way back to her Posh Spice days in a hilarious British Vogue sketch. In it, she gives us what we've all basically been waiting for: an endless number of Spice Girl puns and a hilarious retrospective of all her best '00s outfits. Now, please make my life and tell me that you're joining the Spice Girls reunion tour, VB. The world is a very dark place at the moment — it could use some spicing up.