This Totally Horrible BTS Task Will Put You Off Working On 'I'm A Celeb' Forever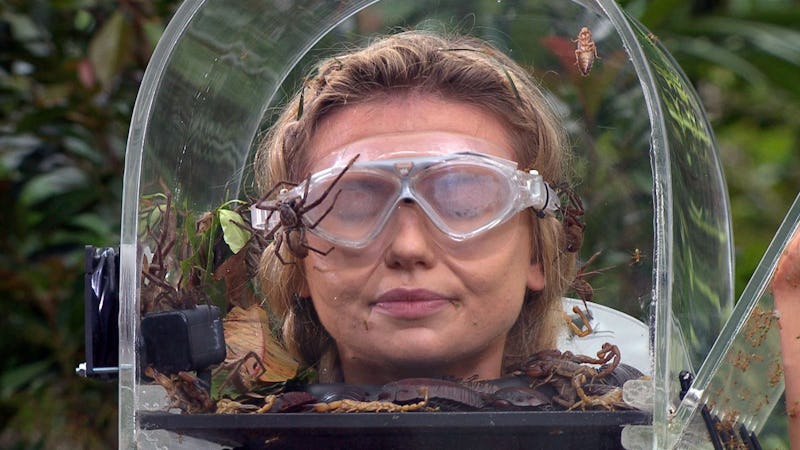 ITV/Shutterstock
It's time to indulge in your annual dose of schadenfreude, I'm a Celebrity...Get Me Out of Here is returning for a brand new series. With a new cast of celebs including Torchwood's John Barrowman, The Inbetweener's Emily Atack and The X Factor's Fleur East, there's going to be a big shake up this year as sadly Ant McPartlin is taking time out from hosting duties. Although the famous faces have changed, one thing seems to have stayed the same this cycle: the challenges promise to be just as grisly and terrifying as ever. From chowing down on animal anuses to braving the jungle's creepiest crawlies, the show's more dramatic trials have left me wondering: are the Bushtucker Trials real?
The show is pretty renowned for the savage tasks it puts its celebs through and they seem to be the real deal, as the staff behind the series apparently have to test out the challenges as guinea pigs. Apparently, Heart says they "start creating them as early as August" to maximise the horrific thinking process. According to Metro, "staff have to trial bush tucker [trials'] safety before the celebs do" and Buzzfeed elaborated that a small group has to "spend three days pretending to be the celebrities the week before the show goes live to make sure everything is working correctly".
The outlet continued, "They do the trials and eat the same food like it's the real thing."
Yikes. Talk about the worst internship ever.
Given that a lot of time, money and effort is put into the show, it seems like ITV's particularly focused on making sure the bug-related challenges go according to plan. In fact, The Sun revealed that back in 2013 the show had to employ "a special bug-breeding factory" and have even "paid locals to find them bugs" if there are any shortages. Buzzfeed revealed that in the 2013 cycle, a bug breeder bred "250,000 cockroaches, 153,000 crickets, 2.5 million mealworms, 400 spiders, 500 rats, 30 snakes, six 1-metre-long crocodiles and 20 small crocodiles".
I've reached out to ITV to check if all the Bushtucker Trials are real, though I personally believe it. Honestly after all that prep, it'd be a waste not to go ahead with the real challenges.
ITV has gone above and beyond to make sure celebs are not only prepped but that they have a team of people around to keep them safe. According to Digital Spy, celebs chosen for the show are given a "Talk of Doom" and "a pack with details" so that they have a better idea of what they're getting into.
Additionally, ITV confirmed to The Mirror that they have "established procedures in place to ensure the health and well-being of [the show's] celebrity contestants during their time in the jungle".
Honestly, you couldn't pay me enough money to be on the show. If you're like me and would much rather watch the stars live out your personal nightmare, the newest cycle of I'm a Celebrity...Get Me Out of Here! will kick off on ITV November 18 at 9 p.m.