Searching For Illuminati Significance In Beyonce's Reported Baby Names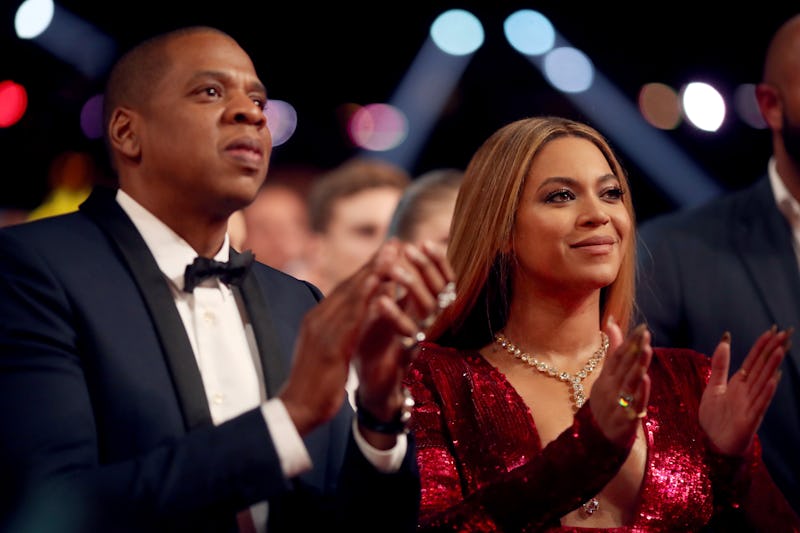 Christopher Polk/Getty Images Entertainment/Getty Images
Big news in celebrities babies: JAY-Z and Beyoncé's twins are reportedly named Sir and Rumi Carter. (Bustle has reached out to reps for couple for comment, but did not yet receive a response.) While you wait for confirmation from the couple themselves, you can join me in speculating about the meaning of these possible names. And, as in all things, conspiracy theories come first: Are the names Rumi and Sir connected to the Illuminati?
When there's talk of Beyoncé, talk of the Illuminati cannot be far behind. Even though Beyoncé called the rumors out on "Formation" as "mess," the world just can't let go of the idea that one of the most powerful couples in entertainment might be a part of the probably fictional secret society. It may make me "corny," in Beyoncé own words, but that's not going to stop me from trying to find some ties between these possible names and the Illuminati.
Let's start with Rumi. A quick search of the two terms together brings up some "illuminated" versions of poetry by the 13th century Persian poet named Rumi. That poet is the first person who came to mind when I heard the baby names, so I do think it's reasonable to suspect that he may have been an influence. Still, not much to go on. But consider this: A Twitter account that claims to represent the secret society tweeted out a Rumi quote a couple of months ago.
"Sir" is a little tougher to hone in on. As a title, the word applies to a lot of people and offices. Perhaps there's a special "sir" in the Illuminati circle the couple wanted to honor? Maybe JAY-Z goes by that nickname when he's around his fellow Illuminati members?
I'm just waiting for the internet to really get on this and start creating diagrams that will — in their minds — prove without a shadow of a doubt that these names carry some significance to a secret society that neither parent has ever claimed to be a part of. For now, Rumi and Sir are just mystery names, and Beyoncé, once again, has the world #shook.