This Is The Fab Five's Secret To Success on 'Queer Eye'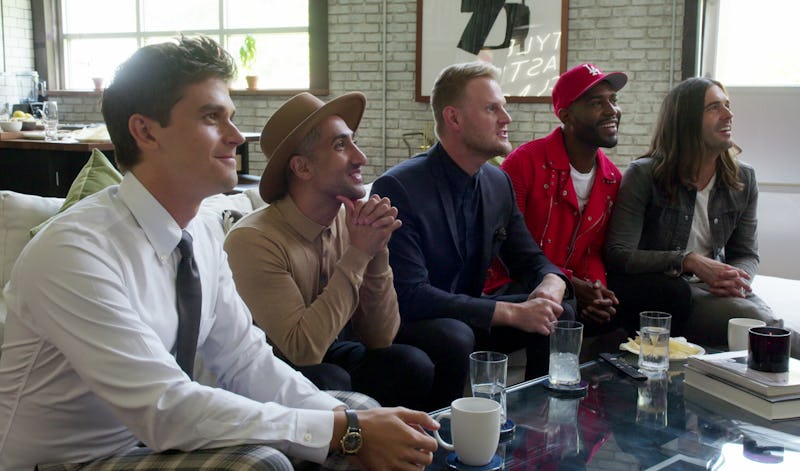 Courtesy of Netflix
One of the best TV series at the moment just dropped on Netflix and it's already warming the hearts of its viewers. Queer Eye is a reboot of the 2003 show of the same name, which followed five gay men — the Fab Five — as they gave lifestyle makeovers to straight men. Like the original, the Netflix reboot is full of fun and heartwarming moments. And part of the reason there's such great chemistry between the new Fab Five is because the Queer Eye guys are actually friends in real life.
Yes, don't sweat it, they're not acting. The five experts — Karamo Brown, who focuses on culture; Jonathan Van Ness, the grooming specialist; Bobby Berk, the design expert; Tan France, who's in charge of fashion; and Antoni Porowski, the food and wine guru — all clicked amazingly well in order to bring you the quality reality TV seen in this new Netflix show.
In a roundtable interview, the guys talked about many things, but one of them was the strong connection they all had with one another. "It's like a fraternity," Van Ness says. "I was always a GDI [a goddamn independent], and so I never would've fancied myself a fraternity person, but this is the cutest fraternity." Porowski adds that even after days of being together for long hours, they still weren't sick of each other.
In another roundtable attended by Bustle, David Collins, who executive produced both the original Queer Eye and the reboot, discussed the grueling casting process. When choosing the new Fab Five, diversity was a priority, and they auditioned thousands of gay men for the roles. They flew the top 50 candidates out to L.A. for a final casting call, and the five chosen for the show just stood out in both personality and expertise.
"It was really amazing because they had like an instant bond in the casting," Collins says. "I stood in front of the top 50 and gave my kind of welcome spiel speech to them all, and [the Fab Five] said when I was doing that they all locked hands and looked at each other and were like, 'Let's do this.' And ultimately that's what happened. The chemistry revealed itself."
The five men also went through some really emotional days, and they all became attached to their "heroes," which is what they call the person they're helping out that episode. The Fab Five encountered plenty of people who were more resistant to their way of life (especially Brown and France, who are queer men of color — France is also Muslim). So they didn't expect to be as hit with emotion as they were. But true bonds were made and tears were shed.
"Fridays and Saturdays were really hard because we were saying goodbye to these people," says Porowski. "To have these people come up to us and say [we've changed] their thoughts of what it was like to be gay, to see that change and that vulnerability in these grown ass men, it never gets old." Brown attributes that success to the Fab Five themselves. "We are so open. I don't know if you can tell just sitting here, but any of us in here, we could all be your friend tomorrow."
The caring nature of these specialists went a long way with the contestants as well, and really shaped their makeover. Berk says that a lot of the heroes expected to be critiqued harshly, but instead the Fab Five really took a complimentary approach. By picking things that were amazing about their subjects, they were able to build off of those and truly help them better themselves in a realistic way that was way more beneficial in the long run.