Rihanna Puma Slides With Bows Are Going Fast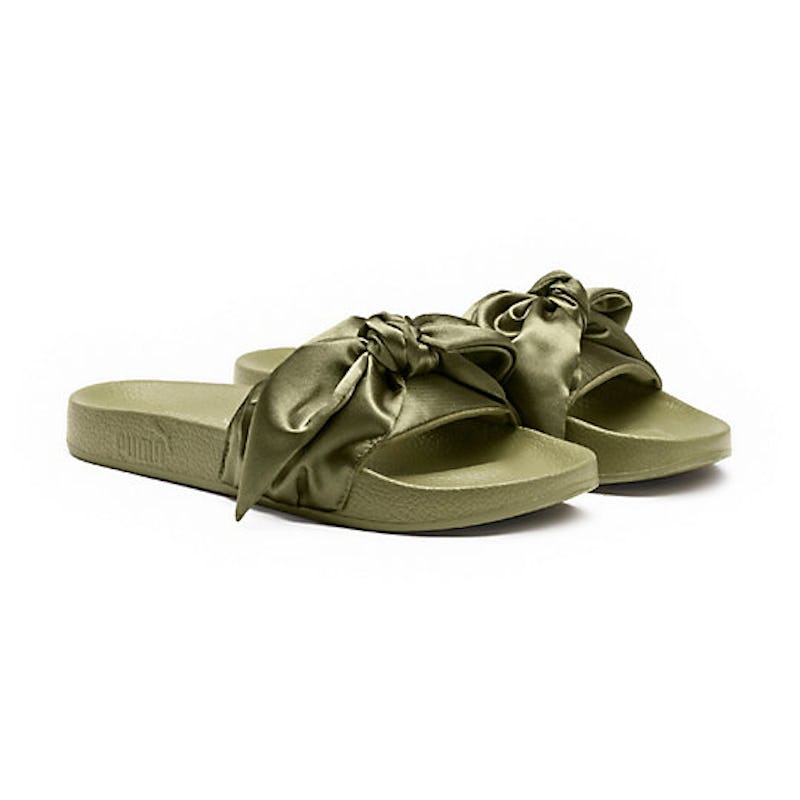 Finally! A new Rihanna Puma shoe drop is here. That's right. The latest Rihanna Fenty Puma Slides, which swap out the fur strap over the top of the foot in favor of a satin bow, launched at 10 a.m. ET/7 a.m. PT on Thursday, Mar. 9 as a pre-release via the Puma site and through other official retailers. An army green and blush pair are at the center of the hype.
ICYMI, the infamous Puma Creeper has also been retooled for the Fall/Winter 2017 line, thanks to leather construction, a double stacked sole, and an ankle strap; this edition of the Creeper, due out later this year, has won my dedication already.
Fenty Puma Slides, $90, Urban Outfitters
But about those slides...
The new pink and green, bow-trimmed slides have landed. But the question is this: Have the new Rihanna Puma slides sold out, as is the case with most Fenty x Puma shoe drops?
As of press time an hour after the drop, the shoes are still available. But your size could sell out at any time and at any moment, due to the general mania, hype, and hysteria that usually surrounds new RiRi shoes. While the slides aren't quite as craze-inducing as those Creeper kicks, they certainly garner a significant chunk of attention and remain a sought-after and turnt shower shoe.
Have a look at the army green version, which have such a lovely feminine touch, thanks to the bow.
Fenty Puma Slides, $90, Urban Outfitters
Seriously. That bow, though!
Check out Rihanna's feet. The singer and creative director for Puma is rocking a pair of blush (or pink) slides with the satin bow.
It is such a sweet detail and it's a welcome upgrade to a super popular silhouette. I own a pair of the black fur slides and I live in them.
The OG crew!
The original trio of fur Fenty slides was eventually joined by a gray pair.
Now we have bows and a green pair. This screen grab of the pink bow slides is from Madison, an upscale, L.A.-based retailer that also offers online purchasing. So cute, right?
Six: 02 also launched the green slides.
Fenty Puma Slides, $90, Urban Outfitters
This is a screen shot of the current Puma site, with both colors still available. I still suggest hurrying if you covet them.
Images: Courtesy of Puma (3); Puma/Instagram (3); Courtesy of Madison (1); Courtesy of Six: 02 (1)