The Spice Girls Will Perform At The Royal Wedding, Judging By This Ridiculous Mel B Interview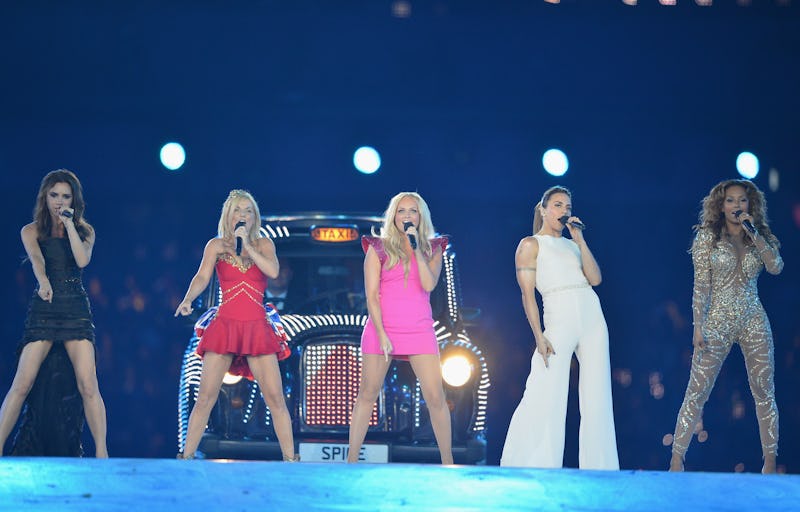 Jeff J Mitchell/Getty Images Sport/Getty Images
It's been a bit of a roller coaster for fans in recent months, but Mel B revealed that the Spice Girls are reuniting for the royal wedding — and it sounds like there's a very good chance they'll be performing, too. On Feb. 27, Scary Spice appeared on The Real, and was surprisingly quick to let it slip that she — as well as the other four Spice Girls — had received an invitation to Prince Harry and Meghan Markle's upcoming wedding.
Co-host Loni Love casually asked Mel B, "Do you know anybody that you think is gonna go to [Harry and Meghan's] wedding?" Correction: Love tried to ask this question to Mel — but Mel started demurely nodding "yes" before Love had even finished her sentence. "You do?" Love stuttered with excitement. "You're going?" More demure "yes" nodding from Mel, with squeals of shock-and-awe immediately ensuing from Love and her co-hosts. "Are you kidding?" Love exclaimed, at which time both she and Jeannie Mai grabbed onto Mel as if bracing for impact.
In the video, it almost seems as if the audience is having a hilariously delayed reaction to the news. All the co-hosts have reached fever-pitch levels of freaking out, and the applause from the audience sounds super reluctant — like, maybe they're not totally sure what's happening/can't hear what's happening because of the co-hosts' fever-pitch levels of freaking out.
Regardless, Mai then asks Mel B if she got an invitation, and Mel — who, it feels worth noting, should probably never play poker — immediately offered up that yes, "us five Spice Girls did" get invitations. OK, so, obviously that additional information is much appreciated, but Mai didn't even mention the Spice Girls — like, at all. "Why am I so honest?" Mel asked herself out loud. Good question, girl.
Love then pressed Mel for more specifics — which was 100 percent the right thing to do, considering how much Mel had already spilled without prompting — and asked, "Will the Spice Girls be performing at the reception?" Mel, who looked utterly defeated as she placed her coffee mug down on the table, didn't exactly say "yes" — but she also definitely didn't say "no."
Instead of giving a verbal response, Scary Spice sighed, muttered something about getting herself into trouble, and then proceeded to toss all of her cue cards up in the air. So, that's basically a "yes," right? Because if the Spice Girls weren't performing at Harry and Markle's wedding, she totally would have just said that, right? Right?! OK, so it's settled: The Spice Girls are (assumedly) performing at Harry and Markle's wedding reception. Case closed (for now).
Even though it's highly doubtful that they'll live-stream the Spice Girls' reception performance for fans at home, the confirmation of a reunion (even if it's just them all attending the wedding) is pretty exciting in-and-of itself. Especially considering the fact that Victoria Beckham only recently shut down reunion rumors when speaking to Vogue at London Fashion Week.
"There have been so many people talking about the Spice Girls, but for me it's nothing tangible," Beckham said. "It's not about touring, it's not about recording any more material, it's about protecting the legacy and thinking about what girl power looks like in the future." *Gives squinting side-eye* OK, Posh. Sure. Whatever you say.
A rep for Prince Harry had no comment about the Spice Girls performing when contacted by Bustle. Bustle also reached out to a rep for the Spice Girls' former manager, Simon Fuller, but did not receive a response at the time of publication.
Spice Girls fans will just have to wait and see if their yet-to-be-confirmed performance at the royal reception will spark any additional shows in the future. In the meantime, though, here's hoping that Mel B's agent continues to book her on all the talk shows, so she can continue to spill all the tea.