Here's What You Need To Know About Tom Brady & Donald Trump's (Complicated) Friendship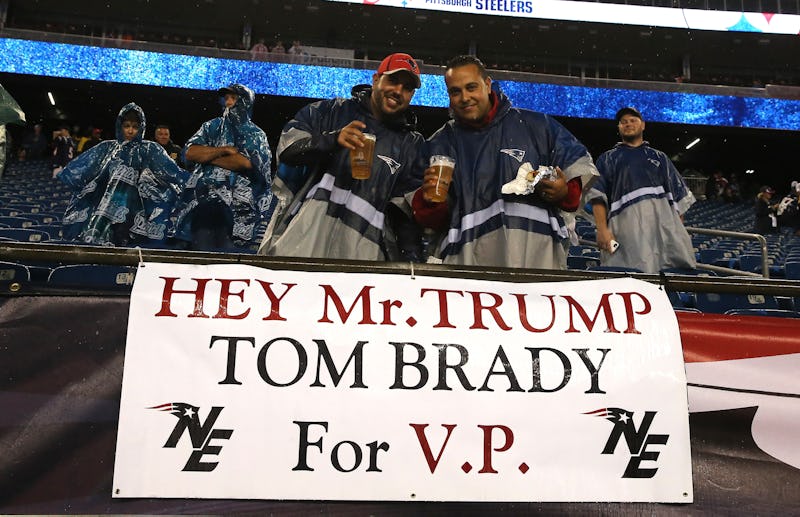 Jim Rogash/Getty Images Sport/Getty Images
In recent months, President Donald Trump hasn't had a lot of nice things to say about the National Football League (NFL). When a number of players kneeled in protest during the National Anthem he called them "sons of b*tches," and when the league implemented new concussion protocol he called them soft and accused them of "ruining the game." So it might come as a surprise to learn that Trump was once fairly good friends with Tom Brady, the quarterback for the New England Patriots.
While Trump and Brady are both public figures people either love or love to hate, their relationship seems to stir a lot of mixed emotions in folks. What are the 40-year-old quarterback and a 71-year-old real estate mogul turned politician bonding about?
According to Brady, the two meet some 16 years ago when the Trump Organization hired him to help judge the 2002 Miss USA pageant. The two reportedly hit it off and kept in touch. "We've played golf together many, many times and I've always had a good time with him," Brady said in 2016. "He's been a friend of mine."
Trump was apparently equally impressed with Brady, who had just led the Patriots to victory at Super Bowl XXXVI, when they first met. "If one thing stands out about Tom Brady," Trump reportedly told Sports Illustrated in 2002, "it's that he loves those women. And guess what? They love him, too." Two years later, in an interview with Playboy, Trump even suggested Brady and his eldest daughter, Ivanka, would "make a great combination." But while Brady and Trump's daughter never did become an item, the duo's friendship endured.
The two, according to Brady's own admission, have "spent a lot of time golfing together" over the years. "In my younger days when I would have more time that I could spend doing those types of things, before there were kids, we spent a lot of time golfing together and so forth," he told WEEI.
In early 2015, Brady hit a rough patch when the NFL launched an investigation into allegations he'd used purposefully-deflated footballs to help the Patriots snag a victory against the Indianapolis Colts. (Brady denies doing this.) As "Deflategate" cast a shroud of controversy over Brady, Trump took to social media to offer his friend some advice: "Sue them, Tom."
In recent years, however, their friendship appears to have hit a few bumps. Initially, Brady seemed excited for his friend's presidential bid, telling reporters at one point that he hoped Trump would win because "there'd be a putting green on the White House lawn." But as Trump's campaign became more divisive and controversial, Brady appeared to back away.
Although the quarterback dodged questions regarding how he voted in the 2016 presidential election, he was spotted with one of the Trump campaign's signature "Make America Great Again" hats back in 2015. For the record, Brady's wife, supermodel Gisele Bündchen, answered with a "NO!" when asked on Instagram if she and her husband "were backing Trump." But Brady's refusal to go public with how he planned to vote didn't stop Trump from telling the crowd at a rally the day before Election Day that their quarterback was voting for him.
Last year, however, Trump's criticism of NFL players who kneeled during the National Anthem in protest of social and racial injustices also seemed to cause tension between the friends. In September, Trump characterized players who kneel during the anthem as "sons of b*tches" and said they should be fired immediately. While Brady has not kneeled during the National Anthem himself, he has linked arms with his teammates who do in a public show of unity.
In an interview with WEEI, Brady also disagreed with Trump's remarks. "I certainly disagree with what he said," the Patriots quarterback said. "I thought it was just divisive." Brady went on to say he wanted to support his teammates. "I am never one to say, 'Oh, that is wrong. That is right.' I do believe in what I believe in. I believe in bringing people together and respect and love and trust."
This year, Trump decided to break with tradition and forgo the president's traditional Super Bowl interview with the network broadcasting the game, according to sources at both NBC and CNN. Which means we might not get the opportunity to hear which team he's rooting for. Last year, in a pre-game interview with Fox's Bill O'Reilly, Trump picked the Patriots to win Super Bowl LI, citing his friendships with team owner Bob Kraft, coach Bill Bellichick, and Brady. But if Trump's friendship with Brady is on the rocks, will he be rooting for the Eagles at this year's game?