Those Tom Holland & Zendaya Relationship Rumours Have Just Been Shut Down — UPDATE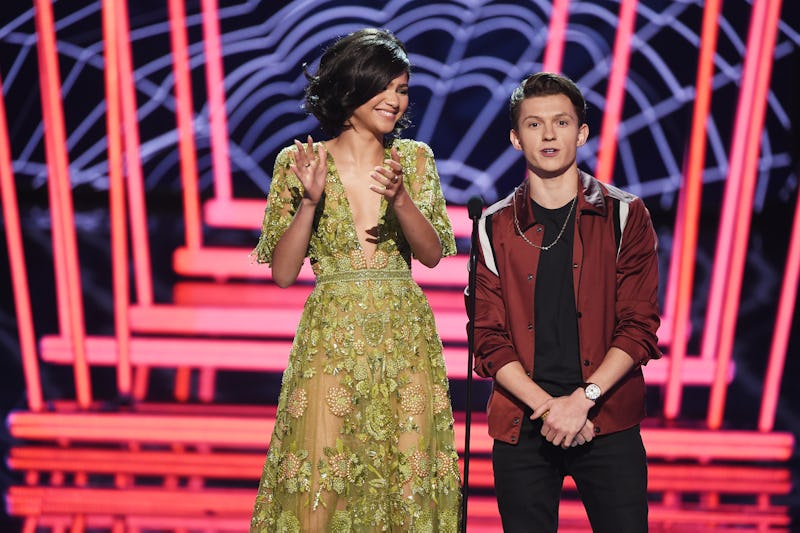 Kevin Winter/Getty Images Entertainment/Getty Images
The avid Marvel fangirl in me has always secretly hoped, but never actually imagined that we'd get an IRL inter-Avengers romance. That's mainly because many of them are happily married, but I still choose to believe Lupita N'yongo has the entire cast of Black Panther at her beck and call. However, there are a couple of members of the younger generation that frequently pop into headlines and send heart eyes careening through the nation: namely, Spider-Man Homecoming's Peter Parker and MJ. So are Tom Holland and Zendaya dating offscreen? Update: Kiya Cole's agent has since denied having any knowledge of the situation, telling Bustle in a statement: "[Cole] has zero idea who anyone is dating nor does she make it her business to know. Her Instagram account was hacked and she's since reclaimed her account."
Earlier: While the pair have been photographed hanging out and are recurring stars on one another's social media, Zendaya was as blunt as she could be in a Variety interview last month. When asked if she and Holland were more than just platonic sidekicks, she answered with a resounding no. She continued, "He's a great dude. He's literally one of my best friends."
However, those still holding out hope were rewarded with a juicy tidbit earlier this week. After JustJared shared an Instagram post of Zendaya on her 22nd birthday (with the words "rumoured real-life boyfriend Tom Holland" slyly added to the caption), one celebrity insider weighed in and added fuel to the fire.
In a comment thread below the photograph, a Sebastian Stan stan aptly called @sebastianstan.spam commented, "Rumoured boyfriend hahaha y'all dream too much," CapitalFM reports. It wasn't that comment that set the internet on fire, however; it was a response from a celebrity insider that had tongues really wagging. As CapitalFM claimed, Kiya Cole, Disney star Skai Jackson's mother, responded to the comment, "Yes. It's true. They been on the low for a while."
Now, it could just be that Cole's just another secret Zomdaya fan and doesn't actually have any real info on the situation. (Also can we all agree that Zendaya and Tom Holland deserve a better ship name?) Her daughter Skai Jackson at the very least has met Zendaya in passing, as they were photographed at the Radio Disney Music Awards back in 2015, but to my knowledge I don't think they've been linked since.
I've reached out to both of their agents for comment, but have yet to hear back. The rumours about the supposed couple began spreading back in 2017, when People alleged last July that they were officially dating. A source told the publication, "They started seeing each other while they were filming Spider-Man. They've been super careful to keep it private and out of the public eye but they've gone on vacations with each other and try and spend as much time as possible with one another."
Zendaya clapped back at the claim on Twitter, responding, "Wait wait...my favorite is when it says we go on vacations together HA! I haven't been on a vacation in years!😂😭🤣hbu @TomHolland1996 ???"
It didn't take long for Holland to respond, "Does the press tour count 😂😝"
That didn't deter the rumour mill, however. Literally just hours after the above tweet exchange, E! News also claimed that the stars were dating with another source claiming, "They got to know each other while on set. They became friends and started getting romantic a few months ago. They both are such great people. It's cool they got together."
Regardless of whether or not the stars are actually dating, it's super heartwarming to see how close the Spider-Man cast have all gotten. From staging goofy lightsaber fights in the street to taking over a bowling alley and even geeking out at Secret Cinema's Romeo and Juliet with Baz Luhrmann, it's beautiful to see the young stars all having fun and really enjoying one another's company.
Your early 20s are a minefield and I bet that goes doubly so when you're some of the hottest young celebs on the scene, something Zendaya hit on in her Variety interview earlier this year. Speaking about Tom Holland, she said, "This past how many months we've had to do press tours together. There's very few people that will understand what that's like at 20 years old."
Platonic or not, I'm just thrilled they have one another. Holland and Zendaya in particular seem to be one another's biggest hype men, with Tom stanning Zendaya's Joan of Arc look at the Met Gala and Zendaya even helping to raise money for Holland's charity The Brother's Trust according to Screen Rant.
I'm also incredibly grateful for Tom Holland's birthday message to Zendaya, which brought this picture into my life. Now if somebody could drop some real news and let me know whether Peter Parker will be OK after that shocking Infinity War ending, that would be great.