This Favorite Summertime Activity Is Responsible For A Surprising Amount Of Butt Injuries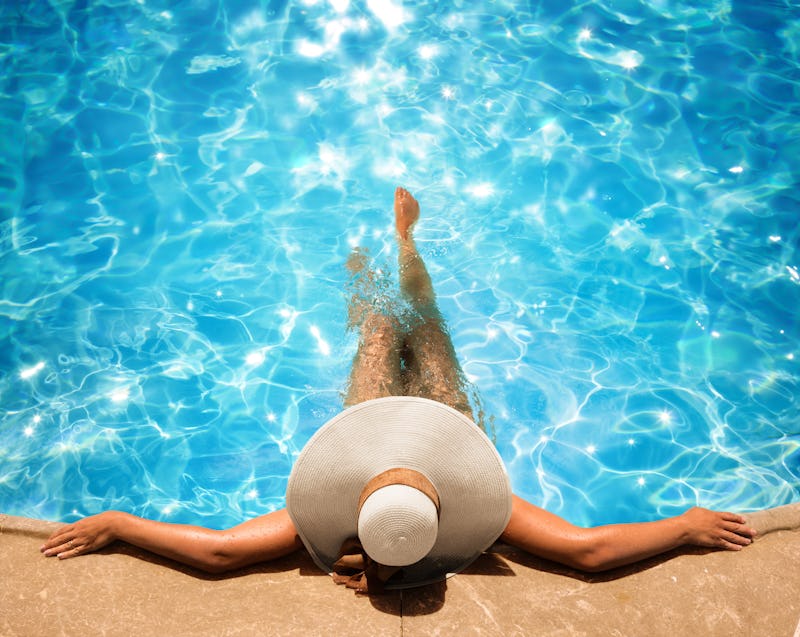 Romolo Tavani/Fotolia
Summer swelters can entice you to beat the heat at the beach, pool, or water park. But, there's a hidden danger lurking behind some of this summer fun, and it's not what you think. With all the ways things can potentially go sideways this summer, you may be wondering if waterslides are safe. Bad news, my friends: new research shows that they're linked to a surprising amount of butt injuries, Live Science reported. While this sounds like a made-up thing, injuries to people's butts and tailbones (coccyx) are on the rise, according to new research published in The Journal of Emergency Medicine.
With waterslides becoming taller and faster, emergency room doctors are seeing an increase in tailbone injuries, some with bruising on the butt, as a result of waterslide adventures gone awry. While being sidelined all summer with an injured coccyx can totally derail your #SummerGoals, it's not the only unexpected injury you can get at a water park. The journal also reported that some people have experienced vaginal trauma from water jets.
That being said, the world is full of hidden danger, and the mere risk of an obscure injury shouldn't keep you from going down a waterslide this summer if waterslides are your jam. It's really a case of #TheMoreYouKnow. "I'm not advising everyone to live their life wrapped in bubble wrap, but it's important to realize that there are some risks that go along with these activities," Dr. Patrick Foye, professor of physical medicine and rehabilitation and director of the Coccyx Pain Center at Rutgers New Jersey Medical School, told Live Science.
For example, if you already have back, neck, or shoulder problems, hurling yourself down the world's tallest and fastest waterslide, where your butt and tailbone will be bumping against the slide all the way down, might land you in the ER, which really isn' t worth it. Seriously, donning a mermaid tail (yes, they do exist) or lazying around on your unicorn pool float is just as fun and much less likely to result in a trip to the hospital.
Perhaps you're wondering how people get these injuries. Of the people examined in the study, one person "went airborne at the bottom of a steep slide and then banged her coccyx onto the pool floor when she landed," Laura Geggel wrote for Live Science. "In another case, a woman using an inflatable waterslide at home got a coccyx injury that lasted years. And, in the fourth instance, a woman who had previously hurt her coccyx experienced a new injury while sliding down a waterslide during a family vacation."
If you've never injured your tailbone, you really don't want to because you have to limit activities that put a pressure on it — like anything that involves sitting. While you clearly can't stand all of the damn time, sitting as you know and love it will be a thing of the past. You might have to get a standing workstation, sit on a pillow with a coccyx cutout while driving, and refrain from some summer-fun activities like bike rides at the beach.
What's more, this type of injury can take between four and 12 weeks to heal, according to the Scripps Health website, which means it can really pump the brakes on your summer plans. "A tailbone injury can be very painful and slow to heal," the site says. "Healing time for an injured tailbone depends on the severity of the injury."
If you think you may have hurt your coccyx, you'll want to watch out for symptoms like pain or tenderness in the lower back, pain on top of the buttocks area, pain or numbness with sitting, and bruising or swelling around the base of the spine, Scripps noted. I don't know about you, but I think this sounds like a pretty awful way to spend the summer.
How can you avoid this fate? Before you hit the water park, make sure you don't have any physical injuries, and maybe opt for a waterslide that doesn't shoot you out of a tube at eleventy million miles per hour into a tiny pool of shallow water. Sure, adrenaline rushes are satisfying in the moment, but a 60-second rush really isn't worth spending an entire summer sitting on a doughnut.