There Are Rumors Zayn & Gigi Are Engaged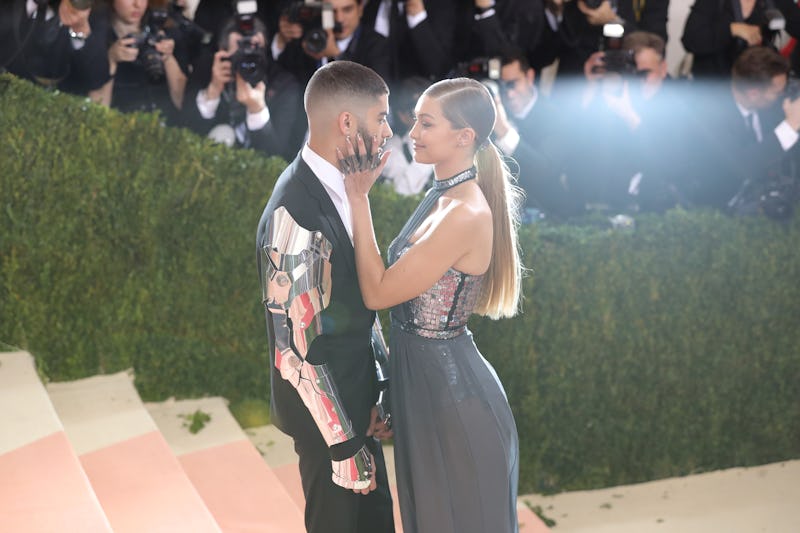 Neilson Barnard/Getty Images Entertainment/Getty Images
Since they first confirmed that were dating last year, Zayn Malik and Gigi Hadid have been one of my favorite celebrity couples. Their relationship is so adorable, and I've been keeping my fingers crossed it last long enough that they get married someday — when they're ready, of course. But according to new reports that are rolling in, it sounds like that could already be happening. So are Malik and Hadid engaged? They've both been exhibiting some pretty suspicious behavior! Bustle has reached out to both of their reps but has not yet received a reply.
According to People, on Tuesday night, paparazzi photographing Malik out in New York got photos of his latest tattoo — the word "love" scrawled across his right hand. And as for Hadid? She's been sporting a simple, skinny gold band on that finger on her left hand. She's obviously free to wear whatever accessories on whatever body part she chooses, but her new jewelry paired with Malik's recent ink is definitely making people wonder if they're planning what would be the wedding of the century. Their relationship seems to be going so well, and they seem to be super committed to each other, so the rumors do make at least a little sense.
But if you're like me and hoping this rumor is true, don't get too excited just yet. Neither Malik or Hadid have made any kind of comment on the engagement that may or may not exist, and I wouldn't be surprised at all if the ring is just a ring and the tattoo is just a tattoo. And knowing this couple, they'd probably make an announcement a little more epic than dropping hints with a mysterious ring.
Plus, these two are still pretty young — Malik is 24 and Hadid is 21 — and they've been dating for less than two years. An engagement is definitely possible for them down the line, but they still have plenty of time for that stuff! Besides, between Malik's solo career and Hadid's modeling, they're both busy people. It hasn't been that long since Malik broke off his last engagement to Perrie Edwards, so give this guy some time to breathe!
Now, we just wait for one of them to post more precious couple photos on Instagram. If they're engaged, they'll let us know, and if not? Admiring their relationship from afar is a pretty good consolation prize.