Aretha Franklin Has Died At 76, Leaving Behind A Meaningful Legacy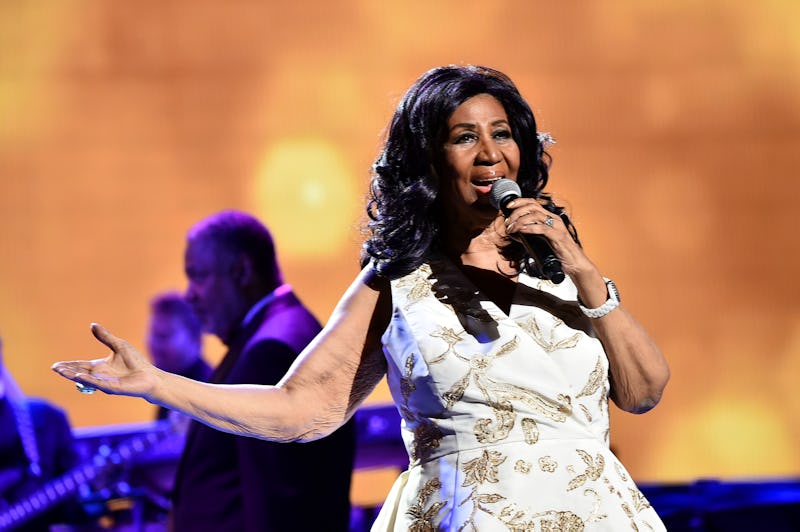 Theo Wargo/Getty Images Entertainment/Getty Images
The music industry just lost a legend. On Thursday, Aretha Franklin passed away at age 76, TMZ and the Associated Press reported. The devastating news comes after reports from the Associated Press earlier in the week that Franklin had been "gravely ill" and was spending time surrounded by loved ones in Detroit. As AP noted in their report, the "Respect" singer had battled various health conditions, even causing her to cancel concerts last summer.
UPDATE: Franklin's rep released a statement on her passing to AP, as shared by CNBC. On behalf of Franklin's family, the message reads in part:
"In one of the darkest moments of our lives, we are not able to find the appropriate words to express the pain in our heart. We have lost the matriarch and rock of our family. The love she had for her children, grandchildren, nieces, nephews, and cousins knew no bounds.
We have been deeply touched by the incredible outpouring of love and support we have received from close friends, supporters and fans all around the world. Thank you for your compassion and prayers. We have felt your love for Aretha and it brings us comfort to know that her legacy will live on. As we grieve, we ask that you respect our privacy during this difficult time."
(Bustle reached out to Franklin's rep, but did not receive an immediate response.)
EARLIER: It goes without saying that the world is majorly mourning the loss of Franklin. Everyone from fans to fellow singers took to social media to celebrate her legacy. The same was true when initial reports surfaced about her health declining — people posted well wishes all over Twitter. Over the course of her career, Franklin had a seemingly endless amount of hits — from "Natural Woman" to "I Say A Little Prayer," just to name a few. She also earned a whopping 18 Grammys and was nominated for 44 in total, per the award ceremony's website.
Back in 1987, Franklin made history as the first woman inducted into the Rock & Roll Hall of Fame, as Rolling Stone tweeted last January (which marked 30 years since the milestone moment). Accomplishments like that sum up what an icon she truly was, and why her impact will continue for years to come.
Perhaps Franklin summed up her career best when she announced her retirement in February 2017. At the time, she told Detroit's WDIV Local 4,
"I feel very, very enriched and satisfied with respect to where my career came from, and where it is now. I'll be pretty much satisfied, but I'm not going to go anywhere and just sit down and do nothing. That wouldn't be good either."
As the station reported at the time, Franklin dubbed the announcement bittersweet, since "it's what I've done all of my life." She wanted to spend time with her grandchildren, who were heading off to college, which is as good a reason as any to take a break — especially after so many decades in the spotlight.
But even after Franklin announced her retirement, she wasn't really done. She still took the stage at Elton John's 25th anniversary of his AIDS Foundation in November 2017 in NYC, where she performed a number of her biggest hits. At the event, John referred to Franklin as "the greatest singer of all time," according to USA Today.
Of course, John isn't the only one to categorize her as such. In 2010, Franklin earned the top spot on Rolling Stone's ranking of the "100 Greatest Singers of All Time." As the publication put it, "Aretha has everything — the power, the technique. She is honest with everything she says... And she has total confidence; she does not waver at all."
Those qualities are just some of many that made Franklin a force to be reckoned with. And as the outpouring of reactions to her passing make clear, she will be dearly missed. But one thing is for certain, she will not be forgotten.